Dial-Thoughts of the Saintsâ
"So, when are we going to start doing something good?"
St. Philip Neri
The saints are like a group of trees, each bearing different fruit, but watered from the same source.
The practices of one saint differ from those of another, but it is the same spirit that works in all of them.

(Sayings of the Desert Fathers)
01 Jun Justin, martyr
Our Leader, the Divine Word, does not demand a strong body and beautiful countenance, or high and noble birth, but a pure soul, well-grounded in holiness.
02 Jun Angela Merici
Disorder in society is the result of disorder in the family.
05 Jun Boniface, archbishop, martyr
The Church is like a great ship being pounded by the waves of life's different stresses. Our duty is not to abandon ship, but to keep her on her course.
Let us stand fast in what is right and prepare our souls for trial. Let us wait upon God's strengthening aid and say to him, "O Lord, you have been our refuge in all generations."
05 Jun Dorotheus of Tyre
When you are tormented by any passion or evil inclination, if you be so weak as to yield to it, and let it lead you, take it for a certain truth, that it will take deeper root, and wage a more violent war against you. But if you resist it courageously at first, it will daily diminish. Every day it will have less strength to act upon you, till at length, it will come to have none at all.
06 Jun Norbert
A talkative, over-curious, and restless person is like an oven which is open and exposed on all sides, and which keeps no heat. You will never enjoy the sweetness of quiet prayer unless you shut your mind to all worldly desires and temporal affairs.
07 Jun Therese of Liseaux
I know now that true charity consists in bearing all our neighbors' defects - not being surprised at their weakness, but edified at their smallest virtues.
09 Jun Ephraem of Edessa
Virtues are formed by prayer. Prayer preserves temperance. Prayer suppresses anger. Prayer prevents emotions of pride and envy. Prayer draws into the soul the Holy Ghost, and raises man to heaven.
Do not give your ear to every man, lest liars overwhelm you. Do not lend your foot to every man, lest vile ones misguide you. Do not give your soul to every man, lest the insolent trample you. Keep your hand from the false man, lest he gather thorns into your hand.
13 Jun Anthony of Padua
I saw the snares that the enemy spreads out over the world and I said groaning, "What can get through from such snares?" Then I heard a voice saying to me, "Humility."
Those who love money and fickly honors, fall down before the devil and adore him.
As a tower defends a camp, so does humility of heart guard the chastity of the body.
14 Jun Basil the Great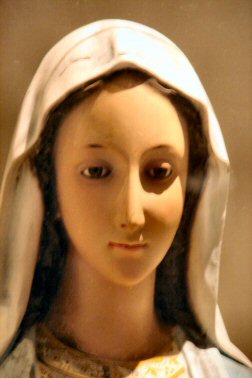 The bread you store up belongs to the hungry; the cloak that lies in your chest belongs to the naked; the gold that you have hidden the ground belongs to the poor.
Oh sinner, be not discouraged, but have recourse to Mary in all your necessities. Call her to your assistance, for such is the divine will that she should help in every kind of necessity.
21 Jun Aloysius Gonzaga
He who with his whole heard draws near unto God must of necessity be proved by temptation and trial.
It is good to ask special favors of the glorious virgin Mary, for she is the one, among all pure creatures, who was the highest in the virtue of humility.
22 Jun Thomas More
It is better that we be closely united by love and kindness than by treaties and assemblies, by pure motives than by words.
Though faith is the first gate to heaven, he that stands still at the gate and will not walk through it by his good works shall not come to where the reward is.
23 Jun Joseph Cafasso
We are born to love, we live to love, and we will die to love still more.
Heaven is filled with converted sinners of all kinds and there is room for more.
25 Jun Prosper of Aquitaine
God inspires us with the beginning of a holy will, and with power and opportunity; and what we have begun well he assists us to accomplish.
26 Jun Josemaría Escrivá
Your daily encounter with Christ takes place right where you work, where your aspirations and your affections are. There we must seek sanctity, in the midst of the most material things of the earth, serving God and all humankind. Heaven and earth seem to merge, my daughters and sons, on the horizon. But where they really meet is in your heart, when you strive for holiness in your everyday lives.
27 Jun Cyril of Alexandria
Our actions have a tongue of their own, they have an eloquence of their own, even when the tongue is silent. For deeds prove the lover more than words.
By nature, each one of us is enclosed in his own personality, but supernaturally, we are all one. We are made one body indivisible, we are all one in him.
28 Jun Irenaeus of Lyons
Why did the mystery of the Incarnation take place only at the consent of Mary? Because God wished her to be the beginning of every good.
Jesus listened to the Canaanite woman because she persevered in her request; in the same way will he listen to us if we are constant in praying.