John 8:1-11
God's Response to Sin
by Rev. Robert Wagner
Reprinted with permission of "The Arlington Catholic Herald"
Home Page
To Sunday Gospel Reflections Index
John wrote to show that Christ was
the Messiah, the Divine Son of God.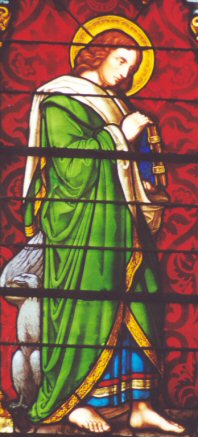 Jesus went to the Mount of Olives. But early in the morning he arrived again in the temple area, and all day people started coming to him, and he sat down and taught them. Then the scribes and the Pharisees brought a woman who had been caught in adultery and made her stand in the middle. They said to him, "Teacher, this woman was caught in the very act of committing adultery. Now in the law, Moses commanded us to stone such a woman. So what do you say?" They said this to test him, so that they could have some charge to bring against him. Jesus bent down and began to write on the ground with his finger. But when they continued asking him, he straightened up and said to them, "Let the one among you who is without sin be the first to throw a stone at her." Again he bent down and wrote on the ground. And in response, they went away one by one beginning with the elders. So he was left alone with the woman before him. Then Jesus straightened up and said to her, "Woman, where are they? Has no one condemned you?" She replied, "No one, sir." Then Jesus said, "Neither do I condemn you. Go, and from now on do not sin any more."
One of the most beautiful characteristics of Our Lord is His hunger for souls. The Son of Man became incarnate to free us from sin and offer us eternal life. His suffering and death on the cross show the lengths that He will go in order to save us. During the season of Lent, and in particular during Holy Week and the Triduum, we contemplate this mystery not only in sorrow, but also with an eternal hope, for we know God desires our salvation.
The Gospel is full of examples of God's desire to save us, in particular when Jesus encounters public sinners. We see it in His encounter with the Samaritan woman at the well, a woman of disrepute to whom He gently revealed that He was the Messiah come to lead her to salvation (Jn 4:4-42). We see it also with the call of St. Matthew, a (likely) crooked tax collector who Jesus invited to be an apostle and one of His intimate companions. Even in the last moments before His death on the cross, Jesus invited the penitent criminal crucified on His right to enter into eternal life (Lk 23:39-43). In order to save us, Jesus cannot help seeking out the sinner to offer His mercy.
We see it again in the familiar story of the woman caught in adultery. The scribes and Pharisees brought her to Jesus in order to trick Our Lord. The law of the Israelites stated that those caught in adultery were to be put to death, and the scribes and Pharisees wanted to catch Jesus contradicting the law. He was a rabbi who taught His followers to love their enemies and pray for those who persecuted them, so they must have been confident Jesus would offer the same extraordinary mercy to this woman. In a sense, Jesus circumvented their plans. He did not directly contradict the law; instead, He put a condition on its execution: "Let the one among you who is without sin be the first to throw a stone at her" (Jn 8:7).
Beginning with the elders whose wisdom was the fruit of experience, each of the scribes and Pharisees walked away. Left alone with the woman, Jesus did not condemn her, but instead let her go, again offering a condition: "Go, and from now on do not sin anymore" (Jn 8:11).
In His actions, we must recognize also how Jesus showed mercy on the scribes and Pharisees, for He met them in their condemnation and brought them to see their neighbors with new eyes. They, too, fell short of what they were called to be. They, too, needed God's mercy and forgiveness. Thus, their own sinfulness became a means for their merciful actions.
In His divine nature, Jesus is drawn to the sinner. Carmelite Father Gabriel of St. Mary Magdalene wrote, "It almost seems that God, in loving us, is attracted by our weakness, not because it is lovable, but because being infinite goodness, His compassion stoops to compensate for it by His mercy. … God, the supreme, eternal good, wants to be the remedy for all our ills."
Not one of us is free to cast the first stone. We are all sinners in need of a savior. While this may seem like a depressing thought, instead we should rejoice in it. St. Francis de Sales, contemplating his sinfulness, offers this perspective: "I know what sort of a being I am; and yet even though I feel (I am) miserable, I am not troubled at it. Nay, I am sometimes joyful at it, considering that I am truly a fit object for the mercy of God."
In this Lenten season, a season of deeper conversion, let us seek to follow Christ's command to sin no more, especially in the areas we know we are prone to fall. However, when we do fall, may our response be one of joy and trust, for we know Our Savior seeks us out, for He cannot help offering us His mercy. May we go to Him in our sinfulness and allow Him to embrace us in His perfect mercy.