John 10:27-30
I'm a Sheep
by Rev. Matthew H. Zuberbueler
Reprinted with permission of "The Arlington Catholic Herald"
Home Page
To Sunday Gospel Reflections Index
John wrote to show that Christ was
the Messiah, the Divine Son of God.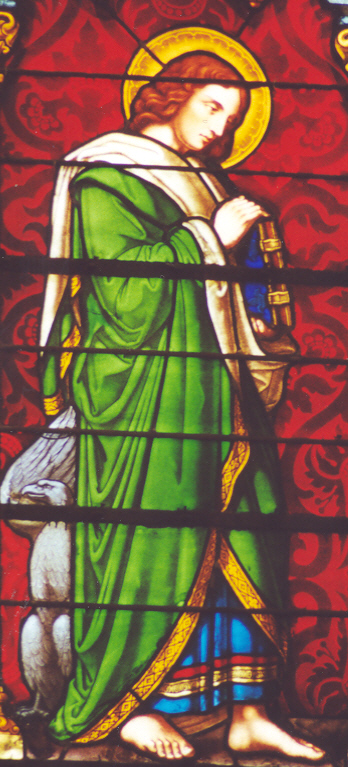 Jesus said: "My sheep hear my voice; I know them, and they follow me. I give them eternal life, and they shall never perish. No one take them out of my hand. My Father, who has given them to me, is greater than all, and no one can take them out of the Father's hand. The Father and I are one."
Would it be correct to say there is something pastoral about a pasture? Would it be worthwhile to meditate on what a herd heard? Are puns really all that baaaa-d? The brief passage in this Sunday's Gospel is part of a special image from Jesus' teaching about how God interacts with his people. We can learn from it, find it consoling, allow it to challenge us, and we can find that it deepens our understanding of God's love for us. As members of the Good Shepherd's flock, we are very blessed.
Sheep have big ears but their mouths are somewhat small. A less than gentle cowboy, John Wayne, once told a son of his (in a movie) that the son was "long on mouth and short on ears." Of course, as humble followers of Jesus we are wise to learn to listen much more than we speak. Certainly this is true in prayer. When we think of sheep, though, we don't think of bright intelligent creatures. Nonetheless, Jesus presents this teaching that we are like sheep — that we are his sheep — as a good and positive thing. And so it is. When we hear his voice deep within our consciences we are directly united to God, to his wisdom and his truth.
The description we hear this Sunday is one of an obedient response to his voice. We notice that there is nothing of the stubbornness that can be found in sheep. Docility to his voice is described along with the profound reality that God knows his sheep. If we begin to understand that our Good Shepherd knows us better than we know ourselves, we might grow in our willingness to follow, to be led by him.
Sheep have natural enemies and have little capacity to defend themselves. The protection described by Jesus should give us great consolation. Our willing obedience to his will can bring us an interior peace and it is wise for us to be obedient. Even so, Jesus describes something still greater: The protection he offers is not dependent on our choices. While we can run away from him, Jesus will continue to watch over us. He will not tire of calling us home. He will protect us from our supernatural enemy and from anything which might entice us away from the peace and safety we should have.
Sheep aren't glamorous animals. If a sheep is properly "sheepish," its life will turn out as expected. To graze for days producing wool free from wolves — dull but peaceful. The teaching of Jesus, however, includes something more. I give them eternal life, and they shall never perish," he says.
To be a sheep under the care of the Good Shepherd is the beginning of our eternal life. The peace and security we hope for in this world is something we expect will be present in Heaven. As sheep in Jesus' care, we already possess something of eternity.
Sheep of the Good Shepherd's flock, living in his verdant pastures, have it made. The life of believers can seem unimpressive but its simplicity helps us to see all that it offers. We are safe and cared for because we belong to Jesus. As if that wasn't enough, Jesus points out that we are his because his father, who is greater, gave us to him. Not bad, not bad at all. Ewe should be grateful? Sorry. But you should.
Home Page
To Sunday Gospel Reflections Index