Holy Spirit
by Rev. Joseph M. Rampino
Reprinted with permission of "The Arlington Catholic Herald"
Home Page
To Sunday Gospel Reflections Index
John wrote to show that Christ was
the Messiah, the Divine Son of God.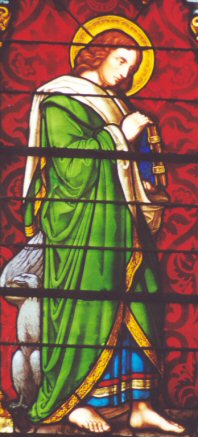 Jesus said to his disciples: "If you love me, you will keep my commandments. And I will ask the Father, and he will give you another Advocate to be with you always, the Spirit of truth, whom the world cannot accept, because it neither sees nor knows him. But you know him, because he remains with you, and will be in you. I will not leave you orphans; I will come to you. In a little while the world will no longer see me, but you will see me, because I live and you will live. On that day you will realize that I am in my Father and you are in me and I in you. Whoever has my commandments and observes them is the one who loves me. And whoever loves me will be loved by my Father, and I will love him and reveal myself to him."
As the church passes through this greatest and holiest season, that of the Lord's resurrection, she nears at long last the culmination of Easter, the feast of Pentecost. It might seem strange to us to say that the season of Christ's rising from the dead finds is completion in the descent of the Holy Spirit, but if we attend to the Gospel before us this weekend, we will understand the deep inner cohesion between the two mysteries.
If that juxtapositionon of the Resurrection and Pentecost does seem odd to us, it might come first from a mistaken, or at least incomplete, understanding of what role the Holy 'Spirit plays in the Christian life. In modern Christian circles, the Holy Spirit often seems like a mere source of inspiration or enthusiasm. We recognize those as "spirit-led" or "spirit-filled" who speak with fervor, who spend themselves in charitable or missionary activity, or who bring about the unexpected, insightful, or visionary. While these effects can certainly come from the inner presence of the Holy Spirit, to make these the primary features of his work would be shortsighted and overly limited.
Christ, in fact, tells us what the Holy Spirit will do for those to whom he comes. He calls the Holy Spirit the "Advocate," as well as "the Spirit of Truth."
He tells us in the same breath that he "will not leave (us) orphans," and that we will "realize the (he) is in (his) Father, and (we) are in (him) and (he) in (us)". Jesus, n promising the Spirit, makes no mention of enthusiasm, vigor, activity, evangelization or innovation. Those things will have their place elsewhere, but when introducing the person of the Holy Spirit to us, Jesus speaks primarily about union with himself and the Father. The Spirit is to speak for us as Advocate, accompanying us into the Father's presence. He leads us into the truth that we are joined together with and in the Trinity, and that because of this union, we are never alone. He will both bring about and show us that truth that we are alive in Christ, with God's own eternal life. In short, he will make the life of Easter take root and grow in us.
It is only in this context that we should consider any of the more practical effects of the Holy spirit's presence. Yes, the spirit bring is about an outpouring of supernatural gifts and charisms, but only because he unites us with the Father and the Son, so that God himself can come to life and act in us. Yes, the Spirit inspires fervent activity, zeal and new ways of spreading the Gospel, but only because he brings the individual Christian into contact with God's own dynamism of love by means of that same union. Yet this union may exist without showing any impressive or exotic external signs. In fact, the only sign that Christ mentions in the gospel here is that those who enter into union with God by love are those who "keep (his) commandments."
This simple fidelity to what the Lord commands, to the way of life he gave us, is the most important and most fundamental sign of the Spirit's work. Whether or not we see or possess wonders and marvels, events and initiatives, inspiration and enthusiasm, or not, does not seem to matter much in the end. Rather, if we keep his commandments in peace, we can be assured that we are united to him in love. Easter has taken root in us and the Spirit has accomplished his true work.