Luke 3:10-18
The Gift of Joy
by Rev. Jack Peterson
Reprinted with permission of "The Arlington Catholic Herald"
Home Page
To Sunday Gospel Reflections Index
Luke writes to explain that
Christ came to save everyone.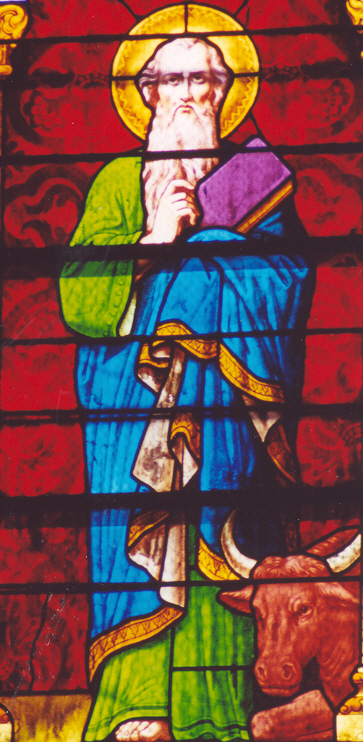 The crowds asked John the Baptist, "What should we do?" He said to them in reply, "Whoever has two cloaks should share with the person who has none. And whoever has food should do likewise." Even tax collectors came to be baptized and they said to him, "Teacher, what should we do?" He answered them, "Stop collecting more than what is prescribed." Soldiers also asked him, "And what is it that we should do?" He told them, "Do not practice extortion, do not falsely accuse anyone, and be satisfied with your wages."
Now the people were filled with expectation, and all were asking in their hearts whether John might be the Christ. John answered them all, saying, "I am baptizing you with water, but one mightier that I is coming. I am not worthy to loosen the thongs of his sandals. He will baptize you with the Holy Spirit and fire. His winnowing fan is in his hand to clear his threshing floor and to gather the wheat into his barn, but the chaff he will burn with unquenchable fire." Exhorting them in many other ways, he preached good news to the people.
Joy is one of God's greatest gifts. We all deeply desire more joy in our lives — true joy, lasting joy, abundant joy. Jesus, in fact, longs to make our joy complete.
The Third Sunday of Advent is often called "Gaudete Sunday," because we are invited to recall the remarkable joy of encountering Christ and his saving grace and to worship God at Mass with increasing joy, so near is our salvation. In fact, the opening prayer for today states: "O God, who see how your people faithfully await the feast of the Lord's Nativity, enable us, we pray, to attain the joys of so great a salvation and to celebrate them always with solemn worship and glad rejoicing. Through our Lord Jesus Christ, your Son … "
The church looks back in history to the prophet Zephaniah to shed light on our Advent preparations. Zephaniah, whose service coincided with King Josiah, 640-630 BC, spent most of his time forcefully calling the people to repentance and speaking of an impending judgment. The present passage stands out because he pauses and completely focuses on the joy of salvation.
"Shout for joy, O daughter Zion! Sing joyfully, O Israel! Be glad and exult with all your heart, O daughter Jerusalem." The prophet names the two most critical reasons for this joy, mercy and presence: "The Lord has removed the judgment against you" and "the Lord, is in your midst."
One of the most consistent joys in my life as a Christian is the joy of walking out of confession. The amazing grace of basking in the forgiveness of God and the church, the restoration of a filial relationship with the Father, the healing of heart and soul that comes from his love, and being empowered to turn from sin and seek the narrow path of charity and holiness … I never tire of returning to the Sacrament and experiencing this joy.
A second consistent cause of great joy in my life is the daily opportunity to encounter Jesus Christ in the Blessed Sacrament. His presence there is real, true, humble and consistent. "The Lord is in your midst … " He is there, just waiting for us to stop by for a visit. There is something enormously healing and peace-producing to dwell with Christ in prayer in front of the tabernacle.
Zephaniah goes on to remind us of a reality that does not get discussed enough in most Christian settings. God takes great delight in us, his children and his disciples. "The Lord, your God, is in your midst, a mighty savior; he will rejoice over you with gladness, and renew you in his love, he will sing joyfully because of you, as one sings at festivals." He fashioned us in the palm of his hand; he grants us every breath and heartbeat; he sent his Son to die on the cross for us; he rejoices when we turn to him with trust and faith.
In our Gospel reading for today, the people of God begin to experience hope and joy while following John the Baptist. This attracts many followers and prompts the question from the people, "What should we do?" John promptly and clearly challenges the people to change their behavior: be honest, just and generous with the poor. It is a simple formula for living that flows from the joy of God's mercy and presence and leads to an increasing joy. True joy increases as we live the Christian life with greater fervor and focus.
Take control of your daily routine so that the busy time of Advent (decorating, shopping, wrapping, etc.) does not prevent you from the experiencing the fundamental reality that Christ is the cause of our deepest and most lasting joy.