Luke 6:17, 20-26
Is Jesus Speaking to Me?
by Rev. Matthew Zuberbueler
Reprinted with permission of "The Arlington Catholic Herald"
Home Page
To Sunday Gospel Reflections Index
Written to explain that
Christ came to save everyone.
Jesus came down with the Twelve and stood on a stretch of level ground with a great crowd of his disciples and a large number of the people from all Judea and Jerusalem and the coastal region of Tyre and Sidon. And raising his eyes toward his disciples he said: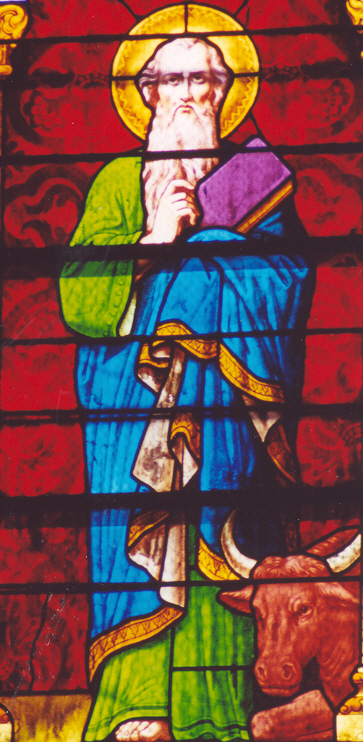 "Blessed are you who are poor, for the kingdom of God is yours.
Blessed are you who are now hungry, for you will be satisfied.
Blessed are you who are now weeping, for you will laugh.
Blessed are you when people hate you, and when they exclude and insult you, and denounce your name as evil on account of the Son of Man.
Rejoice and leap for joy on that day! Behold, your reward will be great in heaven. For their ancestors
treated the prophets in the same way.
But woe to you who are rich, for you have received your consolation.
Woe to you who are filled now, for you will be hungry.
Woe to you who laugh now, for you will be hungry.
Woe to you when all speak well of you, for their ancestors treated the false prophets in this way."
Just before this passage in the Gospel of St. Luke, we find Jesus calling his disciples to himself, then, from among them, calling the Twelve Apostles. We pick up the story this Sunday when those disciples and apostles arrive with Jesus "on a stretch of level ground" where "… a large number of the people from all Judea and Jerusalem and the coastal region of Tyre and Sidon ..." have come to meet Jesus. To complete the context of the passage we hear this Sunday it is helpful to notice two verses which are left out. Those verses say that the great crowd "… came to hear him and to be healed of their diseases; and even those who were tormented by unclean spirits were cured. Everyone in the crowd sought to touch him because power came forth from him and healed them all."
There is one great crowd surrounding Jesus. In that crowd there are three identified groups: disciples, apostles and the crowd itself. We can tell that the ones called disciples and apostles have been in his company and are in a defined relationship with him. We cannot tell for sure if they were, at this time, with the great crowd, also asking for healing and deliverance. It seems more likely that they might have already had such encounters with him and were, therefore, following him more closely now. But we don't know this for sure. We do know that everyone that day was there to hear Jesus and we know that they wanted to receive something through his healing power.
Jesus impressed the crowds by the powerful healing he offered, by the cures he worked and the freedom from unclean spirits that he gave. His teachings also were persuasive, impressively authoritative and wise. In the wake of the healings and cures we find the attentive great crowd focused on Jesus. What will he do next?
They notice that he has bowed his head. Is he praying, expressing gratitude to the father of the beautiful cures? They grow more attentive when he raises his head to speak. His gaze is a penetrating one; to look into his eyes was in itself an encounter special and illuminating. St. Luke specifies Jesus' "target audience" for what follows: "And raising his eyes toward his disciples he said …" He was addressing the disciples in a special and particular way. He often spoke to entire crowds at once. In this case, he has a great crowd of eager listeners surrounding him, but he speaks specifically to some of them. These are the ones who have been with him longer and who are living in a more deliberate relationship with him. No doubt many, maybe all, of the great crowd hears what is called his "sermon on the plain," but, Jesus directs it to the disciples.
The disciples with whom Jesus has a more developed friendship receive a teaching that reaches well beyond the confines of this world and this life. In front of multitudes who have just received immediate relief from their burdens Jesus tells his disciples about a different sort of relief, a transcendent and new way of life. A paraphrase might read: "You, my friends, are no doubt impressed by the miracles you see me work but I am here to teach you that you are better off and more blessed if you can be poor with me, hungry, sad enough to weep, hated, excluded and insulted, even denounced as evil because of me. The road we are on together is a blessed road, but not in a way this world understands."
We can understand that these new teachings of Jesus were striking to hear. We know from our own experience that we are adept at seeking to make things comfortable and right for ourselves in the here and now. Instead, Jesus offers the way to find the goodness now, in what seems to be not so good. He brings an eternal value to our temporary struggles. Did these words of Jesus make his disciples better? Do they make us better? Perhaps we can pray through them again while imagining that he is speaking to us while looking into our eyes.