Luke 10:1-12, 17-20
We Are on a Mission from God by Rev. Jack Peterson
Reprinted with permission of "The Arlington Catholic Herald"
Home Page
To Sunday Gospel Reflections Index
Luke writes to explain that
Christ came to save everyone.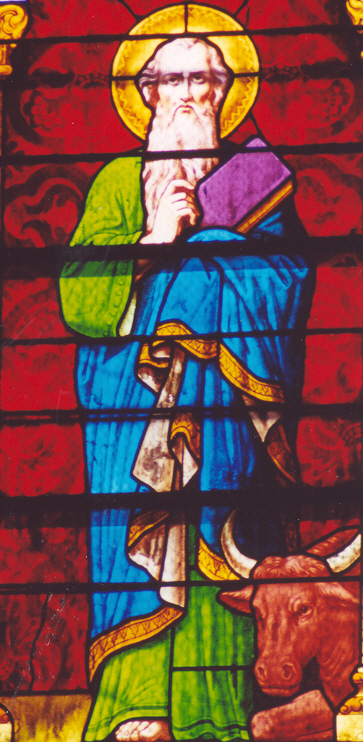 At that time the Lord appointed seventy-two others whom he sent ahead of him in pairs to every town and place he intended to visit. He said to them, "The harvest is abundant but the laborers are few; so ask the master of the harvest to send out laborers for his harvest. Go on your way; behold, I am sending you like lambs among wolves. Carry no money bag, no sack, no sandals; and greet no one along the way. Into whatever house you enter, first say, 'Peace to this household.' If a peaceful person lives there, your peace will rest on him; but if not, it will return to you. Stay in the same house and eat and drink what is offered to you, for the laborer deserves his payment. Do not move about from one house to another. Whatever town you enter and they welcome you, eat what is set before you, cure the sick in it and say to them, 'The kingdom of God is at hand for you.' Whatever town you enter and they do not receive you, go out into the streets and say, 'The dust of your town that clings to our feet, even that we shake off against you,' Yet know this; the kingdom of God is at hand. I tell you, it will be more tolerable for Sodom on that day than for that town."
The seventy-two returned rejoining, and said, "Lord, even the demons are subject to us because of your name." Jesus said, "I have observed Satan fall like lightning from the sky. Behold, I have given you the power to 'tread upon serpents' and scorpions and upon the full force of the enemy and nothing will harm you. Nevertheless, do not rejoice because the spirits are subject to you, but rejoice because your names are written in heaven."
When I was a boy, I remember helping my father transform our basement from a dark, dingy, cinderblock hovel into one of our favorite rooms in the house. My father oversaw a contractor who put two large sliding glass doors into the room bringing in light and offering a panoramic view of our beautiful back yard. Then, we proceeded to paint the walls with stucco and put up brown, wooden beams to give the room the feel and look of an old English sitting room. In the end, with the additional assistance of my mother, we carpeted the room and decorated it with a variety of English paintings and amenities. I was at my father's side during the whole project. I felt like we were on a mission together to do something wonderful for our family and our house. It was exciting to be a part of that project. Our family used and loved that room for 30 years.
God, our Heavenly Father, has a plan to transform our dark and hurting world into a kingdom of light, love and peace. He has called each one of us by name to participate in this project. Thanks to our baptism, every Christian is incorporated into Christ's body, the Church, and into her mission to be salt of the earth and light of the world. We Christians need to appreciate the honor and privilege given to us and the essential role that each of us plays in the execution of this construction project.
Today's Gospel passage from Luke recounts how Jesus appointed 72 of his disciples and sent them out on a mission to help prepare the way for his visits to various people and towns. "Behold, I am sending you ..." these newly formed Christians were sent by Christ. Do I have a sense that I have been personally called by God and sent into the world? Do I understand the role I have in helping people in my small corner of the world prepare to encounter Christ? Do people encounter Christ when they meet me, work with me and hang out with me?
Jesus prepares His disciples by giving them a sense of what to expect and do while on this mission. "I am sending you like lambs among wolves." He states clearly that this mission is not going to be easy. Some people will attack us; they will not be happy with what we believe and how we live as His disciple. "Carry no money bag, no sack, no sandals." Jesus insists on a simple way of life for His disciples. He wants us to avoid getting distracted by unimportant things so that we can focus on truly caring for people and sharing with them the great joy of knowing and loving Jesus Christ. Am I willing to endure persecution for the sake of Christ? Am I too distracted by unimportant things and activities to participate honestly in the mission entrusted to me by Christ?
When Jesus says "cure the sick," He commissions us to bring healing into our broken and hurting world. How can we do that? First, we do so simply be bringing them to Christ, the Divine Physician. He is the true, ultimate source of all healing of mind, body and spirit. To encounter Christ is to be exposed to His healing mercy and love. Second, we simply love them ourselves. Mother Teresa often said that the greatest poverty in the United States is the hunger for love. Our own personal care for people, which is the love of Christ flowing through us, is a healing salve with which God anoints the world. How many people have come to see the face of God and to know healing in body or spirit through the love that Mother Teresa and her sisters have humbly offered to the sick and the dying? How will people come to know God through our presence and service?
Sharing in a great project gives tremendous meaning to life. I will never forget the project that I worked on with my dad as a child. Now, I am aware of a much greater project, sharing in our heavenly Father's plan to redeem, heal and transform the world into a kingdom of light and love. Every Christian is called and sent by Christ to help with this "project." We are on a mission from God.
Please consider a tax deductible gift to support this web site.