Luke 10:38-42
You Only Need to Ask
by Rev. Steven G. Oetjen
Reprinted with permission of "The Arlington Catholic Herald"
Home Page
To Sunday Gospel Reflections Index
Written to explain that
Christ came to save everyone.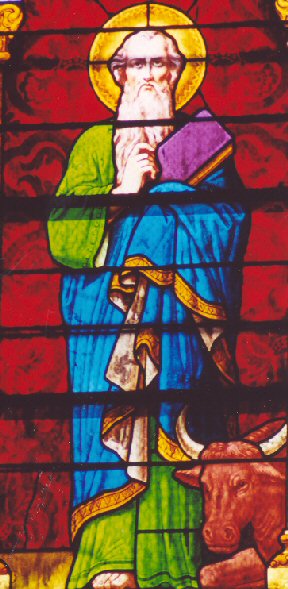 Jesus was praying in a certain place, and when he had finished, one of his disciples said to him, "Lord, teach us to pray just as John taught his disciples." He said to them, "When you pray, say: Father, hallowed be your name, your kingdom come. Give us each day our daily bread and forgive us our sins for we also forgive everyone who is indebted to us. And lead us not into temptation."
And he said to them, "Suppose one of you has a friend to whom he goes at midnight and says, ' Friend, lend me three loves of bread, for a friend of mine has arrived at my house from a journey and I have nothing to offer him,' and he says in reply from within, 'Do not bother me; the door has already been locked and my children and I are already in bed. I cannot get up to give you anything.' I tell you, if he does not get up to give the visitor the loaves because of their friendship, he will get up to give him whatever he needs because of his persistence.
"And I tell you, ask and you will receive, seek and you will find; knock and the door will be opened to you. For everyone who asks, receives; and the one who seeks, finds; and to the one who knocks, the door will be opened. What father among you would hand his son a snake when he asks for a fish? Or hand him a scorpion when he asks for an egg? If you then, who are wicked, know how to give good gifts to your children, how much more will the Father in heaven give the Holy spirit to those who ask him?"
What comes to mind when we think about the word prayer? We might think of great spiritual consolation, enlightenment, peace and calm. We might even think of the sublime gifts God has given to many saints, such as visions and locutions and ecstasies. But what is prayer most basically? The Dominican spiritual writer Father Simon Tugwell once remarked, "It is hard, when we talk or think about prayer and about the marvels of our life with God, not to get carried away to dizzy heights, and we need to be brought down to earth again every now and then just to make sure that our roots are still firmly buried in the good soil of the Gospel … If our understanding of prayer leads us to despise or exclude the prayer of petition, then, however exalted and spiritual it may be, we must nevertheless regretfully observe that it has ceased to be Christian, when judged by the standard of the New Testament and the liturgy."
Prayer at its most basic, Tugwell argues, is petition. Indeed, the Catechism of the Catholic Church answers the question of what prayer is by quoting St. John of Damascus: "Prayer is the raising of one's mind and heart to God or the requesting of good things from God" (No. 2559). Raising the mind and heart to God and making requests of him are not really two different things, after all, but two aspects of the same motion. We must first approach God in order to ask him for something, so we raise our mind and heart to him, and then we ask. Whatever other lofty notions we have about prayer, we cannot forget that prayer is most basically asking God for something.
We certainly get that sense upon hearing today's Gospel. When the disciples observe Jesus praying, one of them says to him, "Teach us to pray." What follows are 12 verses essentially all about asking. First, there is the Lord's Prayer, which is a series of petitions. We are taught by the Lord to ask for our daily bread and for forgiveness of our sins, among other things. Next, Jesus holds up for us the image of a pesky neighbor who knocks on his friend's door at midnight asking for three loaves of bread. He receives what he asks for "because of his persistence." Finally, Our Lord gives us encouragement to ask (and to ask persistently): "Ask and you will receive; seek and you will find; knock and the door will be opened to you." If even we the wicked know how to give good gifts to our children, how much more will the Father give the Holy Spirit to those who ask?
There's something that's a little disappointing about this analysis of prayer. Is that it? Doesn't it seem a little simplistic? With the words of this Gospel before us, we might find ourselves thinking, "I was hoping prayer would be a little more glamorous." There's something about the idea of asking God for things that's even a little embarrassing.
When we ask God for something, we are acknowledging that we are in need. We are not self-sufficient. Petition is humbling in this sense: it makes us acknowledge our weakness. I am not capable of providing everything for myself and for those whom I care about. We also have to acknowledge that we are not in the position to command God or control him. We cannot twist God's arm. We cannot force or oblige him. We have to ask.
At the same time, petition is an acknowledgment of God's power. God has lordship over everything, even the smallest and least significant of things. I can't find a parking spot, and of all the things going on in the cosmos, this is pretty trivial. But if it should please you, Lord, grant that one should open up for me. We are invited to grow in friendship with God as we converse with him constantly, considering nothing in our lives too big or small to share with him. Jesus invites us to place our needs in the Father's hands and to trust him, because he has made us children of the Father, sharing in his own sonship. "When you pray, say: Father … "