Luke 24:13-35
Blinded to the Light
by Rev. Paul Scalia
Reprinted with permission of "The Arlington Catholic Herald"
Home Page
To Sunday Gospel Reflections Index
Written to explain that
Christ came to save everyone.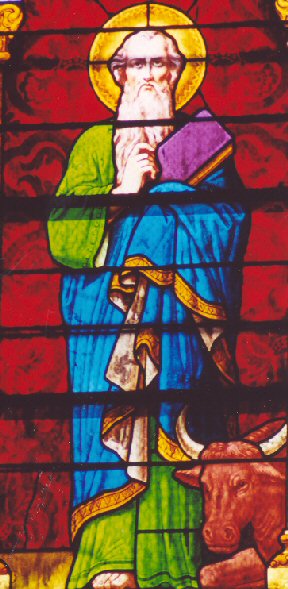 That very day, the first day of the week, two of Jesus' disciples were going to a village seven miles from Jerusalem called Emmaus, and they were conversing about all the things that had occurred. And it happened that while they were conversing and debating, Jesus himself drew near and walked with them, but their eyes were prevented from recognizing him.
He asked them, "What are you discussing as you walk along?" They stopped, looking downcast. One of them, named Cleopas, said to him in reply, "Are you the only visitor to Jerusalem who does not know of the things that have taken place there in these days?" And he replied to them, "What sort of things?" They said to him, "The things that happened to Jesus the Nazarene, who was a prophet mighty in deed and word before God and all the people, how our chief priests and rulers both handed him over to a sentence of death and crucified him. But we were hoping that he would be the one to redeem Israel; and besides all this, it is now the third day since this took place. Some women from our group, however, have astounded us: they were at the tomb early in the morning and did not find his body; they came back and reported that they had indeed seen a vision of angels who announced that he was alive. Then some of those with us went to the tomb and found things just as the women had described, but him they did not see."
And he said to them, "Oh, how foolish you are! How slow of heart to believe all that the prophets spoke! Was it not necessary that the Messiah should suffer these things and enter into his glory?" Then beginning with Moses and all the prophets, he interpreted to them what referred to him in all the scriptures. As they approached the village to which they were going, he gave the impression that he was going on farther. But they urged him, "Stay with us, for it is nearly evening and the day is almost over." So he went in to stay with them. And it happened that, while he was with them at table, he took bread, said the blessing, broke it, and gave it to them. With that their eyes were opened and they recognized him, but he vanished from their sight.
Then they said to each other, "Were not our hearts burning (within us) while he spoke to us on the way and opened the scriptures to us?" So they set out at once and returned to Jerusalem where they found gathered together the eleven and those with them who were saying, "The Lord has truly been raised and has appeared to Simon!" Then the two recounted what had taken place on the way and how he was made known to them in the breaking of the bread.
A curious aspect of Our Lord's resurrection appearances is the failure of His followers to recognize Him. Mary Magdalene in the garden, the disciples on the road to Emmaus, the apostles at the Sea of Tiberias — these men and women who knew and followed Jesus for years all fail to identify Him risen from the dead. Given their grief and longing for consolation, you would think they would be quick, eager to see Him. But, as Luke says of Cleopas and his companion, "their eyes were prevented from recognizing Him" (Lk 24:16). What exactly prevented them?
There seems to be some mysterious divine action involved. He hides Himself so that they will wonder and seek Him all the more. He veils Himself to remind us that the Resurrection, although historical and factual, is nevertheless beyond our ability to understand. It is a mystery to be reverenced, not a fact to be memorized. There is, however, another reason for His resurrection hiddenness — something that pertains more to us than to Him.
We miss things — either failing to grasp the significance of people and events or to see them altogether — when we are caught up with ourselves. When we are "in our own world," as we say, we miss the presence and importance of others. Our worry, sadness, or anxiety can blind us to things, preventing us from recognizing even those who could help us. So it was with the Lord's disciples at His resurrection. Their own concerns blinded them to the One they longed to see.
Thus, Mary Magdalene weeping at the tomb is so overcome with grief that she does not recognize Him. The disciples on the road to Emmaus, caught up in their own conversation (equal parts worldly hopes and recent gossip), take Him for a stranger, even a visitor. The apostles at the Sea of Tiberias, distracted with their familiar work of fishing, cannot make Him out on the shore. The irony is rich: Their grief blinds them to the only one who can free them from it. So, Jesus must shock them out of their self-referential thinking to behold Him. He does so by a word ("Mary"), a gesture (the breaking of the bread) or a miracle (the catch of fish).
The risen Christ is with us and before us always. Indeed, by grace He dwells intimately within us. Yet we become so self-focused, so turned inward that we fail to recognize Him. Like the disciples, we have an amazing capacity to blind ourselves, preferring familiar despondency to unexpected joy. We allow ourselves to slide into our moods — sadness, anger, anxiety, etc. — rather than look to the One before us, indeed who accompanies us at all times.
The Resurrection is first of all about Jesus Christ — about His victory over death and the Father's exaltation of Him. To appreciate that and receive its fruits, we need to look and think beyond ourselves. We need to look to Him. If we are turned in on ourselves, focused on our own concerns, then we will not grasp His victory. To rejoice in the Resurrection requires caring more about Him than about ourselves.
The Lenten and Holy Week journey with Our Lord in His suffering is meant to free us from self. Mother Church places His passion before us so that the Man of Sorrows will move our hearts and minds to feel and think about Him — not about ourselves. Then, freed from slavery to self by affection for Him, we can be open to the Resurrection encounter as well. More remains to be done, of course. As He did for His first followers, so now may He shock us out of our self-referential thinking and make us turn to Him, Who alone can save us.
Top
Home Page
To Sunday Gospel Reflections Index