Matthew 5:13-16
Sharing Love, Light
by Rev. Jack Peterson, YA
Reprinted be permission of "The Arlington Catholic Herald"
Home Page
To Sunday Gospel Reflections Index
Matthew wrote to show that Christ was the
Messiah and fulfilled the Jewish prophecies.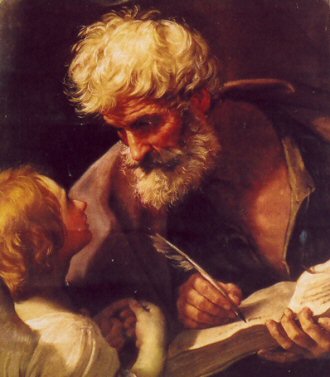 Jesus said to his disciples: "You are the salt of the earth. But if salt loses its taste, with what can it be seasoned? It is no longer good for anything but to be thrown out and trampled underfoot. You are the light of the world. A city set on a mountain cannot be hidden. Nor do they light a lamp and then put it under a bushel basket; it is set on a lamp stand, where it gives light to all in the house. Just so, your light must shine before others, that they may see your good deeds and glorify your heavenly Father."
A good friend and member of Youth Apostles went to Alaska for a year to serve as the director of youth ministry in a parish. He mentioned how difficult the winters are with the bitter cold temperatures and the lack of sunlight. In the dead of winter, the nights are long, the days are short and the sun never rises very high in the sky.
The darkness wears on you and drags you down.
Alaskan winters are a great symbol of the darkness that pervades many corners of our world where we block out God. When we turn our backs to God, we fail to discover purpose and meaning. When we shut out God from our hearts, we are forced to rely solely upon broken, sinful human beings for our peace and fulfillment. When we refuse to invite God into our lives, we are destined to be overwhelmed by the selfishness, hurt, anger, anxiety, and depression that is growing in those hearts, homes and neighborhoods where God is shunned.
The darkness wears on you and drags you down.
Christ is God's answer to the darkness. Christ is the light of the world. He reveals to the world the saving and renewing love of God. He sheds light on the dignity of each and every human person, made in God's own image and likeness. He casts a bright beam on the path through life that leads human beings to hope, reconciliation, truth and joy — that is, the fullness of life. Jesus reminds us that we were made for so much more than what is commonly offered in classrooms, on iPads and through questions posed to Alexa.
Jesus deeply desires that we become instruments of his light and help him spread the light. In fact, he proclaims, "You are the light of the world. A city set on a mountain cannot be hidden." Our Lord wants us to be so united with him in faith and love that his light shines through us into the lives of those around us.
We share God's light with the world in two main ways. First, by our very existence. When you live with the personal knowledge of God's deep, personal love for you, you also know a joy that others can see in your eyes, radiating on your face. When you walk through your days with the conviction that you have been called, gifted and sent by God with a mission on this earth, you scatter the darkness around you with goodness and passion for God. When you see and rejoice in the marvelous deeds of God, past and present, in the world and in your own life, you become a source of hope and encouragement for others. When you live your life focused on others rather than on yourself, people notice the difference and they want what you have.
The second way we share God's light with the world is through our actions. "Just so, your light must shine before others, that they may see your good deeds and glorify your heavenly Father." By generous acts of selfless service to those in need around us, God's light shines in our world. When we go visit an elderly relative on a Sunday afternoon and miss watching a sporting event, God's light shines brightly. When we take the time to play a game that a younger sibling wants to play rather than insisting on a favorite game, the world becomes brighter. When we put extra effort into preparing a meal for the family knowing that everyone needs to slow down, gather around the table, engage in healthy conversation and enjoy some fine cuisine, darkness fades. When we dedicate time regularly to visit the homeless, volunteer at a food shelter, or bring communion to the nursing home, the world is a brighter place.
One of the great ironies of life that we learn from Christ and so many of his disciples is this: It is in loving others that we are loved; it is in giving generously of ourselves that we receive; it is in pouring out our lives for God and neighbor that our lives are filled. The prophet Isaiah, in our first reading for today, after encouraging us to serve our neighbor with kindly deeds such as sharing our bread with the hungry, wisely states: "Then your light shall break forth like the dawn, and your wound shall quickly be healed." Many of our own wounds are healed through the process of discovering the love of God and deciding to share that love with those around us.
The verse for the Gospel alleluia today proclaims: "I am the light of the world, says the Lord: whoever follows me will have the light of life."