Matthew 5:1-12a
Finding Meekness
by Rev. Jack Peterson
Reprinted be permission of "The Arlington Catholic Herald"
Home Page
To Sunday Gospel Reflections Index
Matthew wrote to show that Christ was the
Messiah and fulfilled the Jewish prophecies.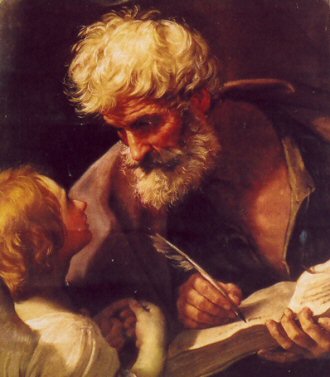 When Jesus saw the crowds, he went up the mountain, and after he had sat down, his disciples dame to him. He began to teach them, saying: "Blessed are the poor in spirit, for theirs is the kingdom of heaven.
Blessed are they who mourn, for they will be comforted.
Blessed are they who meek for they will inherit the land.
Blessed are they who hunger and thirst for righteousness, for they will be satisfied.
Blessed are the merciful, for they will be shown mercy.
Blessed are the clean of heart, for they will see God.
Blessed are the peacemakers, for they will be called children of God.
Blessed are you when they insult you and persecute you and utter every kind of evil against you falsely because of me. Rejoice and be glad, for your reward will be great in heaven."
The church presents us with the beatitudes on the fourth Sunday of Ordinary Time. They are fundamental to the teaching of Jesus and stand at the center of the New Covenant established by Our Lord. The beatitudes pour out enlightening wisdom that sets us free and gives us surprising insights into the mind of God. They are attractive because they hold up Jesus' promise of happiness; yet, they are a bit confusing because they are rather paradoxical and not easy to understand at first glance.
The beatitudes are paradoxical because they lay out a path to human happiness that is gained through circumstances and attitudes not normally associated with happiness. They promise a happiness that comes directly from God - a happiness that is the fruit of a deep relationship with God and flows out of a life transformed by his merciful love. In the beatitudes, we discover sources of happiness that are wonderfully surprising. In the end, the happiness of the beatitudes is the fruit of true human and spiritual maturity.
According to the Evangelist Matthew, there are eight beatitudes. Today, we will focus on one of them: Blessed are meek.
Meekness is rare in our world because it is a divine quality. It can be defined as "strength in humility." And, of course, it definitively flows from charity. The life of Christ was marked by meekness. On the one hand, Jesus melted hearts with his care for our wounds, patience with our sins, knowledge of our souls and his invitation to play a critical role in the building of his kingdom in spite of our unworthiness. Jesus' great care for the woman with the hemorrhages, Peter the Apostle, Mary Magdalene and Matthew the tax collector, manifest these graces.
At the same time, Jesus taught with unequaled authority, revealed critical truths about god previously unknown to man, demonstrated great power over nature, and stood unhesitatingly firm in the face of misguided and arrogant religious and political leaders. Furthermore, there was no arrogance, hardness of heart, or need for vengeance in any of his dealings with friend or foe.
Meekness is as paradoxical and misunderstood as the rest of the beatitudes. The meek are not weak; on the contrary, they are remarkably strong.
The meekness of Christ is a far cry from timidity or cowardice. The meek stand firm in the face of opposition and quietly fulfill their responsibilities with zeal and joy in the Lord. When enduring trials, they refuse to play the victim. The hold fast to their beliefs without being aggressive or overassertive. The meek freely submit to proper authority without being a doormat. When called upon to exercise authority, they do so without lording it over others because they understand that leadership is an opportunity to humbly serve those entrusted to their care. When hurt by others, the meek refuse to respond with hatred and vengeance. They toil consistently at their duties with the love of Christ flowing through their veins. The meek stand up boldly for the rights of the weak and less fortunate; yet, they grasp that human justice alone cannot resolve all of the world's ills. Rather, it is the folly of charity and forgiveness the ultimately destroys evil. Is there any doubt that meekness is greatly needed in our world today? It is a virtue, a fruit of the Holy Spirit and a cause for happiness that political, religious, academic, business, and family leaders need to pray for and cultivate.
Jesus will reiterate the importance of meekness later on in his ministry: "Come to me all who labor and are burdened, and I will give you rest. Take my yoke upon you and learn from me; for I am meek and humble of heart" (Mt 1128-29).