Matthew 11:25-30
A Well-fitted Yoke by Rev. Hudgins
Reprinted with permission of "The Arlington Catholic Herald"
Home Page
To Sunday Gospel Reflections Index
Matthew wrote to show that Christ was the
Messiah and fulfilled the Jewish prophecies.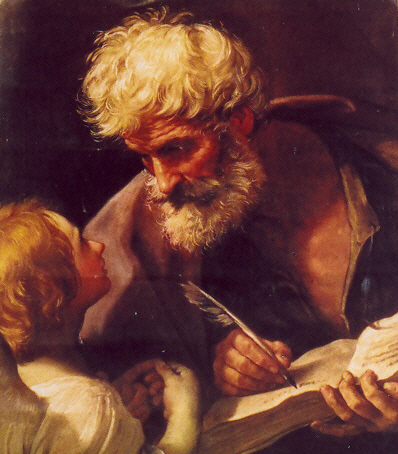 At that time Jesus said in reply, "I give praise to you, Father, Lord of heaven and earth, for although you have hidden these things from the wise and the learned you have revealed them to the childlike. Yes, Father, such has been your gracious will. All things have been handed over to me by my Father. No one knows the Son except the Father, and no one knows the Father except the Son and anyone to whom the Son wishes to reveal him.
"Come to me, all you who labor and are burdened, and I will give you rest. Take my yoke upon you and learn from me, for I am meek and humble of heart; and you will find rest for yourselves. For my yoke is easy, and my burden light."
Industrial and technological developments in recent decades have ushered in a world of conveniences, unimagined by our ancestors, that have lifted nearly every physical burden from our daily lives. We have air conditioning and hair conditioning. We have Wawa and Wi-Fi. We have indoor plumbing and outdoor grilling. We have instant coffee, instant messaging, instant oatmeal, instant pizza, instant noodles, instant approval credit, and if something isn't instant yet, just give it a few more years. But with so many burdens lifted, why is it that life still feels so burdensome? The answer is that the comforts of the body have no power to comfort the soul. It's why the invitation we hear in the Gospel this week is one of the most compelling verses in the Scriptures: "Come to me, all you who labor and are burdened, and I will give you rest … for my yoke is easy, and my burden light."
A yoke is a simple wooden truss worn by a pair of oxen that does not so much add a burden as allow one to be borne. Jesus never told us there would be no burden in following him. Christ himself was burdened beyond all imagining, carrying on his own back the weight of every sin ever committed. He told us, rather, that although we would be burdened, we would never be overcome (Jn 1:5). His yoke, he said, is easy and his burden light. This presupposes, of course, that we carry Christ's burden, and not a burden of our own making. Countless beleaguered souls spend the better part of their lives laboring beneath the punishing burden of a cross of their own handiwork. They live slavishly in the minds of other people. They work to acquire more and more, never recognizing that we cannot get enough of what we do not really need. They pursue projects, profits, promotions and so much else without discerning for a moment if God wills any of it.
Of course, life is a drudgery when carrying burdens God never intended for us. We create our own absurdity and sadness, and the Lord wishes to spare us from that. This is what Jesus means when he says, "my yoke is easy." But if the yoke of Christ is the cross, how could Jesus ever claim it to be easy? A glance at the original Greek text of St. Matthew's Gospel reveals the answer. The Greek term for "easy" is "chrestos," which translates not only as "easy," but also as "well-fitting." In Jesus' time, a wooden yoke was custom matched to a pair of oxen by a skilled carpenter who carved it to a perfect fit, which made the weight of any burden as light and easy as possible. By contrast, a yoke made by an amateur was inefficient, wasted the oxen's strength, and could even lead to injury. Jesus was trained as a carpenter of course, and it's not difficult to
imagine that he made the finest yokes in Nazareth. It's no surprise that the Lord's yoke fits us so well. The cross is indeed easy and light compared with the cumbersome, worldly burdens we fashion for ourselves.
One of life's great illusions is that the elusive peace we hope for will be found with just one more possession, one more promotion, or one more honor. The truth is that peace comes not from possessing, but from emptying ourselves out, entrusting the whole of our lives to the will of God, and daring to actually mean it. Jesus yoked himself to the will of his heavenly Father when he carried the cross, and left us his peace as his gift (Jn 14:27). He shares this peace with those who follow in his footsteps. Let's not be afraid to take up the holy burden of our own cross. It's where we will find rest for ourselves, and peace for our weary hearts.