Matthew 18:15-20
Address Offense
by Rev. Jack Peterson
Reprinted by permission of "The Arlington Catholic Herald"
Home Page
To Sunday Gospel Reflections Index
Matthew wrote to show that Christ was the
Messiah and fulfilled the Jewish prophecies.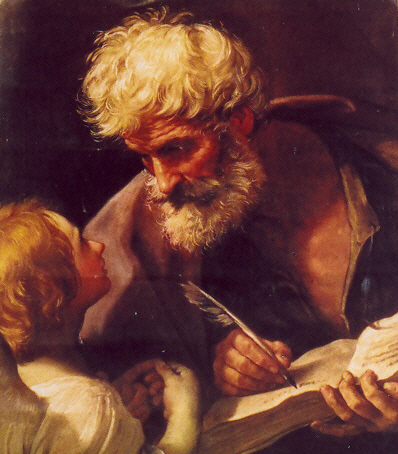 If your brother sins (against you), go and tell him his fault between you and him alone. If he listens to you, you have won over your brother. If he does not listen, take one or two others along with you, so that 'every fact may be established on the testimony of two or three witnesses.' If he refuses to listen to them, tell the church. If he refuses to listen even to the church, then treat him as you would a Gentile or a tax collector. Amen, I say to you, whatever you bind on earth shall be bound in heaven, and whatever you loose on earth shall be loosed in heaven. Again, I say to you, if two of you agree on earth about anything for which they are to pray, it shall be granted to them by my heavenly Father. For where two or three are gathered together in my name, there am I in the midst of them."
St. Paul, following closely in the footsteps of Jesus, proclaims to the church in Rome the primacy of charity in the life of the Christian. "Brothers and sisters: Owe nothing to anyone, except to love one another; for the one who loves another has fulfilled the law." He proceeds to name several of he Ten Commandments and then to state that all of them "are summed up in this saying, namely, 'you shall love your neighbor as yourself."
It is most important that we return to this central element of our faith on a regular basis. It is easy to get bogged down with life's many burdens and responsibilities and get distracted from what is most fundamental. Am I growing in my love for God? Is that love of God spilling over into every relationship in my life?
The other two reading for the 23rd Sunday spell out two practical ways that we are called to live charity in our daily lives. In the Gospel from Matthew, Jesus provides some wonderfully practical advice on how to address a person who has sinned against us. It is worth noting that Jesus must be speaking about a rather serious offense because he regularly challenges us to set aside petty differences and even turn the other cheek when we have been struck.
First, Jesus tells us to go directly to the person and address the issue in private. Do not gossip about them, destroy their reputation or retaliate against them. Rather, go directly to them and address the sin they have committed against you. If they listen, you have won them over. If they are not willing to listen, take one or two others with you and approach them again. Sometimes the weight of additional testimony can bring someone to humbly admit their sin. It can be harder to deny the truth of our offense when sitting before two or three persons. One of the others may have a relationship with the offender or an angle on the offense that helps the person come to see the light. If the offender still refuses to listen, tell the church. Perhaps they will listen to Mother Church. This approach is very sound, practical and charitable. How many of the world's difficulties could be avoided if more people addressed their hurts in this manner.
Lastly, the prophet Ezekiel reminds of the responsibility we have to offer a charitable word of warning to those who have wandered off the path to God. "I have appointed watchmen for the house of Israel. When you hear me say anything, you shall warn them for me." It is often quite difficult for us to provide this expression of charity. Most of us do not like conflict or confrontation. We have to step well outside our comfort zone to love our neighbor b extending a word of warning or challenge.
This invitation from God to assist him by warning our neighbor can be compounded by difficult elements in our culture. For instance, many in our world today operate with the false assumption that there are no universal truths, no moral boundaries that are binding on everyone. This leads to an approach that everyone can live however they want as long as they do not directly and immediately harm me with their actions. This perverted approach to reality discourages men and women of faith from offering a word or warning to those who have gone astray from the Gospel way of life. However, it is an act of true charity to offer the warning when it is done from a place of care, after lifting them up in prayer, and when it proceeds from a genuine desire to see them return to the Lord.
We hear from St. Paul today, "Love is the fulfillment of the Law." Far from being a shallow sentiment, love demands much from us. It is sacrificial in nature. It is an act of the will. It means dying to self that others may come to the fullness of life. Love invites us to address wrongs in a Christ-like way and to be a "watchman" for the Lord, warning others when they have gone astray. Do not skip this aspect of charity because it is hard. Ask the Lord for the grace to do this well and seek advice from a wise person if you are unsure how to proceed. "Owe nothing to anyone, except to love one another."