Matthew 21:28-32
Change a River's Course
by Rev. Steven G. Oetjen
Reprinted with permission of "The Arlington Catholic Herald"
Home Page
To Sunday Gospel Reflections Index

Matthew wrote to show that Christ was the
Messiah and fulfilled the Jewish prophecies.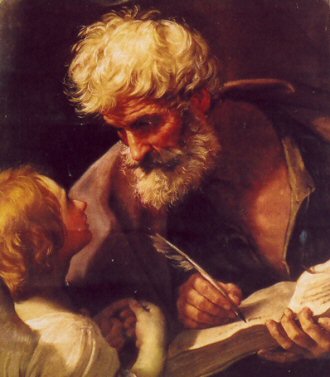 Jesus said to the chief priests and elders of the people: "What is your opinion? A man had two sons. He came to the first and said, 'Son, go out and work in the vineyard today,' He said in reply, 'I will not,' but afterwards he changed his mind and went. The man came to the other son and gave the same order. He said in reply, 'Yes sir,' but did not go. Which of the two did his father's will?" They answered, "The first." Jesus said to them, "Amen, I say to you, tax collectors and prostitutes are entering the kingdom of God before you. When John came to you in the way of righteousness, you did not believe him; but tax collectors and prostitutes did. Yet even when you saw that, you did not later change your minds and believe him.
In today's parable, a father asks his two sons to work in the vineyard. As for the first one, the text says, "He said in reply, 'I will not,' but afterward changed his mind and went." As for the second, "He said in reply, 'Yes, sir,' but did not go." Note the asymmetry. For the first son, there was a moment in which he changed his mind. It seems obvious that to go from no to yes required a change in between. In this case, we call it repentance. For the second son, however, no such moment of change is mentioned. Put simply, his yes was never really sincere,
St. John Henry Newman uses the image of a stream or river for the second son. His situation is like when a wind is blowing against a river. If you are only looking at the surface of the water, it appears to be flowing one direction, but underneath the current is still flowing the same as before. This is the insincere yes. In fact, it is a yes that can even deceive the one saying it. Newman says, "We promise to serve God: we do not perform; and that not from deliberate faithlessness in the particular case, but because it is our nature, our way not to obey, and we do not know this; we do not know ourselves, or what we are promising."
In a moment of recollection and clarity, we make resolutions. It may seem as clear as day to us what changes need to happen in our lives to bring us closer to God. We want to make these changes, sometimes with enthusiasm. But then the moment of clarity passes by and we return to all the things in life we need to attend to. Before long, the wonderful resolutions we've made have been forgotten, and life is exactly the same as it was before. We say yes on the surface, and we ourselves believe it, yet the current underneath continues to flow the way it did before. As soon as the wind of our good religious feelings stops blowing, even the surface returns to its old flow.
When Newman says, "it is our nature, our way not to obey," he is speaking of our fallen nature. This pattern of self-absorption and slowness to respond to God's will is our fallen nature's tendency. Christ is radically different, and this is what gives us hope. Jesus Christ "was not 'yes' and 'no'" (2 Cor 1:19). His is a human nature united to the Godhead and restored, a humanity that does respond to the Father's will with a perfect yes - not only in word but also in deed.
Our sanctification is a stripping off of the "old man" and a putting on of the "new man" created according to God (cf. Col 3:9-10; Eph 4:22-24). The Christian life is a constant dying to self and rising to new life in Christ.
Do you find that although you are generally true to your word with other people, you often make resolutions to God that you don't keep? How do you strip off the old man and put on the new?
First, imitate the honesty of the first son. The first son may have been disrespectful in saying no to his father's request, but at least he was honest. We should imitate his honesty without imitating his disrespect. We can acknowledge before God (and admit to ourselves) that our good thoughts and feelings can deceive us. We all need a healthy sense of distrust of self. Distrust of self is what opens us to trust in God.
Second, cooperation with grace necessarily involves action. It's not enough to say you will act, or to say you should act, or to say that you are the kind of person who acts. Act. Love must show evidence by works. Particularly important are things that require sacrifice. The "old man" will not b e stripped away without sacrifice and mortification. Even the smallest acts work toward this end.
Don't be discouraged by failure. The more we fail, the more reason we have to distrust ourselves and to trust in God. Putting on the "new man" means letting the Word who is Christ speak his yes within us. His Word has the power to create out of nothing. He surely has the power to change a river's course.