11th Sunday Ordinary Time
A Homily - A Cycle - 2004-2005
First Reading - Exodus 19:2-6a
Responsorial Psalm - Psalm 100:1-2, 3, 5
Second Reading - Romans 5:6-11
Gospel - Matthew 9:36-10:8
Matthew wrote to show that Christ was the
Messiah and fulfilled the Jewish prophecies.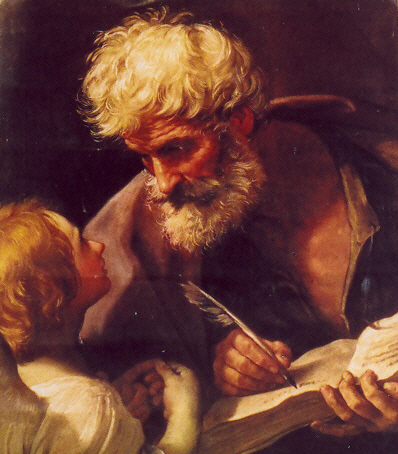 At the sight of the crowds, his heart was moved with pity for them because they were troubled and abandoned, like sheep without a shepherd. Then he said to his disciples, "The harvest is abundant but the laborers are few; so ask the master of the harvest to send out laborers for his harvest."
Then he summoned his twelve disciples and gave them authority over unclean spirits to drive them out and to cure every disease and every illness. The names of the twelve apostles are these: first, Simon called Peter, and his brother Andrew; James, the son of Zebeedee, and brother John; Philip and Bartholomew, Thomas and Matthew the tax collector; James, the son of Alphaeus, and Thaddeus; Simon the Cananean, and Judas Iscariot who betrayed him.
Jesus sent out these twelve after instructing them thus, "Do not go into pagan territory or enter a Samaritan town. Go rather to the lost sheep of the house of Israel. As you go, make this proclamation: 'The kingdom of heaven is at hand.' Cure the sick, raise the dead, cleanse lepers, drive out demons. Without cost you have received; without cost you are to give. Do not take gold or silver or copper for your belts; no sack for the journey, or a second tunic, or sandals, or walking stick. The laborer deserves his keep.
Yesterday morning, I gathered with my brother priests and a capacity crowd at the cathedral to witness our bishop ordain four new priests. Simply put, the Mass was profoundly moving and a day of victory for our diocese and our Church, setting apart four new priests for service. This event coincides beautifully with our Gospel today - an exhortation from our Lord to beg the harvest master or even more laborers. Thankfully, the bishop will ordain seven more priests next year.
The ordination reminded so many of us present yesterday that while we are priests by reason of our baptism, our Lord set aside men that He Himself called to serve the priesthood of the baptized as ministerial priests. Our Lord knew that leaving us with His Word would not be enough - that we would need the seven sacraments to communicate sanctifying grace. He knew that Catholics would need to have His presence visible in the world, to serve as other Christ's - acting in His person. And while the Eucharist is the most sublime sacrament and baptism is the most necessary for salvation, it is the sacrament of Holy Orders that make most all of the other sacraments possible. This is an incredibly rich and beautiful reality - our Lord remains with us through His priests and the Eucharist they confect.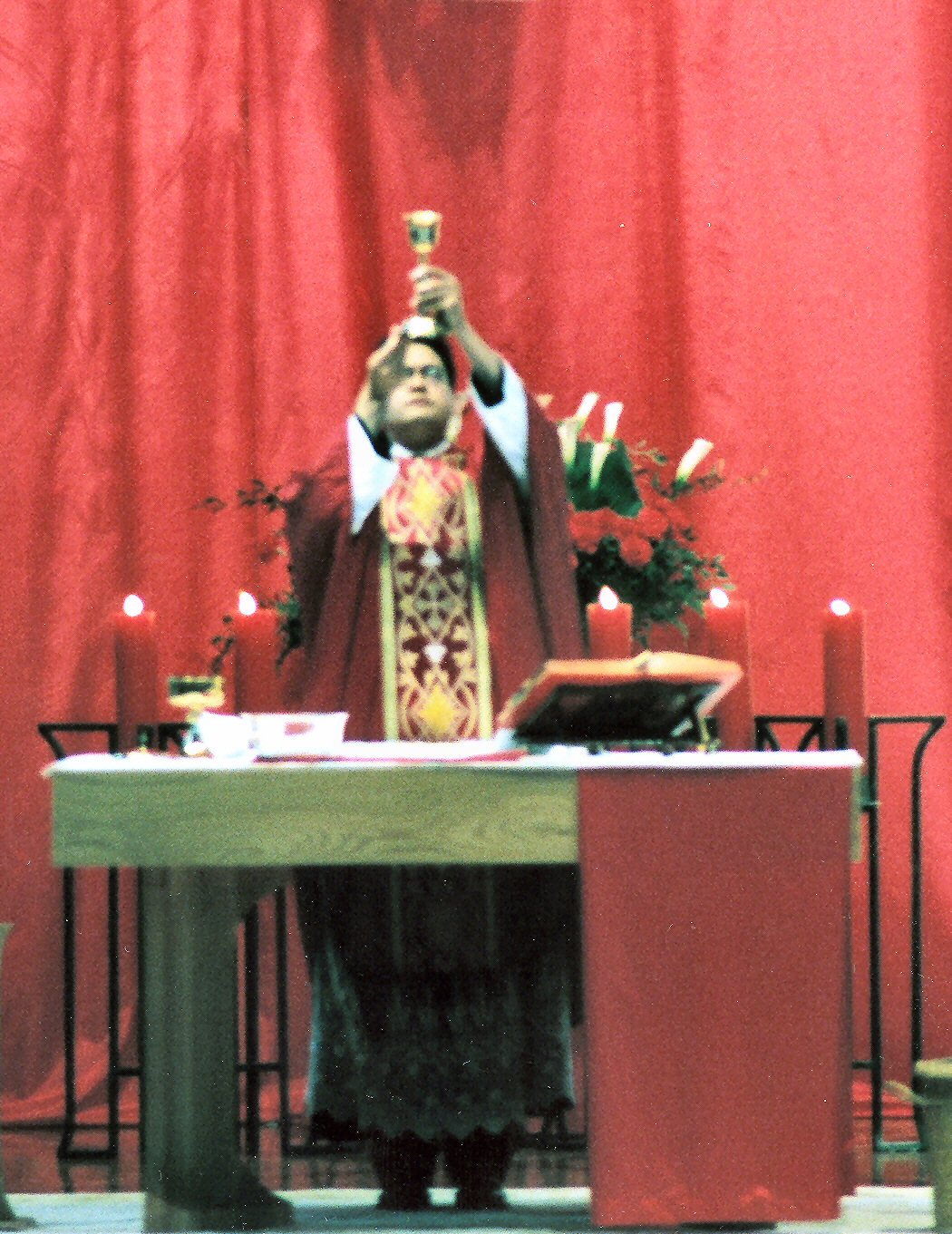 The ordination of these four new priests gave me an opportunity to recall and reflect upon my own ordination in 2002. It was an emotional time in the Church - the scandals of the last years were at their height. Media coverage was incessantly brutal and there was an overwhelming sense of darkness in those months. At the time, some of my friends thought that I was utterly crazy to be ordained a priest, let alone in such a hostile environment. They began to openly question the charism of celibacy and its viability in the modern world.
While most of you have made your vocation choice and have lived it for some time now, you all have relatives - children, grandchildren, great grandchildren, nephews and nieces. Your attitude towards the priesthood and celibacy can be an instrumental force in encouraging or discouraging vocations to the priesthood and religious life. Vocations to the priesthood and religious life start in families. And yet, as a seminarian, I was often heartbroken when I would hear that the persons most opposed to my classmates' vocations were their FAMILIES. Some siblings thought that unmarried persons cannot be happy and other parents wanted grandchildren or the perpetuation of the family name. It wasn't the future seminarian's girlfriend or his employer that was saddened the most - it was his family!
We need to ask ourselves, "Do I understand and support the priesthood and celibacy?" Do I criticize priests in front of my children?" "Do I have an attitude towards the priesthood and religious life that would make it difficult for my child to consider pursuing this life?" "Do I believe and assert what the Church teaches about consecrated celibacy - that it is a superior state of life to marriage and the single life?"
It is not enough to say that it is merely a different vocation from marriage or the single life. It is objectively superior even if the subjective persons living it are not. This was taught at the Council of Trent and affirmed at Vatican II. St. Paul teaches this, as does our Lord when he reminds that there is no marriage in heaven and so celibates live in their bodies now how we will all live in the next life - in celibacy.
The crisis is not a vocations crisis. God still continues to call as many priests and nuns as he needs to do His work. The crisis is a crisis of response. Families that don't encourage vocations only aggravate the crisis of response. Often times, the enemy is within our own ranks.
We hear objections to celibacy all the time. Some say that we would have more priests if they could marry. The Episcopalians started ordaining married clergy years ago and it has not solved their vocations problem. In fact, they have less priests now per capita than they had before the ordained married persons. In fact, the biggest opponents of married clergy are the wives of Episcopalian priests who have become converts and attained permission to be ordained as Catholic priests. They say that they never see their husband anymore, so demanding is the priestly life.
Others think that married priests would reduce the problems of misconduct in the priesthood. This suggests that marriage is viewed as a crime prevention program. How sad! Many do not realize that the vast majority of the priests involved in the scandals struggle with same-sex attraction and that sexual misconduct is more common among married men than among priests.
Some will argue that celibacy is unnatural. Indeed it is. It is SUPERNATURAL. Celibacy is an invitation to an intimate union with Christ, unfettered by the demands of marriage and family. It is an incentive for pastoral charity - priests are invited into the most intimate secrets of people's lives - their best and worst moments. Celibates lived as Christ did - totally given over to God, living now how we will all live in heaven, where there is no marriage between man and woman. RCIA candidates will often tell you about the impact that the witness of celibacy had for them in their conversion. It tells them that "these guys really must believe in all of this if they are willing to give up everything to follow Christ."
When I hear someone say, "What a waste of a man - he could have done so much more with His life," it tells me that these people do not have a very good sense of self because what they are really saying is that "I am not good enough for the priest to have laid down his life for me and that I"M the waste."
So, please pray for your priests, especially your newly-ordained. Each of us lays down our life for you. Pray that we have the heart of Christ, which was moved to pity, for He noticed that his flock had no shepherds. Pray that we cultivate hearts of compassion and humility so that the Blessed Virgin Mary, Mother of the Eucharist and Mother of Priests, will teach us all the virtues that she taught our Lord in His humanity so that the presence of Christ will continue to permeate and sanctify the world.
Lastly, may Catholic families rediscover a love for the priesthood and celibacy so that many more laborers can be sent into the Lord's vineyard to gather the harvest, which longs to see His face.
Praised be Jesus Christ! Now and forever!
If you find this material valuable, consider a tax deductible gift to support this site.
The DaCapo Foundation • 2402 Tricia Ct. • Vienna VA 22181