19th Sunday in Ordinary Time
A Homily - Cycle C - 2006-2007
First Reading - Wisdom 18:6-9
Responsorial Psalm - Psalm 33:1, 12, 18-19, 20-22
Second Reading - Hebrews 11:1-2, 8-19 or 11:1-2, 8-12
Gospel - Luke 12:32-48 or 12:35-40
Luke writes to explain that
Christ came to save everyone.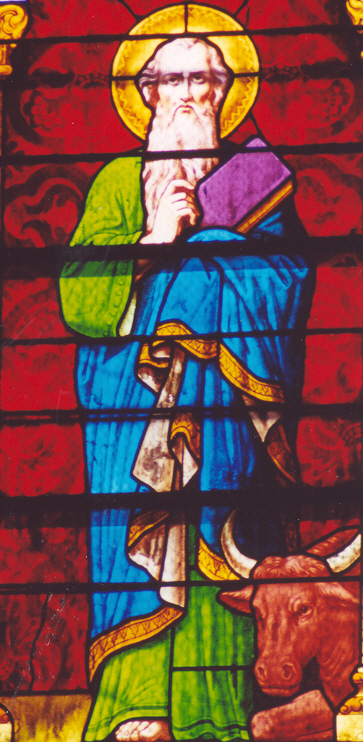 Jesus said to his disciples: "Do not be afraid any longer, little flock, for your Father is pleased to give you the kingdom. Sell your belongings and give alms. Provide money bags for yourselves that do not wear out, an inexhaustible treasure in heaven that no thief can reach nor moth destroy. For where your treasure is, there also will your heart be.
"Gird your loins and light your lamps and be like servants who await their master's return from a wedding, ready to open immediately when he comes and knocks. Blessed are those servants whom the master finds vigilant on his arrival. Amen, I say to you, he will gird himself, have them recline at table, and proceed to wait on them. And should he come in the second or third watch and find them prepared in this way, blessed are those servants. Be sure of this: if the master of the house had known the hour when the thief was coming, he would not have let his house be broken into. You also must be prepared, for at an hour you do not expect, the Son of Man will come."
Then Peter said, "Lord, is this parable meant for us or for everyone?" And the Lord replied, "Who, then, is the faithful and prudent steward whom the master will put in charge of his servants to distribute the food allowance at the proper time? Blessed is that servant whom his master on arrival finds doing so. Truly, I say to you, the master will put the servant in charge of all his property. But if that servant says to himself, 'My master is delayed in coming,' and begins to beat the menservants and the maidservants, to eat and drink and get drunk, then that servant's master will come on an unexpected day and at an unknown hour and will punish the servant severely and assign him a place with the unfaithful. That servant who knew his master's will but did not make preparations nor act in accord with his will shall be beaten severely; and the servant who was ignorant of his master's will but acted in a way deserving of a severe beating shall be beaten only lightly. Much will be required of the person entrusted with much, and still more will be demanded of the person entrusted with more."
"You also must be prepared, for an hour you do not expect, the Son of Man will come" (Lk. 12).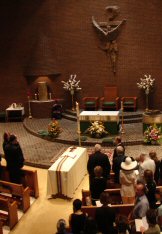 The note of preparedness enunciated in Luke's gospel is an essential concern for all who are called to be members of God's kingdom here on earth, as well as in his eternal kingdom in heaven. Preparedness is an attitude - i.e., an interior disposition of not allowing ourselves to get bogged-down with a false sense of assurance that the goods/riches of this earth are perpetual; or that we allow them to become the central focus of our lives. "Provide for yourselves", Christ said, "An inexhaustible treasure in heaven that no thief can reach, nor moth destroy" (Lk. 12).
Luke's reference to "An hour you do not expect" when the Son of Man will come brings to mind, almost immediately, that the time of our physical demise, while certain, is unknown. That is, as the saying goes: "A no-brainer!" It is expected. Many young people do not a feel any urgency about their death. Often, in fact, many put themselves in hazardous situations, as if thinking that they are indestructible. Other persons have real reasons for pondering the immediacy of the end of their lives - i.e., the terminally ill, our military personnel in Iraq and Afghanistan who are daily in "Harm's way" and the civilian populations of nations who are at war.
Because death is a certainty - albeit unpredictable - it is wholesome part of preparedness to give occasional thought to its eternal consequences. Catholic theology has identified the so-called "Three last things": Death, judgment, and heaven or hell. Human experience has shown that there are two aspects to our contemplation of these "Three last things", viz., fear or joyous expectation. The "Particular judgment" which you and I will face at the moment of death can, indeed, be either fearful or joyous. For an unrepentant sinner, their particular encounter with Christ will be a terrible encounter: "Depart from me, you accursed. . ." For the Faithful soul it will be "The long-a-waited embrace of a friend" (Fr. S. Krempa).
Another aspect of the unexpected hour of the Lord's coming is our belief in the "Second coming" of Christ in glory. This is the unknown moment in time when the "General judgment" of mankind will occur. As our profession of faith states it, Jesus will come, accompanied by a heavenly host of angels, to be the vindicated "Judge of the living and the dead". It is then that Jesus will revel to the universality of mankind the third of the "Three last things": "Come, you blessed of my father. . ." or, "Depart from me, you accursed. . ."
Today, August 12, 2007, the scriptures urge us to exercise the preparedness which will lead us safely to our personal and collective encounters with the 'one' sent by God to heal and redeem us. "Will we fear him as a judge, or welcome him as a friend? It is up to us!" (Fr. S. Krempa)
If you find this material valuable, consider a tax deductible gift to support this site.
The DaCapo Foundation • 2402 Tricia Ct. • Vienna VA 22181