Fourth Sunday of Lent
A Homily - Cycle B - 2012-2013
by Rev. Luke Dundon

First Reading - 2 Chronicles 36:14-16, 19-23
Responsorial Psalm - Psalm 137:1-2, 3, 4-5, 6
Second Reading - Ephesians 2:4-10
Gospel - 3:14-21

John wrote to show that Christ was
the Messiah, the Divine Son of God.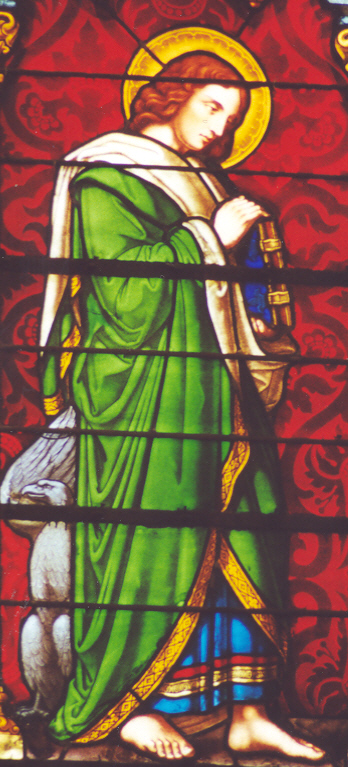 Jesus said to Nicodemus: "Just as Moses lifted up the serpent in the desert, so must the Son of Man be lifted up, so that everyone who believes in him may have eternal life."
For God so loved the world that he gave his only Son, so that everyone who believes in him might not perish but might have eternal life. For God did not send his Son into the world to condemn the world, but that the world might be saved through him. Whoever believes in him will not be condemned, but whoever does not believe has already been condemned, because he has not believed in the name of the only Son of God. And this is the verdict, that the light came into the world, but people preferred darkness to light, because their words were evil. For everyone who does wicked things hates the light and does not come toward the light, so that his works might not be exposed. But whoever lives the truth comes to the light, so that his works may be clearly seen as done in God.
This is what you call camouflage. I'm disguised as an Easter Egg. Never thought you'd expect to see a giant Easter egg at the pulpit? I can appreciate that. I never thought that I would see signs at pro-football games holding Biblical references . . . but I have! John 3:16, usually . . . the first three Sundays of Lent, we were instructed, it's time to CHANGE our lives! It's time to reform and grow! We are now at the half-way point of Lent, it's Laetare Sunday, "Rejoice Sunday," The glass is half-full, we see signs of HOPE - - - like signs at a football game reading John 3:16! Specifically, "For God so loved the world that He gave His only Son." God loves the world . . . how much? SO much, that he sent his ONLY Son. The focus has changed, we've been repenting, listening, and obeying, but now the focus zeroes in on the Father's SON, we pay attention to every move Jesus is making. God is coming to our rescue, we're reminded of this in the Old Testament when Israel was in Exile. They did not remain in heir exile, they did not pass into extinction - - - no, they were preserved, they were even allowed to return home! That's a reason to rejoice, that's a cause for HOPE! So pull out the Easter flowers, it's time to party!
Or maybe not . . . the reading speak of something slightly different, something quite surprising, actually. The Israelites WERE freed from their exile, but how? Through military might? No . . . through a prophet? No . . . through a pagan king! King Cyrus, a Persian, a non-Jew, becomes an instrument in the Lord's hands, as he freely allows the Jews to return home and worship as they please. The Lord shows His power, in the most surprising way. But then, He loves His people that much!
Moses lifted up the serpent in the desert . . . why? Because the people had grumbled against the Lord, they lost faith in the Almighty, so the Lord allowed dangerous snakes to invade their camp, a direct result of their lack of faith! These snakes represented the death that the Israelites were freely choosing by turning away from God - - - they were dying from the snakes, but they were also dying from their own selfishness. So, Moses interceded for them, but in order to save them, he had to MOUNT a snake on a pole. When the people looked upon this snake, the DIRECT SYMBOL of their sinful ways, then they were healed! What a strange way to be healed - yet He loves His children that much.
So what does St. John tell us about Christ? Just as Moses lifted up the serpent in the desert, so the Son of Man must be lifted up, so that everyone who looks upon Him and BELIEVES, has eternal life. So Jesus HIMSELF was mounted on a pole, He took upon HIMSELF the sins of the world, in order to take them away. Consequently, HE BECOMES THE SYMBOL OF SIN, He becomes SIN itself, to save us from it! When people look upon HIM, they are set free, not just from a snakebite, but from SIN and DEATH. Quite unexpected measures, but then He loves them that that much. . .
What's going on with all this? Its totally different from anything that the world presents to us! But then, this shows how MUCH God loves us. When we accept His amazing gift, we are RE-CREATED in Christ, we are his NEW handi-work, we are now CHILDREN OF LIGHT. In a world of darkness. So guess what that means? The world won't expect the love we offer, they will frankly be surprised by the intensity of our desire to share Christ with others.
This love of God, the love which WE get to imitate in our prayer, in our love to our neighbor, and in our Lenten sacrifices, this LOVE of GOD is indeed worth rejoicing about, it surprises, it amazes, and it gives life. It's OK to smile on this Laetare Sunday! We see hints of Christ's Easter Victory!!! But, notice that we're NOT wearing WHITE today . . . we're wearing rose today, white TINGED with read, the symbol of blood . . . TINGED with a bit of sadness . . . because we realize today, we could never share in the LIGHT of Christ, we could never BEHOLD such amazing love, if the price wasn't paid . . . and Jesus HAS paid the price through HIS OWN BLOOD. We have been HEALED from darkness, we have been BROUGHT HOME from exile . . . and why? John 3:16 . . . He loves EACH of us THAT much!