2nd Sunday of Easter
Divine Mercy Sunday
A Homily - Cycle A - 2013-2014
First Reading - Acts 2:42-47
Responsorial Psalm - Psalm 118:2-4, 13-15, 22-24
Second Reading - 1 Peter 1:3-9
Gospel - John 20:19-31
John wrote to show that Christ was
the Messiah, the Divine Son of God.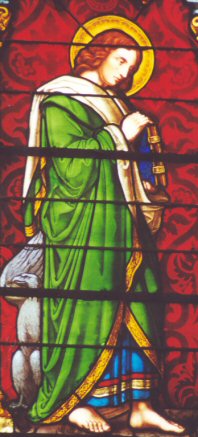 On the evening of that first day of the week, when the doors were locked, where the disciples were, for fear of the Jews, Jesus came and stood in their midst and said to them, "Peace be with you." When he had said this, he showed them his hands and his side. The disciples rejoiced when they saw the Lord. (Jesus) said to them again. "Peace be with you. As the Father has sent me, so I send you." And when he had said this, he breathed on them and said to them, "Receive the holy Spirit. Whose sins you forgive are forgiven them, and whose sins you retain are retained."
Thomas, called Didymus, one of the Twelve, was not with them when Jesus came. So the other disciples said to him, "We have seen the Lord." But he said to them, "Unless I see the mark of the nails in his hands and put my finger into the nail marks and put my hand into his side, I will not believe."
Now a week later his disciples were again inside and Thomas was with them. Jesus came, although the doors were locked, and stood in their midst and he said, "Peace be with you." Then he said to Thomas, "Put your finger here and see my hands, and bring your hand and put it into my side, and do not be unbelieving, but believe." Thomas answered and said to him, "My Lord and my God!" Jesus said to him, "Have you come to believe because you have seen me? Blessed are those who have not seen and have believed."
Now Jesus did many other signs in the presence of (his) disciples that are not written in this book. But these are written that you may (come to) believe that Jesus is the Messiah, the Son of God, and that through this belief you may have life in his name.
Shalom. Peace. Peace be with you! God continues to amaze us.
This is like when I was visiting the Corpus Christi school for the first day of the year. Class started at 8:05 that August morning, prayer at 8:10, a quick visit, because I had the 9:00 am daily Mass back here at St. Philip. Got caught saying hello to everyone, so I was running behind at 8:35 as I was leaving St. Anthony's. I turned from Glen Carlyn back onto Rt. 7, but as I did so, the light was going from green, to yellow . . . to red, just as I was turning (without stopping) onto Leesburg Pike. It had JUST turned red as I was making my move (or at least, that's the story I'm telling). But it was still illegal, so lo and behold, a blueberry light appeared behind me within 10 seconds. A friendly police officer, waiting just for me. I pull over, groan, take off the sunglasses, groan again, check to make sure the collar is on . . . and groan again, as I roll down the window. Police officer steps up to the window – "hello!" Good morning, sir. "Can you tell me why you didn't stop at the light?" Uhhhhhh . . . well mom always said to tell the truth! Well, sir, I'm a priest at St. Philip's in Falls Church, and we have a school here that started today, so I was saying hi to the kids, but now have to get over to say Mass at St. Philip's at 9 am (it's now 8:42). So I was in a bit of a rush, didn't stop at that light as I turned, though I know I should have, I'm sorry. "You work at St. Philip's?" Yes sir, you know where it is? Oh sure, I used to work those neighborhoods back in the day. Well, you got your license? Uhhhhhh . . . grooooaaann . . . I pull out my license, say a Hail Mary, and handed it to the policeman. He looked at it, looked at me, gave me back the license, and said, "Well, Father, I'm not going to give you a ticket. I don't want to go to hell!"
THANK YOU, LORD! In the midst of my own silliness and bad driving, the Lord blessed me with a second chance. What a glorious gift, what a beautiful reminder of how patient the Lord is with me. And today, today . . . on this special day, Divine Mercy Sunday, we are reminded, not only of how willing the Lord is to give us second chances, but how EXCITED He is to offer us His peace, His Shalom, with each of us. Shalom, which means, peace in everything, including the relationship between me, and you! We get to receive that deepest type of peace, every time we encounter Him in the great sacrament of confession. Your sins are forgiven, go in PEACE. Lord Jesus Christ, you said to your apostles, PEACE I leave with you, MY PEACE I give you . . . look not on our sins, but grant us peace. Jesus loves to do that.
And our risen Jesus gives us tomorrow two amazing examples of what it means to live in that peace, through the newest saints of the church, soon-to-be Saint John Paul II and soon-to-be Saint John XXIII. John Paul II and John XXIII, both of whom were not perfect individuals, but rather ones who knew how important it was to be caressed by God's tender mercy. John XXIII, the one who initiated the second Vatican Council, was known to announce, "mothers, give your children a caress tonight, and let them know that it is a caress from the Pope." That message spread quicker than any twitter could accomplish. John Paul II, who was one of the most powerful forces in Vatican II, was the rock star which we all knew and loved in so many ways. He was my generation's Pope, we knew only him until the third millennium. And many of us cried just to watch his funeral on TV. When he was attacked in 1981, when he almost died from an assassin who wanted him dead, he would one day embrace his own assassin and become friends with the man's family for the rest of his life as Pope. And why? Because Pope John Paul II, soon-to-be Saint John Paul II, knew how important it was to experience the ONE characteristic which identifies God best – His infinite, incredible, amazing, loving MERCY. Who are the saints? The saints are sinners who let themselves be forgiven, who let themselves receive God's mercy. What peace comes from this mercy. Find it in confession. Find it in each other. Find it in the depth of your own heart, where your God speaks to you tonight, my child, I died for you, I rose for you, I LOVE YOU, so be at peace, and let His mercy melt your heart!