Return to Index The Catholic Faith
Return to Level Three Topic Index
Home Page
The Son of God became man so that we might receive the gift of God's grace that our first parents had lost for us. We call him the Source of All Grace, the One from whom we receive this wonderful gift of God's life in our souls.
Saint John the Apostles reminds us of this truth: "And the Word became flesh and dwelt among us, full of grace and truth. . . And from his fullness have we all received, grace upon grace" (Jn. 1:14, 16).
Sanctifying grace is God's greatest gift to us. It makes us the children of the Father, brothers and sisters of Jesus Christ, and temples of the Holy Spirit. Those who die with this life of God in their souls go to Heaven, where they enjoy never-ending happiness with the Blessed Trinity, Mary, and all the angels and saints. Nothing else in the entire universe can do this for us. Now you can see why Jesus would consider grace to be something important enough to die for.
Jesus' Mission of Grace
Whenever God gives a mission to someone he also gives him everything he will need to carry it out. He never asks the impossible of anyone. The Incarnation (God the Son becoming man) gave Jesus of Nazareth all that he needed to carry out his mission. By being both God and man, Our Lord was totally filled with grace. All of his actions were perfect and holy because they were the actions of God the Son and not simply those of a good human being.
Because he was God as well as man, Jesus had supernatural powers which made it possible for him to redeem us, that is, to free us from our slavery to sin and the devil. The four Gospels are full of true stories that reveal Christ's power over sin and Satan:
He could expel evil spirits or devils from possessed people: There appeared in their synagogue a man with an unclean spirit that shrieked: "What do want of us, Jesus of Nazareth? Have you come to destroy us? I know who you are - the holy One of God!" Jesus rebuked him sharply: "Be quiet! Come out of the man!" At that the unclean spirit convulsed the man violently and with a loud shriek came out of him (Mk. 1:23-26).
He worked miracles and taught with an authority that amazed the people: All who looked on [at Jesus] were amazed. They began to ask one another. "What does this mean? A completely new teaching in a spirit of authority! He gives orders to unclean spirits and they obey!" From that point on his reputation spread throughout the surrounding region of Galilee (Mk. 1:27-28).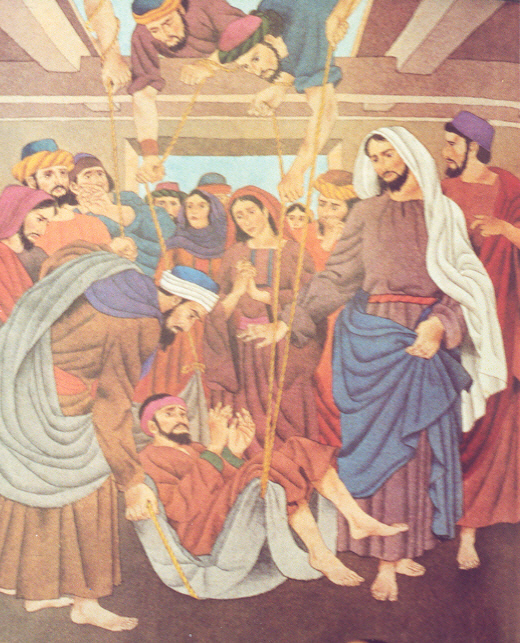 He gave proof that he could forgive sins: While he was delivering God's word to them, some people arrived bringing a paralyzed man to him. . . When Jesus saw their faith, he said to the paralyzed man: "My son, your sins are forgiven. . . That you may know that the Son of Man has authority on earth to forgive sins, I command you: Stand up! Pick up your mat and go home." The man stood and picked up his mat. . . All gave praise to God saying, "We have never seen anything like this!" (Mk. 2:3-12).
Jesus Gives Grace to All Men
Jesus fulfilled his mission. He won for us the grace of redemption, which means that whoever believes in him can live a new life, one that is blessed with God's friendship and that will last for ever. We first receive this new life in Baptism, and grow in it through prayer and reception of the other sacraments.
Jesus entrusted these sacraments to his Church, which is the Kingdom of God upon earth. Through the prayers and preaching of his priests Jesus continues to defeat Satan and to conquer sin. Through his priests he continues to give the grace of God to all those who believe.
This new life of grace has been made possible for us only by the life, death, and Resurrection of Jesus Christ, the Source of All Grace, "from whom all good things come" (Eucharistic Prayer III).
Because without Jesus we would have no grace and because Jesus was conceived and born of the Virgin Mary, she is often called the Mediatrix, or channel, of all grace.
Used with the permission of The Ignatius Press 800-799-5534
Return to Index The Catholic Faith
Return to Level Three Topic Index
Top
Home Page