John 1:1-18
Incarnate Love by Rev. Paul Scalia
Reprinted with permission of "The Arlington Catholic Herald"
Home Page
To Sunday Gospel Reflections Index
John wrote to show that Christ was
the Messiah, the Divine Son of God.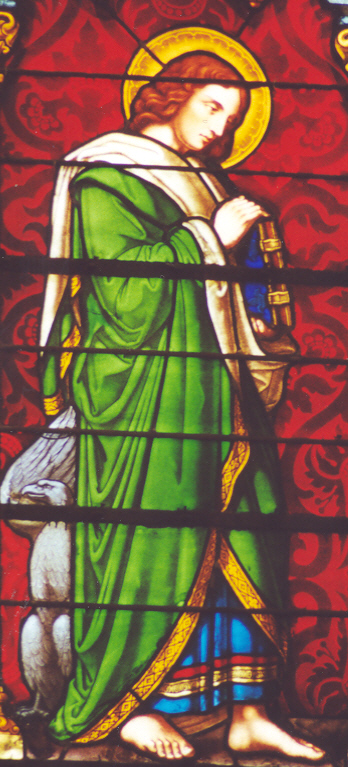 In the beginning was the Word, and the Word was with God, and the Word was God. He was in the beginning with God. All things came to be through him, and without him nothing came to be. What came to be through him was life, and this life was the light of the human race; and light shines in the darkness, and the darkness has not overcome it.
A man named John was sent from God. He came for testimony, to testify to the light, so that all might believe through him. He was not the light, but came to testify to the light. The true light, which enlightens everyone, was coming into the world.
He was in the world, and the world came to be through him, but the world did not know him. He came to what was his own, but his own people did not accept him.
But to those who did accept him he gave power to become children of God, to those who believe in his name, who were born not by natural generation nor by human choice nor by a man's decision but of God.
And the Word became flesh and made his dwelling among us, and we saw his glory, the glory as of the Father's only Son, full of grace and truth.
John testified to him and cried out, saying, "This was he of whom I said, 'The one who is coming after me ranks ahead of me because he existed before me.'" From his fullness we have all received, grace in place of grace, because while the law was given through Moses, grace and truth came through Jesus Christ. No one has ever seen God. The only Son, God, who is at the Father's side, has revealed him.
Just for fun, the next time you hear people refer to the "Christmas spirit" or the "spirit of Christmas," ask them what they mean. By "spirit" they usually mean a vague attitude or a warm feeling surrounding a holiday that falls in an otherwise grim time of year. Rarely if ever does this "spirit" refer to anything specific or concrete - which makes it the very antithesis of Christmas. Because Christmas is about something amazingly and gloriously concrete, specific and particular: the birth of Christ.
"And the Word was made flesh and dwelt among us" (Jn 1:14). The One Who dwells in inapproachable light became visible. God Himself took on our human nature and was born of the Virgin Mary - in a specific place and at a particular time. He lived and worked among us, shared our joys and took on our suffering. He spoke to us directly - spoke specific words with certain meaning. He offered His life as the definitive sign of His love. Now we know His love as a concrete and tangible reality. His love is not just a concept or a theory; it is as real and living as the Baby in the manger.
By His birth, Our Lord teaches us this truth: love seeks to be concrete. We cannot love in a general sort of way. Rather, true love expresses itself in concrete ways and toward particular persons. No lover is ever satisfied with a fuzzy feeling of affection for his beloved. He wants to display his love by specific acts that can be seen, heard and felt. So he calls her on the phone, sends cards, brings flowers, gives her a kiss, embraces her. It is not enough for him to say, "I love you." His words must become flesh.
The same danger exists with human love. It is a demanding thing to love specific, particular persons. They can be so uncooperative - they may reject us. We find it easier to keep our love for others vague, to keep love of neighbor on the level of an idea and never display it by concrete acts of love. And so we are tempted to pay lip service to love, but never allow it to become flesh in our lives.
"And the Word was made flesh and dwelt among us." God's love for us became flesh, even a child - someone we can see, hear and touch. By this He sets the standard for all love. And it is fitting that a child should challenge us in this way. With every new child in a family, the husband and wife give a concrete, specific, living, breathing expression of their love. Their love truly becomes flesh. (And what is contraception but a couple's way of saying, "Our love will not become flesh"?)
So we return to the manger and allow the Christ child to instruct us. He silently but powerfully appeals to us - teaching us by His very presence that the prodigal love of the Father is real, is present and has come into the world for the salvation of our souls. "In this way the love of God was revealed to us: God sent his only Son into the world so that we might have life3 through him" (J1 Jn 4:9).
Please consider a tax deductible gift to support this web site.
Home Page
Top
To Sunday Gospel Reflections Index