John 1:6-8, 19-28
A Negative Witness
by Rev. Paul Scalia
Reprinted with permission of "The Arlington Catholic Herald"
Home Page
To Sunday Gospel Reflections Index
John wrote to show that Christ was
the Messiah, the Divine Son of God.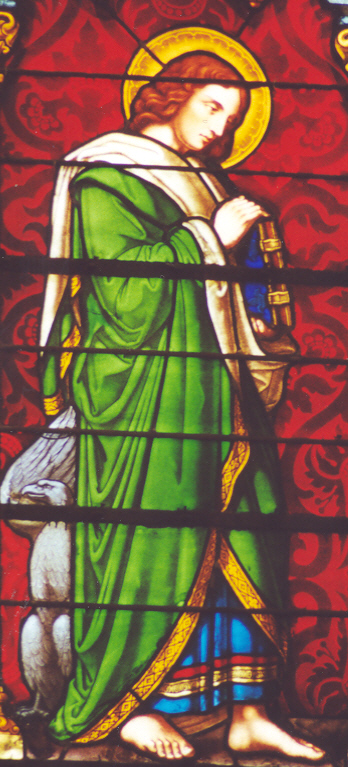 A man named John was sent from God. He came for testimony, to testify to the light, so that all might believe through him. He was not the light, but came to testify to the light. And this is the testimony of John. When the Jews from Jerusalem sent priests and Levites (to him) to ask him, "Who are you?" he admitted and did not deny it, but admitted, I am not the Messiah." So they asked him, "What are you then? Are you Elijah?" And he said, " I am not." "Are you the Prophet?" He answered, "No." So they said to him, "Who are you, so we can give an answer to those who sent us? What do you have to say for yourself?" He said: "I am 'the voice of one crying out in the desert, "Make straight the way of the Lord,"' as Isaiah the prophet said." Some Pharisees were also sent. They asked him, "Why then do you baptize if you are not the Messiah or Elijah or the Prophet?" John answered them, "I baptize with water; but there is one among you whom you do not recognize, the one who is coming after me, whose sandal strap I am not worthy to unite." This happened in Bethany across the Jordan, where John was baptizing.
John the Baptist must have frustrated the priests and Levites sent to find out who he was. Because he had nothing to say for himself. He only told them who he was not. "I am not," he says. Not the Messiah, not Elijah, not a prophet. He only affirms that he is merely "a voice of one crying out in the desert. (Jn 1:20) John's reaction may surprise us as well, living as we do in a culture that encourages us to talk, blog and tweet about ourselves. It seems John is missing out on his 15 minutes of fame. Surely, something must be amiss.
On the contrary, nothing is wrong. John's modesty does not proceed from insecurity or uncertainty. He knows exactly who he is. More importantly, he knows who he is not.
For their part, the crowds are not really sure who John was. They thought that he could be the Messiah. Indeed, they were prepared to follow him as that. And John could have easily believed his own press. Most of us would have. It is evidence of his sanctity that he did not - that he preserved a sense of his own littleness, that he knew he was no more than a voice.
John's holiness and his proclamation of the Lord rest in great part on these words: "I am not." And same is true with all subsequent holiness and evangelization, including yours and mine. The ability to make this simple negative statement - "I am not God" - begins the spiritual life and the spread of the Gospel. Without this negative there is no positive: the soul shrivels and the Gospel fails to spread.
As regards the spiritual life, sin is in effect the refusal to say, "I am not God." Sin is to claim divine prerogatives, to claim that we are something we are not. Conversion and growth come about when we acknowledge ourselves as creatures and as sinners - as not God. Our Lord once said to St. Catherine of Siena: "I am He Who is. You are she who is not." Granted, not the most flattering words from God to man. But they do provide a solid foundation for the spiritual life. They are in keeping with the first beatitude: "Blessed are the poor in spirit." Unless and until we recognize and confess that we are not God, then we cannot become what He wants to make us.
Further, as regards evangelization, we have to get out of the way. Anyone who wants to make Christ known must imitate John and first confess that he is not the Messiah. The evangelist's task is not announce himself but Someone else. Evangelical efforts stall and fail when we get more caught up in who is doing the work than in the work being done, in the one announcing than in the One being announced. Unfortunately, the Church's history has many examples of men who preferred to announce themselves rather than the Lord - and as a result made a wreck of the Gospel.
"I am not," says the John. And with those words he frees himself from the power of pride and opens the way for grace. "I am not," says John, and be so doing points the crowds to the One Who is. May we follow his example by acknowledging our nothingness - so that we can be filled with Christ's grace and point others to Him.
Please consider a tax deductible gift to support this web site.
Top
Home Page
To Sunday Gospel Reflections Index