John 1:35-42
Beholding and Beheld
by Rev. Paul Scalia
Reprinted with permission of "The Arlington Catholic Herald"
Home Page
To Sunday Gospel Reflections Index
John wrote to show that Christ was
the Messiah, the Divine Son of God.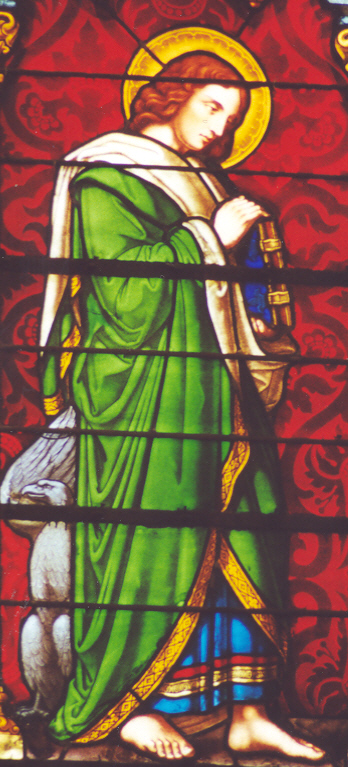 John was standing with two of his disciples, and as he watch Jesus walk by, he said, "Behold, the Lamb of God." The two disciples heard what he said and followed Jesus. Jesus turned and saw them following him and said to them, "What are you looking for?" They said to him, "Rabbi" - which translated means Teacher - "where are you staying?" He said to them, "Come, and you will see." So they went and saw where Jesus was staying, and they stayed with him that day. It was about four in the afternoon. Andrew, the brother of Simon Peter, was one of the two who heard John and followed Jesus. He first found his own brother Simon and told him, "We have found the Messiah" - which is translated Christ. Then he brought him to Jesus. Jesus looked at him and said, "You are Simon the son of John; you will be called Cephas" - which is translated Peter.
"Behold," John cries out at the Jordan. "Behold, the Lamb of God." (Jn 1:36) The words should sound familiar to us by now, since the new translation of the Roman Missal has restored them to the Mass. As the priest holds the Host before the congregation he uses the words of John the Baptist: "Behold the Lamb of God. Behold him who takes away the sin of the world." The restoration to the Mass of this one word – "behold" – deserves some reflection.
"Behold" means much more than just "look." The Baptist means to do more than just point someone out. The sense of the original Greek word is to perceive or to take something in. The dictionary says that "behold" comes from the Old English word meaning "to hold thoroughly." We get a sense of this from our English word "Beholden," which means to be indebted or obliged – in effect, taken in by someone. So, to behold means to take in someone or something as something we possess in our mind and heart. We hold that object or person thoroughly. It is, in effect, an invitation to reflect and meditate.
Our culture needs this command to "behold." With all the stimuli around us, we tend to rush past or through things. Myriads of images flash before us constantly, leaving us little time to reflect. A lot of text passes before us every day. We scan to get "the main idea" or, more likely, we just settle for blurbs and one-liners. In short, we look and we see…but we do not perceive or take in.
At the heart of our relationship with Jesus is the need to behold Him. Not just to notice or to look at Him, but to look upon Him deeply, to hold Him thoroughly. At His first appearance in John's Gospel we receive the command to "behold" Him. And we are to behold Him not according to judgment of the world but according to the eyes of faith, as the Lamb of God. We receive the same command – ironically, from Pontius Pilate – on Good Friday: "Behold, the man! … Behold, your king!" (Jn 19:5, 14) There, as we gaze upon Him in His Passion, we perceive that He is indeed the Lamb of God, the Victim for our deliverance. Then and there, as we behold Him suffering, we perceive also that He is the summary of what sin has done to man and how He has become our King.
"Behold, the Lamb of God." Our response to this command is, first, to gaze upon Our Lord and take in this truth. But then we must go further and in so doing to imitate our Lady. "Behold, I am the handmaid of the Lord," she says. "May it be done to me according to your word." (Lk 1:38) Just as God desires that we behold Him – that we take in and possess interiorly the truth of His Son – so also He desires to behold us – to hold us thoroughly as well. Thus we should strive both to behold Him and to be beheld by Him.
This mutual beholding – to know Christ and to be known by Him, as St. Paul puts it (cf. Gal 4:9) – is realized fully in heaven. In what Tradition calls the Beatific Vision, we look upon the face of God …and He looks upon us. And in that face-to-face vision we are transformed into His likeness. There "we shall be like him, for we shall see him as he is." (1 Jn 3:2) But it begins here. It begins as we heed the command "Behold, the Lamb of God" and as we say to Him, "Behold, the handmaid of the Lord."
Please consider a tax deductible gift to support this web site.