John 8:1-11
Brand New in Christ
by Rev. Jack Peterson
Reprinted with permission of "The Arlington Catholic Herald"
Home Page
To Sunday Gospel Reflections Index
John wrote to show that Christ was
the Messiah, the Divine Son of God.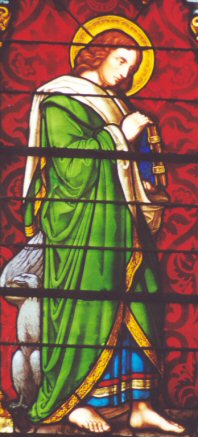 Jesus went to the Mount of Olives. But early in the morning he arrived again in the temple area, and all day people started coming to him, and he sat down and taught them. Then the scribes and the Pharisees brought a woman who had been caught in adultery and made her stand in the middle. They said to him, "Teacher, this woman was caught in the very act of committing adultery. Now in the law, Moses commanded us to stone such a woman. So what do you say?" They said this to test him, so that they could have some charge to bring against him. Jesus bent down and began to write on the ground with his finger. But when they continued asking him, he straightened up and said to them, "Let the one among you who is without sin be the first to throw a stone at her." Again he bent down and wrote on the ground. And in response, they went away one by one beginning with the elders. So he was left alone with the woman before him. Then Jesus straightened up and said to her, "Woman, where are they? Has no one condemned you?" She replied, "No one, sir." Then Jesus said, "Neither do I condemn you. Go, and from now on do not sin any more."
Life can be very wearisome. It is exhausting to balance on a daily basis the many responsibilities that we have toward God, family, work, school, friends, etc. It seems that the pressure rarely lets off. Add to these responsibilities the unexpected trials that come our way like sickness, the death of a loved one, or getting laid off at work. Then throw in a little Northern Virginia traffic and you have a recipe for plenty of stress that usually leaves little time and energy for God, prayer and true renewal in our lives. The result is that we often feel estranged from God, alone in our trials, frustrated and worn out with life.
There is another factor that can add to the sense of alienation, frustration and fatigue. It is the age-old problem of sin. Sin hurts our relationship with God, with others, and even our own sense of self-worth. When all of these relationships are off- kilter or even seriously damaged, it only adds to the burdens of life and makes life seem unbearable.
Jesus came down to earth to dive completely into the human condition, even the depths of its darkest crevices, in order to rise up from there, bring us with Him, and give us new life.
One of the most powerful aspects of John's famous account of the woman caught in the act of adultery is the freedom that she experiences and the new life offered to her by Our Lord. Imagine her anxiety and sense of despair as she is caught by the scribes and Pharisees in the act of adultery, tossed into the middle of a large crowd in the temple area, and reminded that the Law of Moses states that she is to be stoned to death for her sin.
Jesus, in His deep care and uncanny wisdom, finesses the situation so that the crowd dissipates and the two witnesses required for this death sentence are no longer present. Imagine her sense of relief and hope as Jesus stands up and says, "Woman, where are they? Has no one condemned you? …Neither do I condemn you. Go, and from now on do not sin anymore."
The gift of mercy, the promise of a new lease on life, and the challenge to cut sin out of her life must have been so incredibly uplifting. Imagine her motivation to change her behavior, start afresh, and become a brand new creation in Christ.
Isaiah the prophet, speaking in the name of God in our first reading this week alludes to the new life that would come in its fullness with Jesus many years later when he says, "Remember not the events of the past, the things of long ago consider not; see, I am doing something new." That something new is the gift of new life that flows from God's unfathomable mercy.
St. Paul, speaking from his own personal experience of conversion, and fully aware of the power of God to transform his life, encourages the new community in Philippi, "Just one thing: forget what lies behind but straining forward to what lies ahead, I continue my pursuit toward the goal … in Christ Jesus."
The woman caught in the act of adultery encounters Jesus, God-with-us. She comes face to face with God's love, truth, goodness and beauty, all wrapped up in the gift and Person of God's only begotten Son. He reaches down, lifts her up, loves her, forgives her, and calls her to a life of goodness, charity and truth. She would be quick to repeat what St. Paul says earlier in that same letter to the Philippians, "I consider everything as a loss because of the supreme good of knowing Christ Jesus my Lord."
St. Paul's faith in Jesus is so deep that he would also say, "I consider everything as a loss because of the supreme good of knowing Christ Jesus my Lord. For his sake I have accepted the loss of all things and I consider them so much rubbish, that I may gain Christ and be found in him."
Encountering Christ, being drenched in His mercy, and discovering new life in Him is the cure to our frantic and wearisome lives.