John 10:27-30
The Good Shepherd's Voice by Rev. Paul Grankauskas
Reprinted with permission of "The Arlington Catholic Herald"
Home Page
To Sunday Gospel Reflections Index
John wrote to show that Christ was
the Messiah, the Divine Son of God.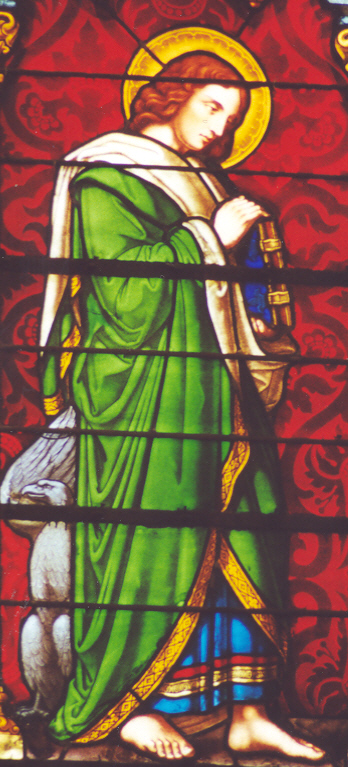 Jesus said: "My sheep hear my voice; I know them, and they follow me. I give them eternal life, and they shall never perish. No one take them out of my hand. My Father, who has given them to me, is greater than all, and no one can take them out of the Father's hand. The Father and I are one."
My sheep hear my voice; I know them, and they follow me." Our Lord's words at the opening of the Gospel reading indicate two things. First, God knows us. How well does He know us? In the Book of Psalms, it is written that before a word is ever on our lips, God knows it (Ps 139). The same psalm tells us that God formed us, knitting us together in our mother's womb. There is no place we could hide or run away from His love.
Our Lord would one day say that our Father knows us so well that He knows our needs even before we ask. That is a pretty high degree of familiarity. We might sometimes find it uncanny when we know someone so well that we can finish their sentences or have a pretty good idea what they are thinking. God knows us even better than that.
The second point Jesus makes in this Gospel is that just as He knows His sheep, they know Him and listen to Him. Our Lord is speaking here to some people who have asked Him to speak plainly, to simply come right out and say whether He is the Messiah. Jesus tells them He has already said so: "I told you and you do not believe. The works that I do in my Father's name, they bear witness to me; but you do not believe, because you do not belong to my sheep: (Jn 10:25-26).
In other words, the works that He has been doing - healing the sick, giving sight to the blind, raising the dead, casting out demons, teaching with authority - testify that He was sent by God. Signs and wonders indicate the Messianic age has begun. If those who questioned Him had been a little more familiar with the Scriptures, perhaps they might have recognized that. The bottom line is that they have the capacity to know that Jesus is the Messiah, but something is standing in the way. No matter what Jesus seems to say or do, they cannot seem to make an act of faith. They refuse to follow the Good Shepherd.
One of the first questions in the old Baltimore Catechism focuses on the reason God created us. The answer is that God created us to know, love and serve Him in this life, that we may be happy with Him forever in the life to come. The Catechism of the Catholic Church has the following to say, "Man's faculties make him capable of coming to acknowledge of the existence of a personal God. But for man to be able to enter into real intimacy with him, God willed both to reveal himself to man and to give him the grace of being able to welcome this revelation in faith. The proofs of God's existence, however, can predispose one to faith and help one to see that faith is not opposed to reason" (No. 35).
It is the teaching of the Church, then, that we, too, come come to know God. We can know of His existence through the use of human reason. We come to know Him intimately through divine revelation. The opening of the Letter to the Hebrews makes it quite clear that God has spoken to us in various ways: the patriarchs, the prophets and above all through his own Son. God knows us and knows us well. He has given us the capacity and the possibility of knowing Him as well. The signs that Christ performed - especially His Resurrection - testify that He was sent by the Father.
Will we listen to the voice of the Good Shepherd who desires to lead us to life?
Please consider a tax deductible gift to support this web site.
Top
Home Page
To Sunday Gospel Reflections Index