John 10:27-30
Hear! Hear!
by Rev. Paul Scalia
Reprinted with permission of "The Arlington Catholic Herald"
Home Page
To Sunday Gospel Reflections Index
John wrote to show that Christ was
the Messiah, the Divine Son of God.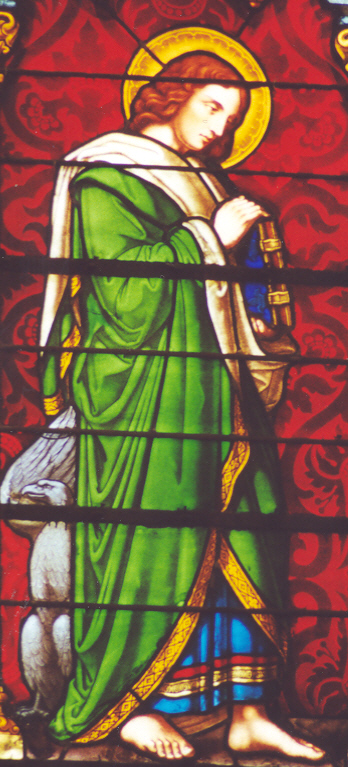 Jesus said: "My sheep hear my voice; I know them, and they follow me. I give them eternal life, and they shall never perish. No one take them out of my hand. My Father, who has given them to me, is greater than all, and no one can take them out of the Father's hand. The Father and I are one."
What does it mean to hear? Modern culture understands hearing (as it does most things) in mechanical terms. Something is heard simply when the sound causes a reaction in the listening device. The interaction between the hearer and the thing heard is just a matter of physics. The sound waves hit the receiver that gauges or registers them. Unfortunately, many human conversations fare no better. People in dialogue (or so they think) allow the sounds to register but do not allow the words to make a difference. The words or the information might be acknowledged ("Oh, that's interesting"), but they are not assimilated.
The ancient Jews had a deeper sense of what it means to hear. For them it meant not merely to take in sounds by way of the ear but to be changed by the truths that one heard. To hear necessarily meant to respond appropriately to the voice of the speaker. Thus the Hebrew language does not have a distinct word for "obey." There is only the one word – "shema" – for both "hear" and "obey." In short, to hear means to respond properly – to obey. We are created for the truth in such a way that when we hear it we ought to conform ourselves to it immediately. Even more, we are created for Jesus in such a profound way that we are meant to respond and conform ourselves to Him as the Word of the Father.
"My sheep hear my voice" (Jn 10:278). Our Lord's words proceed not from the modern but from the Hebrew understanding of "hear." His sheep do not simply listen to His voice, nod an acknowledgement of it, and then go about their business as before. His sheep obey His word. They conform their lives to what they hear. If we are unwillingly to obey – because of an exaggerated sense of self, an attachment to sin, hardness of heart, etc. – then we cripple our hearing.
And if we get our hearing wrong we will also get our believing wrong, for "faith comes from what is heard" (Rom 10:17). A hearing problem leads inevitably to a believing problem. The Virgin Mary – the greatest example of faith – is also the greatest example of hearing. Church Fathers would at times say that Mary conceived through the ear. That is, she came to believe by genuine hearing, by obeying the word spoken to her. "Behold, I am the handmaid of the Lord. May it be done to me according to your word," she said (Lk 1:38).
And so it is that the world's crisis of faith (which Pope Benedict hoped to address by the Year of Faith) is really a crisis of hearing. We hear only in the modern, mechanized sense. We might allow the sound of the Gospel to register in our ears, but we do not allow it to resonate in our hearts. We do not want to obey – that is, to change our lives – so we do not hear, however much we might listen.
Hearing is an activity. We must apply ourselves. We find sheep (whom Our Lord praises for their hearing) in quiet places, with no one other than their shepherd around. This indicates that to cultivate the power to hear we must remove ourselves from the world on occasion and remain just with the Shepherd. We will have difficulty hearing Him in the midst of everything else.
"My sheep hear my voice" (Jn 10:27). This is a declarative sentence. Perhaps the demands of it become clearer if we render it as follows: "Those who hear and obey my voice become my sheep." We cannot hope to be His sheep, therefore, without first the willingness to obey, to be formed by his word, to hear.