John11:1-45
Death, Where is Thy Victory? by Rev. Jerry Pokorsky
Reprinted with permission of "The Arlington Catholic Herald"
Home Page
To Sunday Gospel Reflections Index
John wrote to show that Christ was
the Messiah, the Divine Son of God.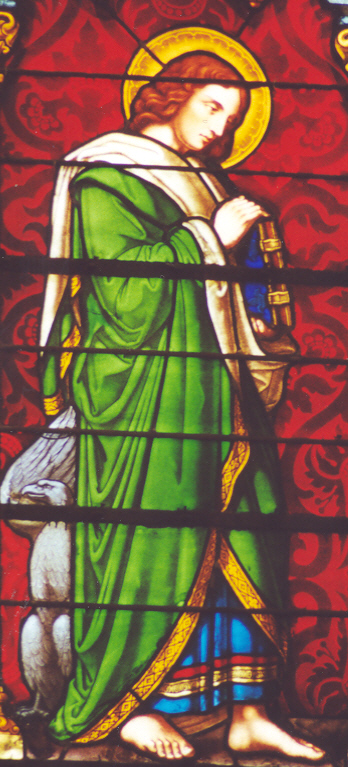 Now a man was ill, Lazarus from Bethany, the village of Mary and her sister Martha. Mary was the one who had anointed the Lord with perfumed oil and dried his feet with her hair; it was her brother Lazarus who was ill. So the sisters sent word to Jesus saying, "Master, the one you love is ill," When Jesus heard this he said, "This illness is not to end in death, but is for the glory of God that the son of God may be glorified through it." Now Jesus loved Martha and her sister and Lazarus. So when he heard that he was ill, he remained for two days in the place where he was. Then after this he said to his disciples, "Let us go back to Judea." The disciples said to him, "Rabbi, the Jews were just trying to stone you, and you want to go back there?" Jesus answered, "Are there not twelve hours in a day? If one walks during the day, he does not stumble, because he sees the light of this world. But if one walks at night, he stumbles, because the light is not in him." He said this, and then told them, "Our friend Lazarus is asleep, but I am going to awaken him." So the disciples said to him, "Master, if he is asleep, he will be saved." But Jesus was talking about his death, while they thought that he meant ordinary sleep. So then Jesus said to them clearly, "Lazarus has died. And I am glad for you that I was not there, that you may believe. Let us go to him." So Thomas, called Didymus, said to his fellow disciples, "Let us also go to die with him."
When Jesus arrived, he found that Lazarus had already been in the tomb for four days. Now Bethany was near Jerusalem, only about two miles away. And many of the Jews had come to Martha and Mary to comfort them about their brother. When Martha heard that Jesus was coming, she went to meet him; but Mary sat at home. Martha said to Jesus, "Lord, if you had been here, my brother would not have died. But even now I know that whatever you ask of God, God will give you." Jesus said to her, "Your brother will rise." Martha said to him, "I know he will rise, in the resurrection on the last day." Jesus told her, "I am the resurrection and the life; whoever believes in me, even if he dies, will live, and everyone who lives and believes in me will never die. Do you believe this?" She said to him, "Yes, Lord. I have come to believe that you are the Christ, the Son of God, the one who is coming into the world."
When she had said this, she went and called her sister Mary secretly, saying, "The teacher is here and is asking for you." As soon as she heard this, she rose quickly and went to him. For Jesus had not yet come into the village, but was still where Martha had met him. So when the Jews who were with her in the house comforting her saw Mary get up quickly and go out, they followed her, presuming that she was going to the tomb to weep there. When Mary came to where Jesus was and saw him, she fell at his feet and said to him, "Lord, if you had been here, my brother would not have died." When Jesus saw her weeping and the Jews who had come with her weeping, he became perturbed and deeply troubled, and said, "Where have you laid him?" They said to him, "Sir, come and see." And Jesus wept. So the Jews said, "See how he loved him." But some of them said, "Could not the one who opened the eyes of the blind man have done something so that this man would not have died?"
So Jesus, perturbed again, came to the tomb. It was cave, and a stone lay across it. Jesus said, "Take away the stone." Martha, the dead man's sister, said to him, "Lord, by now there will be a stench; he has been dead for four days." Jesus said to her, "Did I not tell you that if you believe you will see the glory of God?" So they took away the stone. And Jesus raised his eyes and said, "Father, I thank you for hearing me. I know that you always hear me; but because of the crowd here I have said this, that they many believe that you sent me." And when he had said this, He cried out in a loud voice, "Lazarus, come out?" The dead man came out, tied hand and foot with burial bands, and his face was wrapped in a cloth. So Jesus said to the, "Untie him and let him go."
Now many of the Jews who had come to Mary and seen what he had done began to believe in him.
The faithful and pious elderly priest was failing in mind and body. The kindly pastor of the parish allowed him to celebrate private weekday Masses in the church a few minutes after the daily scheduled Mass. The pastor observed that the increasing dementia of the retired priest did not impair his display of reverence and true devotion. He soon attracted a small number of congregants, pious stragglers who noticed the celebration of the Mass during their church prayer time. He had his quirks, but the quirks were harmless and sometimes amusing. He had a fixation on mortality, for example. During the general intercessions he would pray, daily, for the 70,000 people in the world who will die today."
Death can be a major annoyance. It can disrupt the most carefully laid plans. The thought of it can easily preoccupy and depress us. With Samuel Johnson, we all can agree, "Nothing focuses the mind like a hanging." One supposes old age can be something like that. But Christians maintain a hope in the Resurrection. In Christ, with St. Paul, we can rejoice, "Death, where is thy victory? Death, where is they sting?" Death no longer has a hold on us as it did before the coming of Christ. This is our hope. This is our faith. Yet in various ways we remain obsessed with death.
The marketing experts of Madison Avenue know how to exploit the fear. Certain commercials solemnly warn about the buildup of plaque in our arteries. No worry. There are pharmaceutical products that promise to flush those arteries clean before a stroke strikes or the heart fails. A doctor on a Public Broadcasting Service program has become very popular because he seems to have discovered the fountain of youth. He is elderly but in exemplary physical condition (except for his receding hairline), the result of exercise and carefully studied nutritional habits. With the right eating habits, he claims Alzheimer's disease can be nipped 25 years before the first symptoms appear. (Julia Child, in contrast, was not so scientific. At age 90, when questioned as to the "perfect diet," her response would have pleased St. Benedict. There were no homilies on the evils of trans fats or McDonald's hamburgers. Like a wise grandmother, she modestly advised, "Try a little of everything"). There is much money to be made in schemes to postpone the inevitable.
The truth is, in itself, death undoubtedly is a horror. Despite the cosmetics of the modern mortuary, observing a loved one lifeless in a coffin not only offers a cold realization of one's loss, but a reminder of our individual destiny. (In many ways an open casket provides a holy and healthy confrontation that not only reverences the body as a "temple of the Holy Spirit," but awakens in us a need for greater faith.) In this week's Gospel, because of His great love, Christ weeps over the death of His friend Lazarus. On observing the sadness of Martha and Mary, Christ also must have welled up in tears of compassion. Among friends, grief begets grief.
Possible theological reasons for the sadness of Christ might also be considered. Death is not natural to man but it has become an inevitable part of his nature. Death is the consequence of sin, the sin of Adam as well as our personal sins. The certainties of disease and death are the ugly symbols of the destructive power and apparent triumph of Satan. It is reasonable to suggest that at the death of Lazarus Christ wept over the wasteland of sin and grieved for the death of every human being. Then too He must have considered the terror of the proximity of His own death, a foretaste of the sorrow and agony He Himself would experience in the Garden of Gethsemane. Death and the prospect of death are very unpleasant.
Our aging and mentally failing priest was not whimsical about death. Like Christ, he grieved over his own impending death, as well as the daily demise of 70,000 of his brethren. But his devotion to the Mass was revealing. We might fairly surmise that he faced his fears in faith. By turning to Christ daily in the Mass, deep down he trusted in the powerful and liberating words of Christ, words that overcome every snare of the devil: "I am the resurrection and the life; whoever believes in me, even if he dies, will live, and everyone who lives and believes in me will never die."
Please consider a tax deductible gift to support this web site.
Top
Home Page
To Sunday Gospel Reflections Index