John 14:15-21
A Large Catholic Family by Rev. Paul Scalia
Reprinted with permission of "The Arlington Catholic Herald"
Home Page
To Sunday Gospel Reflections Index
John wrote to show that Christ was
the Messiah, the Divine Son of God.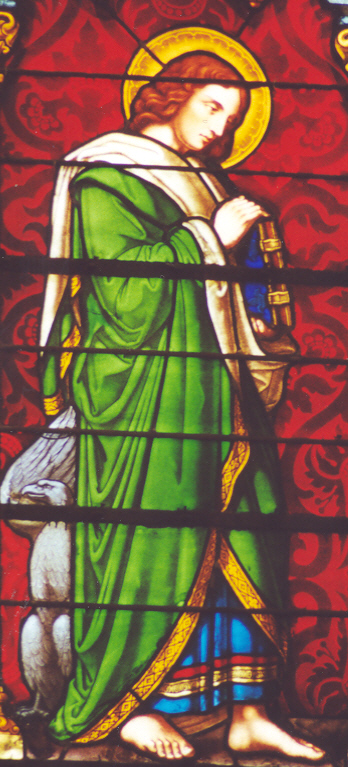 Jesus said to his disciples: "If you love me, you will keep my commandments. And I will ask the Father, and he will give you another Advocate to be with you always, the Spirit of truth, whom the world cannot accept, because it neither sees nor knows him. But you know him, because he remains with you, and will be in you. I will not leave you orphans; I will come to you. In a little while the world will no longer see me, but you will see me, because I live and you will live. On that day you will realize that I am in my Father and you are in me and I in you. Whoever has my commandments and observes them is the one who loves me. And whoever loves me will be loved by my Father, and I will love him and reveal myself to him."
Several years ago a man who entered the Church explained the reason for his conversion. He entered because of the election of Pope Benedict XVI. It was not the he, like so many others, already knew of Joseph Cardinal Ratzinger, the eminent theologian who became pope. In fact, he knew nothing about Cardinal Ratzinger. His conversion was much simpler. It was, he explained, simply a desire to share the joy in having a father. He saw the joy of Catholics in having a pope - a "papa" - a spiritual father. He heard the cry "Habemus paparm!" "We have a father!" He wanted to share that joy.
That convert's instincts were well placed. The election of a pope displays the joy in having a father in an extraordinary way. But it touches on the larger reality of the Church as the household of God - where strangers and sojourners are formed into a family. (cf. Eph 2:19) Our Lord promised this to His followers: "I will not leave you orphans." (Jn 14:18) He is referring to the Holy Spirit. As His words indicate, the gift of the Holy Spirit is more than a general kind of presence imparting a vague sort of holiness. The Holy Spirit makes us a certain kind of people in relation to God and one another.
First, in relation to God we become children. We should take Our Lord at His word. When He says He will not leave us orphans, He does not intend that as just a figure of speech. He means that He will, by His gift of the Spirit, bring us into a family. He does this because He Himself is the eternal Son of the Father and His gift of the Spirit gives us a participation in His own sonship. We are children in fact and not just by analogy. Having heard these words of Our Lord, St. John exhorted his disciples in like manner: "See what love the Father has bestowed on us that we may be called the children of God. Yet so we are." (1 Jn 3:1)
This sonship has implications for our relationship with the Church. The Holy Spirit's regenerative power makes us children of the Church. St. Cyprian (and other Church fathers) said, "He cannot have God for his father, who has not the Church for his mother." Indeed, this is how we ought to view the Church - not as an institution or bureaucracy (although, alas, She has those elements) - but as our Mother, who has brought us to birth in Christ and nourishes us with His body and blood.
Within the Church, furthermore, we are brothers and sisters. Indeed, familial terms suffuse the whole language of Catholic liturgy, devotions and traditions: father, mother, brother, sister, etc. These are more than just expressions. They express a profound reality - that we who by sin were separated from God and one another have been made one with Him. . . and with one another. And our union is that of a family, sharing a common life, a common purpose and most of all a common Father.
Finally, as we approach the end of May, we should recall another important effect of Our Lord's words. In the order of grace we are made children of Mary. And again, this is not an analogy. Because he has brought us into His own sonship, we can also call Mary our mother. Indeed, in a certain sense His words, "I will not leave you orphans," can perhaps be seen as fulfilled with His words from the cross: "Behold, your mother." (Jn 19:27)
Please consider a tax deductible gift to support this web site.