Newness of Life in Christ
by Rev. Jack Peterson
Reprinted with permission of "The Arlington Catholic Herald"
Home Page
To Sunday Gospel Reflections Index
John wrote to show that Christ was
the Messiah, the Divine Son of God.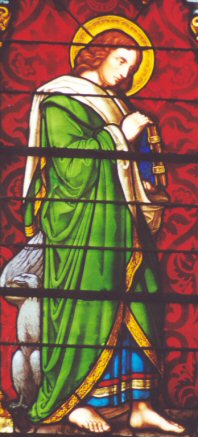 Jesus said to his disciples: "If you love me, you will keep my commandments. And I will ask the Father, and he will give you another Advocate to be with you always, the Spirit of truth, whom the world cannot accept, because it neither sees nor knows him. But you know him, because he remains with you, and will be in you. I will not leave you orphans; I will come to you. In a little while the world will no longer see me, but you will see me, because I live and you will live. On that day you will realize that I am in my Father and you are in me and I in you. Whoever has my commandments and observes them is the one who loves me. And whoever loves me will be loved by my Father, and I will love him and reveal myself to him."
As we proceed through the magnificent season of Easter, there is a progression in the focus of the readings from recalling the various resurrection appearances of Jesus to His disciples to looking intently at the life of the early church and the absolutely critical role of the Holy Spirit in that church and in the lives of the first disciples of Jesus.
The Holy Spirit needs to receive more attention in our lives as Christians. Newness of life in Christ is the direct result of the presence of the Holy Spirit in our lives. In our Gospel today, Jesus states "If you love me, you will keep my commandments. And I will ask the Father, and he will give you another Advocate to be with you always, the Spirit of truth …"
The Holy Spirit is the advocate who comes from the Father and the Son to dwell in our hearts. He delivers God's boundless mercy and healing. He enables us to say in faith, "Jesus is Lord." He leads us to all truth so that we can have confidence in our understanding of the deep truths of our faith along with the path that Jesus has marked out for His brothers and sisters. He infuses us with gifts that enable us to live and witness authentically to the great faith we profess. He sets our hearts on fire with burning love for the God who extended His arms on the cross to redeem every person ever conceived on this earth. He enters the depths of our being and makes a home for Himself there so that each of us becomes a living tabernacle, not unlike Mary, bringing Christ into every corner of the world.
The Acts of the Apostles speaks regularly about this awesome Advocate. In today's reading from Chapter 8, we hear, "Now when the apostles in Jerusalem heard that Samaria had accepted the word of God, they sent them Peter and John, who went down and prayed for them, that they might receive the Holy Spirit, for it had not yet fallen on any of them." The sending and reception of the Holy Spirit was a critical part of coming to the fullness of faith in Jesus Christ. Before Pentecost, there was confusion and fear. After Pentecost, there was clarity and boldness of faith in Jesus.
By the grace of the Holy Spirit, Christians are capable of discovering the enormous love that God has for them. This love enables them to be obedient to what Acts calls "the way," the way of life modeled by Jesus and the new pattern for our own lives. Once again, Jesus taught his disciples, "If you love me, you will keep my commandments." Love for Jesus leads to obedience. The Holy Spirit empowers us to come humbly before our Lord, truly sorry for our sins, open to His healing grace, confident in the power of His grace to transform our lives, and willing to follow the shepherd even when the path is hard, filled with scary passages, and exhausting. Genuine love for Christ leads to what St. Paul describes as the "obedience of faith."
The promised advocate is also manifest in our efforts to serve our neighbor in the name of Christ. In fact, the Holy Spirit makes our ministry resemble the ministry of our Lord. Listen to St. Luke's description of the life of St. Philip: "Philip went down to the city of Samaria and proclaimed the Christ to them. With one accord, the crowds paid attention to what was said by Philip when they heard it and saw the signs he was doing. For unclean spirits, crying out in a loud voice, came out of many possessed people, and many paralyzed or crippled people were cured. There was great joy in that city." Powerful preaching, miraculous healing and great joy marked the life of the first Christian communities.
As a church, we are progressing rapidly towards our celebration of Pentecost when the Holy Spirit was poured out in abundance upon God's fledgling flock some 50 days following the Resurrection. Most of us, through baptism and confirmation, have already received this great Advocate in a very real way. Let's pray for God's grace to open our hearts and unleash the grace and power of the Holy Spirit dwelling therein and send us out into our broken and hurting world with tremendous zeal for building a culture of life and love in imitation of Jesus and the early Christians.
Top
Home Page
To Sunday Gospel Reflections Index