John 14:23-29
The Peace of Christ
by Rev. Jerome A. Magat
Reprinted with permission of "The Arlington Catholic Herald"
Home Page
To Sunday Gospel Reflections Index
John wrote to show that Christ was
the Messiah, the Divine Son of God.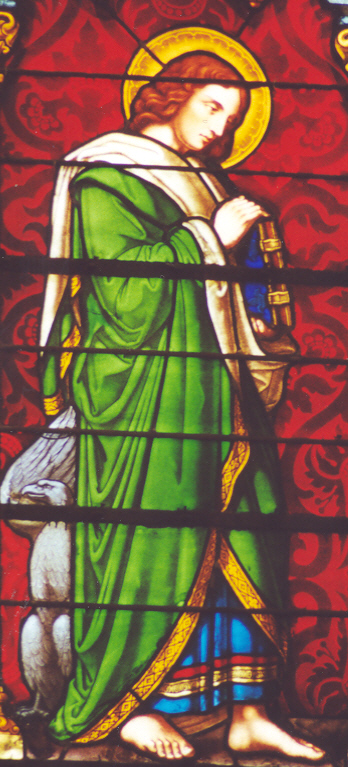 Jesus said to his disciples: "Whoever loves me will keep my word, and my Father will love him, and we will come to him and make our dwelling with him. Whoever does not love me does not keep my words; yet the word you hear is not mine but that of the Father who sent me. "I have told you this while I am with you. The Advocate, the Holy Spirit, whom the Father will send in my name, will teach you everything and remind you of all that I told you. Peace I leave with you; my peace I give to you. Not as the world gives do I give it to you. Do not let your hearts be troubled or afraid. You heard me tell you, 'I am going away and I will come back to you.' If you loved me, you would rejoice that I am going to the Father, for the Father is greater than I. And now I have told you this before it happens, so that when it happens you may believe."
In the Gospel according to St. John, five of the 21 chapters are devoted to the Last Supper. As the narrative unfolds in the upper room on Holy Thursday, Jesus promises to send the Holy Spirit upon the apostles. Jesus offers the Twelve Apostles His peace and He assures them that His peace is unlike the peace the world gives. In a world full of strife and increasing violence, we do well to consider what exactly Jesus meant when He offered the apostles His peace. These verses regarding peace have had such enduring value in the church that they have been a part of the Mass for millennia. In the current Mass, they follow the recitation of the Lordís Prayer.
Worldly peace is rooted in an absence of conflict. Whenever warring parties come to peace terms or suspend violence under the directives of a cease-fire, we often hear that there is peace among the parties in conflict. That peace can be disrupted easily and fighting and war can resume rather quickly. Peace among enemies can be a tenuous reality with no certain future guaranteed.
Christian peace is much more than an absence of conflict. For believers, Christís peace truly reigns when the virtue of justice is satisfied. Justice, simply speaking, is giving another what they are due. There are different forms of justice (commutative, redistributive, etc.) but in all types of justice, parties to a conflict only experience peace when each side has received their due recompense. Hence, peace, as Christians understand it, is a fruit of justice. If justice is lacking, peace cannot abound. Justice becomes a precondition for Christís peace to enter. Warring parties may cease violence for a time but if either or both parties do not believe that they have received a just resolution to their claims, peace is but a mirage Ė violence can resume with little provocation.
Jesus teaches that peace can only reign in manís heart when interior conversion has begun. When an individual is no longer conflicted within Ė when he renders justice unto God by obeying His commands and acts justly toward his neighbor can peace truly reign. Until that interior change of heart occurs, man can feel an inner unease Ė a fighting within himself that is a sure sign that some injustice is present. When interior peace is lacking, it is almost always a sure sign that Godís will is not being accomplished. For example, a father may chose to discipline his child with a severe punishment. The father may experience some emotional distress for having punished the child but he knows that the discipline and punishment are necessary tools to form that child and truly love him. If that father is at peace, even as he sees his child suffer the consequences for his action, it may be a sure sign of Godís presence. The father has addressed the problematic childís injustice and resolved it. The path has been paved for Christís peace to enter.
In the Gospel narrative, Jesus assures the apostles that they can experience His peace because He is going to the Father Ė an act of justice. In His forthcoming ascension, Jesus will have accomplished the demands of justice to the Father by becoming our ransom and satisfying manís debt to God by suffering and dying for us. Jesusí obedience, which is a form of justice, paves the way for us to experience the peace that only He can give.