John 15:9-17
Love of Christ is Key to Courage
by Rev. Jerry Pokorsky
Reprinted with permission of "The Arlington Catholic Herald"
Home Page

John wrote to show that Christ was
the Messiah, the Divine Son of God.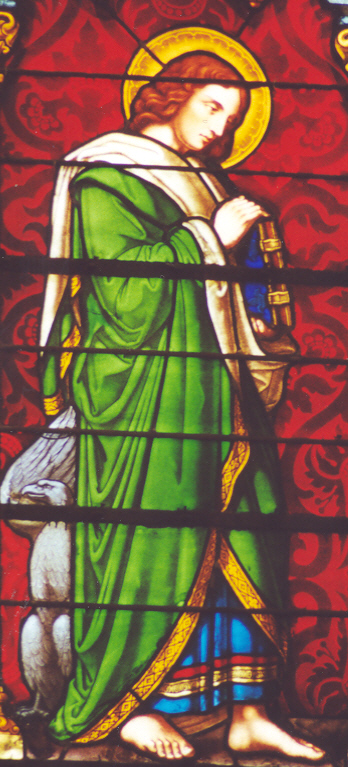 Jesus said to his disciples: "As the Father loves me, so I also love you. Remain in my love. If you keep my commandments, you will remain in my love, just as I have kept my Father's commandments and remain in his love.
"I have told you this so that my joy may be in you and your joy might be complete. This is my commandment: love one another as I love you. No one has greater love than this, to lay down one's life for one's friends. You are my friends if you do what I command you. I no longer call you slaves, because a slave does not know what his master is doing. I have called you friends, because I have told you everything I have heard from my Father. It was not you who chose me, but I who chose you and appointed you to go and bear fruit that well remain, so that whatever you ask the Father in my name he may give you. This I command you: love one another."
Courage is an elusive virtue. It is not uncommon for someone to be courageous in one context and paralyzed with fear in another. A mother may be fearless in protecting a child from danger, but may shrink in terror upon seeing snake in the basement. Soldiers know how fleeting courage is and often dread the possibility of a failure of nerve in battle.
In this week's Gospel, Christ says, "Greater love than this no man has than to give up his life for his friends," Of course Christ was foreshadowing His own sacrifice on the cross as Our Divine Savior. But throughout history the many examples of courageous self-sacrifice in imitation of Christ tug at our hearts.
In Flint Hill, Va., there is an obscure grave of a Confederate soldier near a church. He was a member of the famous Mosby Rangers and was executed in 1864 after being captured by Union troops under the command of Gen. Philip Sheridan. His story is one of true sacrificial love. Throughout the war, John Singleton Mosby's men waged guerrilla warfare against the Union troops. During his campaign in the Shenandoah Valley, Sheridan repeatedly was frustrated by Mosby's hit-and-run tactics. Upon capturing some of Mosby's rangers, Sheridan seized his chance. After a hurried military trial, he would execute all but one of the men and send the survivor back to Mosby with the message: Cease and desist or the Yankees will continue with their ruthless executions.
The prisoner receiving the reprieve was chosen by drawing lots. A single, unmarried and childless Confederate prisoner won the grim lottery. But he was unable to bear the thought of the execution of a brother soldier – a family man with a wife and many children – leaving the family behind without means. In a truly heroic act he proposed a swap to his Union captors. The husband and father of many would be released; the brave unmarried Confederate would be executed in his place. The hero rests now in a lonesome overgrown grave just a few miles from where he gave up his life for his friend.
Attracted to such heroism, we may be tempted to despair at our own capacity for courage. We recall Peter's promise during the Last Supper never to abandon Christ: "Even if I must die with you, I will not deny you" (Mt. 26:35). Of course in the shadow of the Passion, Peter suffered his infamous failure of nerve and fulfilled the prophecy of Christ: "Before the cock crows twice, you will deny me thrice." Hence, we may be tempted to disparage St. Peter's promise not only because we know the rest of the story, but because we fear our own weakness. But if we are honest we must recognize we make similar bold promises, often in the same thoughtless and presumptuous way.
When a man and woman exchange wedding vows, the promises are truly extraordinary: "I take you, to be my husband. I promise to be true to you in good times and in bad, in sickness and in health. I will love you and honor you all the days of my life." Reflecting on the difficulties of marriage, we must concede these are daring promises. Marriage has its joy, but also its challenges. (As the saying goes, first the engagement ring, then the wedding ring, then the suffering). But there usually is not pallor of foreboding at weddings when the vows are made. With few exceptions, weddings bring only a contagion of optimism and joy.
When a priest is ordained, he too makes several bold promises with joy: to be a worthy fellow worker with his bishop; to worthily preach the Gospel; to celebrate the sacred mysteries; to encourage his flock to pray; and to unite himself daily with Christ the High Priest. If taken seriously, like the marriage vows, these promises also anticipate – and to some extent, presume – true courage in the life of the priest.
Perhaps given Peter's example we would be better off avoiding such promises. But Christ, as usual, shows us he way. After the Resurrection, Christ directs Peter to repair and renew the broken relationship caused by the fearful denial. Christ accomplishes the reparation by eliciting Peter's threefold expression of love: "Peter, do you love me more than these?" "Yes, Lord, you know that I love you …" (Jn 21:15-18). Christian love that brings all human endeavors to completion in Christ is the key to our capacity for courage.
A mother risks her life for her children because of her love; a soldier risks his life for his brethren because of his love for his buddies; a man courageously surrenders his future in an exclusive union with his wife, for better or worse, in love; a priest dares to commit his entire life to Holy Mother Church in the way the Church asks because he loves her. Hence, the divine recipe for courage is the daily cultivation of the love of God and neighbor. With access to the sacraments, Catholics are in a privi8leged position to prepare for whatever comes in our personal Way of the Cross.
Christ offers a final key element as we consider facing the uncertainties of life: "And when they bring you before the synagogues and the rulers and the authorities, do not be anxious how or what you are to answer or what you will say; for the Holy Spirit well teach you in that very hour what you ought to say" (Lk 1:11). God grants His grace when we need it; He does not grant His grace in advance. If our uncertainties lead us to a greater trust and reliance on God, then our fears will not be so unnerving after all.