John 15:26-27, 16:12-15
The Consoling Counselor by Rev. Paul Scalia
Reprinted with permission of "The Arlington Catholic Herald"
Home Page
To Sunday Gospel Reflections Index
John wrote to show that Christ was
the Messiah, the Divine Son of God.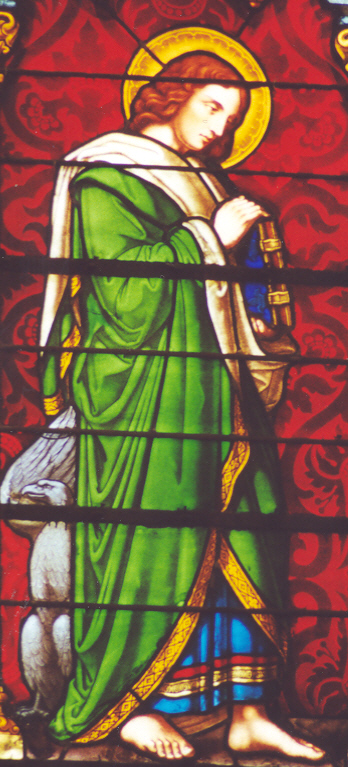 Jesus said to his disciples: "When the Advocate comes whom I will send you from the Father, the Spirit of truth that proceeds from the Father, he will testify to me. And you also testify, because you have been with me from the beginning."
"I have much more to tell you, but you cannot bear it now. But when he comes, the Spirit of truth, he will guide you to all truth. He will not speak on his own, but he will speak what he hears, and will declare to you the things that are coming. He will glorify me, because he will take from what is mine and declare it to you. Everything that the Father has is mine; for this reason I told you that he will take from what is mine and declare it to you."
Like any important person, the Holy Spirit bears many titles. For example, our Lord calls Him "the Advocate" (Jn 15:26). At least that is what our current translation has. Another translation has "Counselor." Still others "Comforter" or "Consoler." So which one is it? Advocate or Comforter? Counselor or Consoler? In one of those happy but rare occasions, they are all acceptable translations. In fact the ambiguity of the original Greek word helps reveal the Holy Spirit more. He is both Advocate and Comforter, Counselor and Consoler.
As Advocate or Counselor, He pleads our case before the Judge. The ancient Greek word means a legal attorney or or counsel. (This may very well be the only text anywhere that describes God as a lawyer.) Yet unlike an advocate or counselor in this world, the Holy Spirit does not stand beside us to defend our case. Rather, He dwells within us, as the soul of our souls. From within us He appeals to God.
The Holy Spirit pleads our case in response to the devil, "the accuser" who night and day accuses us before God (cf. Rv 12:10). The evil one tries to win our condemnation on the evidence of our sins. In response, the Holy Spirit stands as our Advocate. He wins our acquittal on the power of Christ's Sacrifice - by which we have been redeemed and made children of God.
The Holy Spirit is likewise our Advocate in the world. He instructs us in the truth so that we can faithfully witness to Christ. He commands us what to say and - just as importantly - what not to. And again, He does this not from the outside as One apart from us, but interiorly as One united to our very souls. Our Lord describes Christian witness in just this way: "It will not be you who speak but the Spirit of your Father speaking through you" (Mt 10:20).
Most of all, the Holy Spirit is our Advocate in prayer. He prays from within us, bringing our prayers to our Heavenly Father in His own voice. He "bears witness with our spirit that we are children of God" (Rom 8:16). He "comes to the aid of our weakness, for we do not know how to pray as we ought, but the Spirit itself intercedes with inexpressible groanings" (Rom 8:26). He is our Advocate in the most intimate and personal sense.
Yet the Greek word here can also mean "Comforter" or "Consoler." In striving to live as faithful Catholics, we inevitably suffer setbacks and persecution. This side of heaven, in this vale of tears, we should expect difficulties. So where will we find the comfort we need? How will we be consoled? Will we seek true or false comfort? The enduring comfort of heaven, or the passing comfort of the world? All around us we see people seeking comfort in food, sex, drugs, mindless entertainment, etc. Such comfort passes quickly and leaves a person worse off than before.
The Holy Spirit - Comforter and Consoler - is also "the Spirit of truth" (Jn 16:12). His comfort is greater than anything in this world because it is rooted in the truth. He does not bring a false mercy or consolation. He brings the truth that itself consoles. Our Lord connects this consolation with being God's children. His words "I will not leave you desolate" can also be translated "I will not leave you orphans" (cf Jn 14:18). In the midst of the world's trials, the greatest comfort we have is that we are God's children.
So the Holy spirit works in two directions. As Advocate He works from down here, appealing for us upward to God. As Comforter, He works from up there, bringing God's consoling truth down to us. He brings our prayers and defense before God's throne. And He brings God's grace, peace and love to us here below.
Please consider a tax deductible gift to support this web site.
Top
Home Page
To Sunday Gospel Reflections Index