John 20:19-23
Take a Deep Breath
by Rev. Paul Scalia
Reprinted with permission of "The Arlington Catholic Herald"
Home Page
To Sunday Gospel Reflections Index
John wrote to show that Christ was
the Messiah, the Divine Son of God.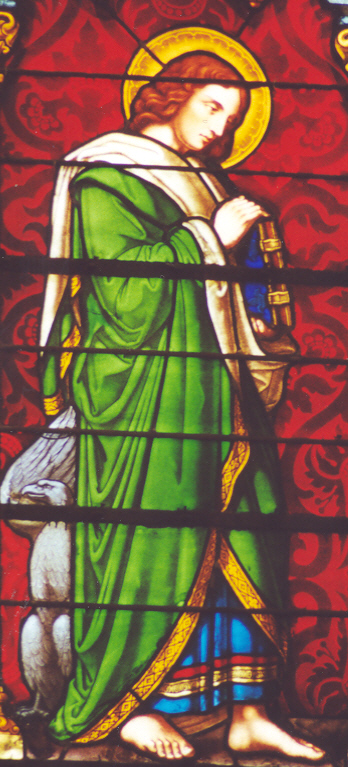 On the evening of that first day of the week, when the doors were locked, where the disciples were, for fear of the Jews, Jesus came and stood in their midst and said to them, "Peace be with you." When he had said this, he showed them his hands and his side. The disciples rejoiced when they saw the Lord. Jesus said to them again, "Peace be with you. As the Father has sent me, so I send you." And when he had said this, he breathed on them and said to them, "Receive the Holy Spirit. Whose sins you forgive are forgiven them, and whose sins you retain are retained."
When we think of the gift of the Holy Spirit, we typically think of Pentecost – Spirit descending upon Mary and the apostles in the upper room. We therefore often overlook an earlier scene. On Easter Sunday, when Jesus appeared to the apostles, "He breathed on them and said to them, 'Receive the Holy Spirit'" (Jn 20:22). Of course, we should not set these two events in opposition to each other. Pentecost holds pride of place as the solemn and definitive descent of the Holy Spirit. Nevertheless, by giving the Spirit also on Easter Sunday, Jesus reveals certain truths about the Spirit.
First, intimacy. "He breathed on them." An unusual gesture, then as now. To breathe on someone requires being close. To give the Spirit, Jesus had to be close to the apostles, right next to them. He was in their "personal space," because His gift was intensely personal. Breath, after all, comes from within. It indicates the interior life of a person. In bestowing the Spirit, Jesus gives an intimate gift. The Spirit is not a gift external to Him but proceeding from deep within Him.
Second, life. Breath indicates life. Thus we have the term "life breath." When someone has stopped breathing we may perform mouth-to-mouth resuscitation, giving our breath so that he will have life. What we accomplish on a biological, physical level, Our Lord accomplishes in the spiritual. We once were lifeless bodies, devoid of life breath. As once He breathed into Adam (cf. Gen 2:7), now He breathes His life – His Spirit – into us. But His breath now brings eternal life.
Third, power. By bestowing this gift on Easter Sunday, Our Lord associates the Spirit with His resurrection. This manifests the Spirit's power. This is the "Spirit of the one who raised Jesus from the dead." This Spirit also has the power to raise us up: "The one who raised Christ from the dead will give life to your mortal bodies also" (Rom 8:11). So St. Paul tells us, "God did not give us a spirit of cowardice but rather of power and love and self-control" (2 Tim 1:7).
Our Lord "does not ration His gift of the Spirit" (Jn 3:34). We, however, ration our reception of the Spirit. We remain apart from the Giver, and we do not trust enough in the Spirit's power. Instead of drawing close to Jesus, we keep Him at arm's length.
We acknowledge Him from afar and perhaps call out our needs to Him. It is, we cynically think, nice to have Him in our lives. But we do not draw close enough to feel His breath. We like our illusion of independence and do not want Him breathing down our neck. And instead of trustfully surrendering to the Spirit's power, we seek merely His assistance. We should pray to the Holy Spirit for holiness. But we do not think that possible and settle for lesser things.
A gift ought to be received in the manner it is given. As regards the gift of the Spirit, this means drawing close to Jesus. We need to be up close and personal, next to His face, feeling His breath upon us. The gift He gives is personal, from His very heart, and He desires to give this Gift to each of us personally. In asking for the Spirit we should do so with confidence in the Spirit's power. The Holy Spirit raises from the dead and – even more incredibly – changes sinners into saints. It makes no sense to ask for the Holy Spirit without intending to be made holy. Therefore, let us draw close to Jesus, to receive His breath, to receive the Spirit of holiness.