John 20:19-31
To Love is To Say 'I am Sorry' by Rev. Paul Grankauskas
Reprinted with permission of "The Arlington Catholic Herald"
Home Page
To Sunday Gospel Reflections Index
John wrote to show that Christ was
the Messiah, the Divine Son of God.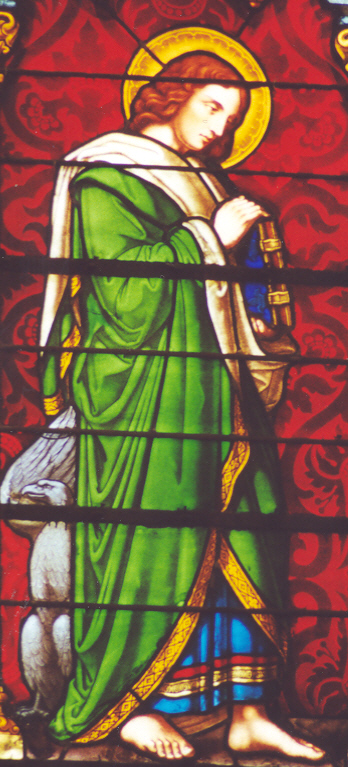 On the evening of that first day of the week, when the doors were locked, where the disciples were, for fear of the Jews, Jesus came and stood in their midst and said to them, "peace be with you." When he had said this, he showed them his hands and his side. The disciples rejoiced with they saw the Lord. Jesus said to them again. "Peach be with you. As the Father has sent me, so I send you." And when he had said this, he breathed on them and said to them, "Receive the Holy spirit. Whose sins you forgive are forgiven them, and whose sins you retain are retained."
Thomas, called Didymus, one of the Twelve, was not with them when Jesus came. So the other disciples said to him, "We have seen the Lord." But he said to them, "Unless I see the mark of the nails in his hands and put my finger into the nailmarks and put my hand into his side, I will not believe."
Now a week later, his disciples were again inside and Thomas was with them. Jesus came, although the doors were locked, and stood in their midst and said, "Peace be with you." then he said to Thomas, "Put your finger here and see my hands, and bring your hand and put it into my side, and do not be unbelieving, but believe." Thomas answered and said to him, "My Lord and my God!" Jesus said to him, "Have you come to believe because you have seen me? Blessed are those who have not seen and have believed."
Now Jesus did many other signs in the presence of his disciples that are not written in this book. But these are written that you may come to believe that Jesus is the Christ, the Son of God, and that through this belief you may have life in his name.
The tag line for the 1970s film "Love Story" reads, "Being in love means never having to say you are sorry." With all due respect, whoever wrote that was obviously never in love a day in his life.
No matter how dear our loved ones are, no matter how much we may love someone, there are times when we have to say "I'm sorry." Love moves us to say those words when we know we have sinned against someone – be it God or neighbor – in word or action. Love moves us to acknowledge that our actions, our sins, affect our relationship with those around us: God, our neighbor, the Church. Love is the very thing that moves us to say we are sorry and seek to heal the wounds caused by our sins.
Love moved Peter to weep bitterly the night he denied even knowing Jesus. This was not just some guilty feeling to be glossed over. This was true sorrow for having denied the Master who loved him, and the recognition of his own weakness. After the resurrection, love moves Our Lord to offer Peter a chance for reconciliation. Peter seems to jump at the chance. Three times he will express his love for Jesus, once for each denial.
What does this have to do with this week's Gospel?
Plenty!
Our Lord's first words to the Apostles upon His appearance in the Upper Room are not words of condemnation. He does not call them worthless louts for running off on Him. He does not take back the gift of the priesthood conferred upon them on the night of the Last Supper. Rather, His first words are, "Peace be with you." These are the words the frightened, troubled Apostles needed to hear.
Then comes a great commission: "As the Father has sent me, so I send you." The Divine Son came into the world to establish His kingdom on earth. The work of building up that kingdom – of building up the Church - would continue with the Apostles.
He commissions them to be ministers of reconciliation: "Whose sins you forgive will be forgiven, and whose sins you retain will be retained." Jesus Christ, whose very heart is the fount of grace and mercy, commissions the Apostles to be the ministers of those very same gifts. Who better to carry out that task than those who understood the need for mercy? One can easily imagine Peter and Thomas being patient and understanding with the faults of others because they were fully aware of their own weakness and moments of doubt. One can also imagine them being firm in correcting sinners, knowing as they did the glory and power of God revealed in Christ.
This Sunday is a fitting day to celebrate this precious gift of reconciliation, the sacrament of mercy. The second Sunday of Easter was designated by Pope John Paul II as Divine Mercy Sunday. The Holy Father had a special devotion to St. Faustina Kowalska, a Polish nun whose diary spoke of Our Lord's desire to have a special feast established on this day celebrating and exalting God's powerful mercy.
Our Lord said to St. Faustina: "I desire that this feast of mercy be a refuge and shelter for all souls, and especially for poor sinners. On that day the very depths of My tender mercy are open. I pour out a whole ocean of graces upon those souls who approach the fount of My mercy. The souls that will go to confession and Holy Communion shall obtain complete forgiveness of sin and punishment."
Jesus also told St. Faustina: "When you approach the confessional, know that I myself am waiting there for you. I am hidden only by the priest, but I myself act in your soul. Here the misery of the soul meets the God of mercy. Make your confession before me. The person of the priest is, for me, only a screen. Never analyze what sort of a priest it is that I am making use of; open your soul in confession as you would to me, and I will fill it with my light."
Such is the depth of love Christ has for each of us. Nothing stands in the way of our knowing and receiving that gift except the sins of pride, which prevents us from saying things like "I'm sorry" and "I forgive you," and despair, which keeps us from thinking we deserve such a gift. What God is willing to give, we should not be so ready to shun or ignore. We may weep bitterly for our sins as Peter did, but we must never forget that God is ready to show us His mercy. He is ready to say, "I forgive you." First, we need to say we're sorry.
Please consider a tax deductible gift to support this web site.