John 20:19-31 A-Cycle
Confessors and Confession
by Rev. Jerry J. Pokorski
Reprinted with permission of "The Arlington Catholic Herald"
Home Page
To Sunday Gospel Reflections Index
John wrote to show that Christ was
the Messiah, the Divine Son of God.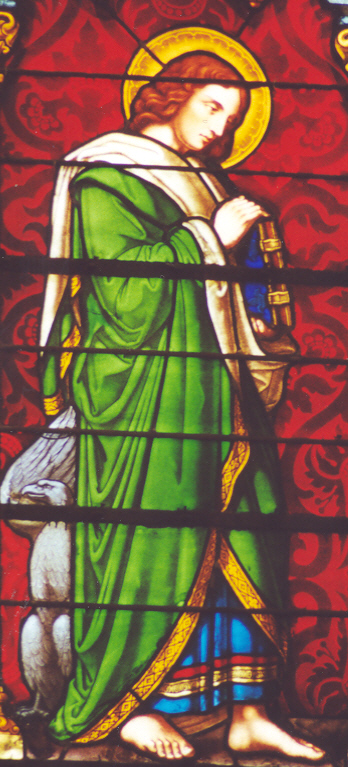 On the evening of that first day of the week, when the doors were locked, where the disciples were, for fear of the Jews, Jesus came and stood in their midst and said to them, "Peace be with you." When he had said this, he showed them his hands and his side. The disciples rejoiced when they saw the Lord. (Jesus) said to them again. "Peace be with you. As the Father has sent me, so I send you." And when he had said this, he breathed on them and said to them, "Receive the holy Spirit. Whose sins you forgive are forgiven them, and whose sins you retain are retained."
Thomas, called Didymus, one of the Twelve, was not with them when Jesus came. So the other disciples said to him, "We have seen the Lord." But he said to them, "Unless I see the mark of the nails in his hands and put my finger into the nail marks and put my hand into his side, I will not believe."
Now a week later his disciples were again inside and Thomas was with them. Jesus came, although the doors were locked, and stood in their midst and he said, "Peace be with you." Then he said to Thomas, "Put your finger here and see my hands, and bring your hand and put it into my side, and do not be unbelieving, but believe." Thomas answered and said to him, "My Lord and my God!" Jesus said to him, "Have you come to believe because you have seen me? Blessed are those who have not seen and have believed."
Now Jesus did many other signs in the presence of (his) disciples that are not written in this book. But these are written that you may (come to) believe that Jesus is the Messiah, the Son of God, and that through this belief you may have life in his name.
In this week's Gospel, Christ institutes the sacrament of penance. In His first appearance to His assembled disciples after the Resurrection, after showing the wounds of His passion, He breaths upon them and says, "Receive the Holy Spirit. Whose sins you forgive are forgiven them, and whose sins you retain are retained." These newly ordained priests therefore become the first confessors and are appointed to hear confessions and forgive sins in the name of the Lord.
From our point of view, it is a most peculiar arrangement: Human instruments – all sinners in their own way and also in need of forgiveness – hearing, judging and forgiving the sins of their brethren. What kind of priests would we prefer to hear our own sins in confession? Who should be their model?
We fear confessors who may be, as St. James writes of the Lord," …stern with the arrogant." (Jas 4:6) Confessors may be perceived to be like copy editors, eager to correct the grammar of the spiritual life. This kind of confessor, like an editor with a keen eye for every split infinitive and misplaced modifier, ably points out every error of approach and mispronunciation of the type of sin. As sins are nervously confessed, oversights and errors may be pointed out, like every dangling participle. Only a penitent with the daring of Winston Churchill would object to the perceived excessive rules of spiritual grammar: "This is the sort of bloody nonsense up with which I will not put." Yet in times of spiritual sloth, we may be in true need of being corrected on the finer details of the moral life lest we lose our fighting edge as soldiers of Christ.
Thinking of ourselves as humble servants who simply take wrong turns in life here and there, we may desire a confessor who "…gives grace to the humble" (again, Jas 4:6). Perhaps we would much prefer, as a confessor the non-judgmental and soothing style of a GPS navigator. With every wrong turn, the gentle voice does not accuse; the device simply "recalculates" and calmly announces the new itinerary to bring us to the same destination. The GPS voice never ridicules, never laments a wrong turn. It never loses patience with us and our foibles. (Unless, of course, the factory technicians wire in the voice of comedian Don Rickles: "You took a wrong turn, you hockey puck!")
At times we would be content with a confessor who is like a sports umpire or referee. Except for egregious sins like unnecessary roughness or stomping dirt in the face of the ump, the referees are coldly objective, measuring the sterile rules of engagement: "Strike one." "Off sides." "You're out." Meanwhile, coaches and teammates encourage the dejected player to "get back into the game." This metaphor of a good confessor has abundant merit in view of the Lord's teachings, "If you love me, keep my commandments." (Jn 14:15)
Of course, a confessor might be something like one's spouse. When elderly folks go to confession, they occasionally claim to have very little to confess. But the priest gently asks, "What does your spouse say about you?" the confessional floodgates are opened. Sometimes it is easier to see ourselves through the eyes of the people we love.
In truth, a good confessor is a composite of all of the above and more: editor, GPS navigator, umpire and spouse. There is an old saying in traditional confession manuals that a priest ought to be "a lion from the pulpit and a lamb in the confessional." Above all, he ought to imitate to the best of his ability, the true Lamb. After the miraculous catch of fish, Saint Peter fell to his knees in the presence of the Christ and begged, "Depart from me for I am sinful man." The divine confessor, however, is also the Lamb of God, the Lamb of Mercy. In response to Peter's humble expression of sorrow for sin, with love Christ encouraged him not only to get back into the game, but to be His follower and lead His Church: "Do not be afraid; hence forth you will be catching men." (Lk 5:10) Great is the reward for the repentant sinner!
The sacrament of penance is a gift of God's love. And this is the sort of love we can, in joy, put up with.