John 20:19-31
Celebrate the Mercy of Jesus by Rev. Jack Peterson
Reprinted by permission of "The Arlington Catholic Herald"
Home Page
To Sunday Gospel Reflections Index
John wrote to show that Christ was
the Messiah, the Divine Son of God.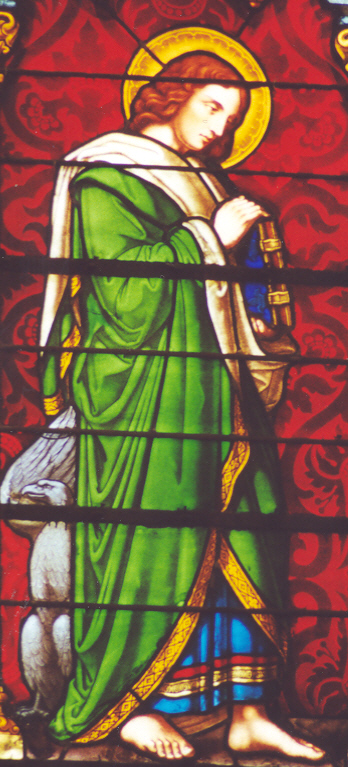 On the evening of that first day of the week, when the doors were locked, where the disciples were, for fear of the Jews, Jesus came and stood in their midst and said to them "Peace be with you." When he had said this, he showed them his hands and his side. The disciples rejoiced when they saw the Lord. Jesus said to them again, "Peace be with you. As the Father has sent me, so I send you." And when he had said this, he breathed on them and said to them, "Receive the Holy Spirit. Whose sins you forgive are forgiven them, and whose sins you retain are retained."
Thomas, called Didymus, one of the Twelve, was not with them when Jesus came. So the other disciples said to him, "We have seen the Lord," But he said to them, "Unless I see the mark of the nails in his hands and put my finger into the nail marks and put my hand into his side, I will not believe."
Now a week later his disciples were again inside and Thomas was with them. Jesus came, although the doors were locked, and stood in their midst and said, "Peace be with you." Then he said to Thomas, "Put your finger here and see my hands, and bring your hand and put it into my side, and do not be unbelieving, but believe." Thomas answered and said to him, "My Lord and my God!" Jesus said to him, "Have you come to believe because you have seen me? Blessed are those who have not seen and have believed."
Now Jesus did many other signs in the presence of his disciples that are not written in this book. But these are written that you may come to believe that Jesus is the Christ, the Son of God, and that through this belief you may have life in his name.
Occasionally I find myself thanking God for my sins. Yes, you read that right. To be sure, I detest my sins and I want to root every one of them out of my life forever. Yet I know that because of my sins, I have really come to know Jesus and have been plunged into the depths of His tender, merciful heart. "Without those sins, I might not recognize my radical need for God, I might not long in the depths of my soul for His divine mercy. When my heart cries out in pain because I have hurt my beloved and fall on my knees in sorrow, I experience the goodness of God and the power of His love in the most amazing way.
The Church invites us to celebrate the mercy of Jesus this week. Pope John Paul II designated the Second Sunday of Easter as Divine Mercy Sunday at the canonization of St. Maria Faustina Kowalska on April 30, 2000. Our Lord appeared to her in the 1930s and asked her to be an instrument through which He would spread devotion to His divine mercy. He spoke to her in beautiful ways about how He wishes to bestow this great gift to every corner of the world. He revealed to her a powerful image that has become rather well-known. It displays a gentle, welcoming Christ with rays of light emanating from his heart, symbolizing the blood and water that flowed from his side while He was on the cross. They are a font of healing graces for sinners who turn to Him with trust.
Mercy is God's love made manifest as He creates us, redeems us and sanctifies us. Mercy is God's unfathomable, tender care poured out upon every human being from the pierced side of Christ who gave His life for us on the cross. "Mercy," said Pope John Paul II, "Is an indispensable dimension of love; it is, as it were, love's second name . . ." St. Peter, St. Paul, St. Mary Magdalene and St. Matthew (and countless other saints) were so holy and became such great witnesses of the Good News because they had come to know the profundity and power of Jesus' divine mercy.
It makes great sense for the Church to proclaim from the housetops today this message of mercy as she commemorates the night when our Risen Lord appeared to the apostles for the first time in the Upper Room and instituted the sacrament of penance. Jesus said to the Apostles, "'As the Father has sent me, so I send you.' And when he had said this, he breathed on them and said to them, 'Receive the Holy Spirit. Whose sins you forgive are forgiven them, and whose sins you retain are retained.'" In the sacrament of penance and in the Eucharist, divine mercy is poured into the soul of the believer.
Once we have been wrapped in the mantle of Jesus' incomprehensible mercy, it is only fitting that we invite others to experience its goodness. Through our baptism, we participate in the Church's mission to be ambassadors of Christ, to speak warmly and joyfully about this new life and invite others to dive into the depths of divine mercy. Our Lord repeats for us what He said to St. Faustina, "Tell the whole world about My inconceivable mercy."
Please consider a tax deductible gift to support this web site.
Home Page
Top
To Sunday Gospel Reflections Index