Luke 1:1-4; 4:14-21
Hearth, home and holiness
by Rev. Paul Scalia
Reprinted with permission of "The Arlington Catholic Herald"
Home Page
To Sunday Gospel Reflections Index
Written to explain that
Christ came to save everyone.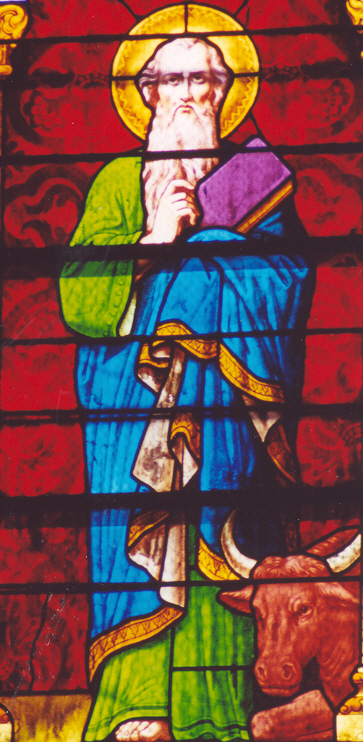 Since many have undertaken to complete a narrative of the events that have been fulfilled among us, just as those who were eyewitnesses from the beginning and ministers of the world have handed them down to us, I too have decided, after investigating everything accurately anew, to write it down in an orderly sequence for you, most excellent Theophilus, so that you may realize the certainty of the teachings you have received.
Jesus returned to Galilee in the power of the Spirit, and news of him spread throughout the whole region. He taught in their synagogues and was praised by all. He came to Nazareth, where he had grown up, and went according to his custom into the synagogue on the Sabbath day. He stood up to read and was handed a scroll of the prophet Isaiah. He unrolled the scroll and found the passage where it was written: The spirit of the Lord is upon me, because he has anointed me to bring glad tidings to the poor. He has sent me to proclaim liberty to captives and recovery of sight to the blind, to let the oppressed go free, and to proclaim a year acceptable to the Lord.
Rolling up the scroll, he handed it back to the attendant and sat down, and the eyes of all in the synagogue looked intently at him. He said to them "Today this Scripture passage is fulfilled in your hearing."
The ancient Romans prized the virtue of piety - that simple devotion to one's family, country and gods, to all that bestows and shapes one's life. The poet Virgil knew this and repeatedly described Aeneas, Rome's legendary founder, as pious. This sturdy virtue served Rome well and provided the basis for a nation that would shape the world for centuries.
At the Incarnation, God takes on the virtue of piety. For the pagans the pious man was devoted to the gods. For Christians, God Himself is pious - devoted to His mother, family, town and country, to the religion, customs, and traditions of His people. Jesus is both the Lord of Israel and her devoted Son. The "Te Deum" praises Jesus, saying, "You did not spurn the Virgin's womb." Nor did He spurn Mary's modest home, Joseph's workshop, Nazareth, Galilee or even the troublesome, backward Galileans.
We see Our Lord's piety especially in His 30 years of "hidden life" with Joseph and Mary. But He did not set aside this virtue when He began His public life. After His manifestation at the Jordan and His victory over the devil in the desert, we would think He was ready for the big time - for Jerusalem, and then perhaps Athens, and Rome and then. ... But no. "Jesus returned to Galilee ... to Nazareth, where he had grown up" (Lk 4:14, 16). He willed to begin the work of salvation in His hometown, in the old neighborhood, in the synagogue, that old familiar building He visited every Sabbath, "according to His custom" (Lk 4:16).
Christ teaches us what it means to be human - and then divine. And so it is with the virtue of piety. He has taken this earthy, sturdy, unsophisticated quality and made it His own. In so doing He teaches us its importance and gives it eternal value. In our work of sanctification we should not consider piety beyond us. As we strive for the higher virtues, we do not spurn this humble one. Devotion to God as Father and the church as mother come more easily for those who first have piety toward Mom and Dad. "Charity begins at home," the saying goes. Indeed it does, because incarnate love Himself began at home. So must we.
Unfortunately, the American mindset of "striking out on your own" can work against piety. Instead of being devoted to kith and kin we grow tired of them and of all things familiar. We see them as things to depart from and leave behind as we "make it big." Our technology and media detach us even more. We give less attention to where we are and with whom than we do to some event or person miles away. A culture that uses the absurd phrase "virtual community" will not have the virtue of piety but only virtual piety.
Good old George Bailey proclaimed, "I'm shakin' the dust of this crummy little town off my feet and I'm gonna see the world!" He learned his lesson eventually. Our Lord, however, never had such a desire. He loved His family and town. He chose fellow Galileans as His apostles. He did not shake the dust of His little town off His feet but brought it with Him. He went up to Jerusalem not to "make it big" but to complete the humble work - and the work of humility - begun in Nazareth. May we likewise devote ourselves to the simplicity of those household goods - of hearth and home - that we may in turn find a dwelling in God's house.
Top
Home Page
To Sunday Gospel Reflections Index