Luke 1:26-38
Welcoming Jesus as Mary did Rev. Paul Grankauskas
Reprinted with permission of "The Arlington Catholic Herald"
Home Page
To Sunday Gospel Reflections Index
Written to explain that
Christ came to save everyone.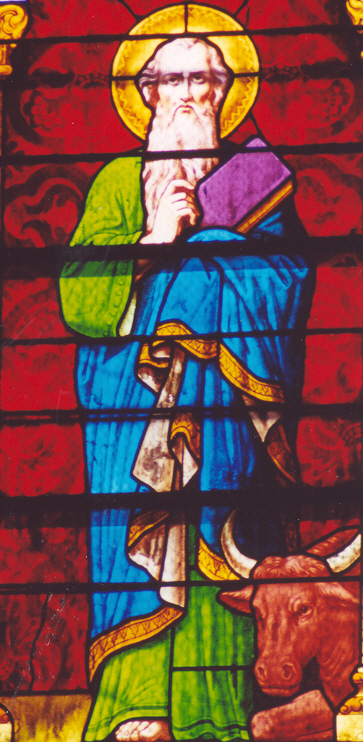 In the sixth month, the angel Gabriel was sent from God to a town of Galilee called Nazareth, to a virgin betrothed to a man named Joseph, of the house of David, and the virgin's name was Mary. And coming to her, he said, "Hail, favored one! The Lord is with you." But she was greatly troubled at what was said and pondered what sort of greeting this might be. Then the angel said to her, "Do not be afraid, Mary, for you have found favor with God. Behold, you will conceive in your womb and bear a son, and you shall name him Jesus. He will be great and will be called Son of the Most High, and the Lord God will give him the throne of David his father, and he will rule over the house of Jacob forever, and of his kingdom there will be no end." But Mary said to the angel, "How can this be, since I have no relations with a man?" And the angel said to her in reply, "The holy Spirit will come upon you, and the power of the Most High will overshadow you. Therefore the child to be born will be called holy, the Son of God. And behold, Elizabeth, your relative, has also conceived a son in her old age, and this is the sixth month for her who was called barren; for nothing will be impossible for God." Mary said, "Behold, I am the handmaid of the Lord. May it be done to me according to your word." Then the angel departed from her.
Scripture says, "How beautiful upon the mountains are the feet of him who brings good tidings, who publishes peach, who brings tidings of good, who publishes salvation, who says to Zion, 'Your God reigns.'" (Is 52:7)
Rightly do these words apply to the angel Gabriel, who brings to us from God the gladdest tidings of all.
Consider the moment of the Annunciation from Mary's point of view. The words of the angel echo the promise made by the Lord to King David centuries before, recorded in this week's first reading. "The Lord also reveals to you that he will establish a house for you. And when your time comes and you rest with your ancestors, I will raise up an heir for you, sprung from your loins, and I will make his kingdom firm. I will be a father to him, and he shall be a son to me. Your house and your kingdom shall endure forever before me; your throne shall stand firm forever."
Mary's heart must have raced to hear the angel's news. Her son would be the royal offspring of David and he would establish a lasting kingdom. Her son would be the long-awaited Messiah. The angel's tidings meant that God had not forsaken His people. Rather, God was going to visit them anew. This was the fulfillment of the deepest longings of Mary's people.
Consider the moment of the annunciation from our contemporary point of view. We know that when the angel calls Mary's child the "Son of the Most High," it goes beyond what even the Jewish people might have expected of the Messiah.
He would not simply be God's son in a moral sense or by adoption. Rather, we know that Jesus is "light from light, true God from true God, one in being with the Father." The divine Son, born of the Virgin Mary, would receive what He did not possess on His own: a human nature, flesh and blood, a body and soul. This is the flesh and blood He would offer in sacrifice on the cross to save His fellow men from sin, taking His place as the new Adam who renews and restores creation. From our point of view, the angel's tidings mean that the moment of redemption is at hand.
There is yet a deeper lesson we can draw from contemplating this momentous in salvation history. It is not enough that Mary should conceive the child in her womb. She has to welcome the child in her life. We might ask ourselves, what's the difference! The answer is simple: plenty.
Mary could conceive the child in her womb, but she had to welcome her son as her savior. She would walk the road to Calvary with her son and would play an intimate part in the work of our redemption. In other words, her life and vocation would be intimately and inextricably linked with that of her son's. Everything would have to be given over to her relationship with Jesus, her savior and her child.
In a culture of death that enshrines a right to abortion, it is now possible to conceive a child, but not welcome it. In fact, abortion is about rejection of a child that has been conceived. It is possible for a child to be conceived and brought to term, but never be nurtured and loved by parents. Perhaps we have heard stories about parents who make little time for relationships with their children, buying love and affection with material goods instead.
Our Lord once said that the one who does the will of His Father in heaven is His brother. His sister and His mother. It is probably easy for us to grasp that, by virtue of the grace of baptism, we are sons and daughters of God, brothers and sisters of Christ. It is certainly more daring to imagine ourselves to be like the mother of Christ.
To be like Mary, to imagine her motherhood in our lives as Christians, it is necessary for us to do more than just say, "I accept Jesus." Our faith must be expressed in action and in virtue. Imagine a husband and wife. If one is constantly critical of the other and say no appreciative words to the other, yet claims deep down to really love their spouse, where is the visible proof? It may be that one spouse makes sacrifices for the other and shows love in action, but it is still nice when love is expressed in word and action.
If we say we love Jesus, yet we make no effort to imitate Him in our lives, to practice the virtues that would truly make us living images of Christ, then where is the proof of that love? That the spirit of God truly dwells in a soul is something that can only be known when Christ's love is manifested in a person's word and actions.
As we come to the end of Advent and prepare for the celebration of Christmas, we would do well to ask our Blessed Mother to pray for us. Our prayer should be quite simple: to receive the grace we need to love her son just as she did.
Please consider a tax deductible gift to support this web site.
Top
Home Page
To Sunday Gospel Reflections Index