Luke 7:11-17
Young Man, I Tell You, Arise
by Rev. Fr. Jack Peterson, YA
Reprinted with permission of "The Arlington Catholic Herald"
Home Page
To Sunday Gospel Reflections Index
Written to explain that
Christ came to save everyone.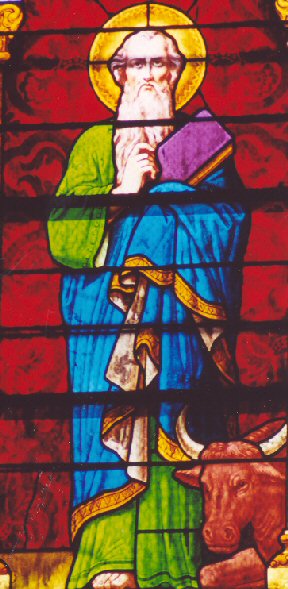 Jesus journeyed to a city called Nain, and his disciples and a large crowd accompanied him. As he drew near to the gate of the city, a man who had died was being carried out, the only son of his mother, and she was widow. A large crowd from the city was with her. When the Lord saw her, he was moved with pity for her and said to her, "Do not weep." He stepped forward and touched the coffin; at this the bearers halted, and he said, "Young man, I tell you, arise!" The dead man sat up and began to speak, and Jesus gave him to his mother. Fear seized them all, and they glorified God, exclaiming, "A great prophet has arisen in our midst," and "God has visited his people." This report about him spread through the whole of Judea and in all the surrounding region.
In our readings this Sunday, two widows mourn the loss of their sons. The darkness and pain of that experience can hardly be put into words…to compound the loss of their husband with the loss of their son. Few things in life can be as painful as these two losses for any woman.
It is beautiful to hear that God has compassion on both of them and miraculously returns their sons to life. In the reading from the first Book of Kings, the prophet Elijah intercedes on behalf of the mourning woman: "O Lord, my God, let the life breath return to the body of this child." In the Gospel, Jesus is "moved with pity" for the mourning widow. Imagine this mother's joy when she watches, as St. Luke recounts, "The dead man sat up and began to speak, and Jesus gave him to his mother."
One reality that jumps off the page is that God hears the pain of these two women. This makes plenty of sense. God creates us to love. His care for His beloved children runs deeper than the ocean. So, of course, He knows when we are hurting. He hurts when we hurt. Again, Jesus is moved with pity for the woman in the Gospel and chooses to bring her son back to life for the sake of his mourning mother.
The healing miracles in the Bible invite us to beg the question: Why does God choose to heal in one situation and not in another? Well, we are treading on holy ground here. We are staring in the face of a mystery. God always has compassion for our suffering. Of this, there is no doubt. Sometimes He chooses to heal or restore to life in a miraculous, clear and instantaneous way. Sometimes, He does it over a period of time. Sometimes it is not His will to heal us. This mystery is connected to the mystery of suffering in our world.
Suffering can be a channel of God's saving grace in our lives. It is often unfortunately, the only way that God can get our attention. It is one of the most powerful ways that God can help us to realize our radical need for Him. It can be a way to purify our hearts of all selfishness and sin, making room for Him, His love and His grace to take over our hearts. It is a way to learn the all-important virtue of obedience. This was the case even for Jesus. The author of the Letter to the Hebrews proclaims in reference to Our Lord: "Son though he was, he learned obedience from what he suffered" (Heb 5:8).
There is, of course, the most significant truth about human suffering in the world. God chose to dive into it and to use the self-surrender of His Son, Jesus, in His darkest and most painful hour to redeem the world and demonstrate the unfathomable depths of His love. "In this is love, not that we loved God but that he loved us and sent his Son to be the expiation for our sins" (1 Jn 4-10).
So, God decides in His infinite wisdom to allow suffering in our lives at certain times because it is the best channel of His grace in certain situations. Suffering is very hard to embrace, but when we understand that God has compassion on us, is present throughout every period of suffering, and is pouring grace into our lives through it, we find the way to cooperate with Him in transforming our lives and making us into brand-new creatures.
At other times, God chooses to heal in simple, instantaneous moments. It is possible to learn and be transformed by clear interventions of God as well. When this happens, we are overwhelmed by the love God that takes away a great evil and restores us to health in a flash. Jesus and the apostles healed numerous people in the New Testament. There were the 10 lepers, the woman afflicted with hemorrhages, the blind man Bartimaeus and so many others.
I am of the opinion that God wants to offer more instantaneous healing in our world today. This was an important part of Jesus' public ministry. It is one way to manifest the establishment of His kingdom on earth. I think that we often do not have enough faith to ask for such interventions. We do not expect Jesus to act in that fashion today and thus we limit His capacity to do so because of our lack of trust.
Jesus stepped forward and touched the coffin…and He said, "Young man, I tell you, arise."