Luke 9:28b-36
Better than Tents
by Rev. Paul Scalia
Reprinted with permission of "The Arlington Catholic Herald"
Home Page
To Sunday Gospel Reflections Index
Written to explain that
Christ came to save everyone.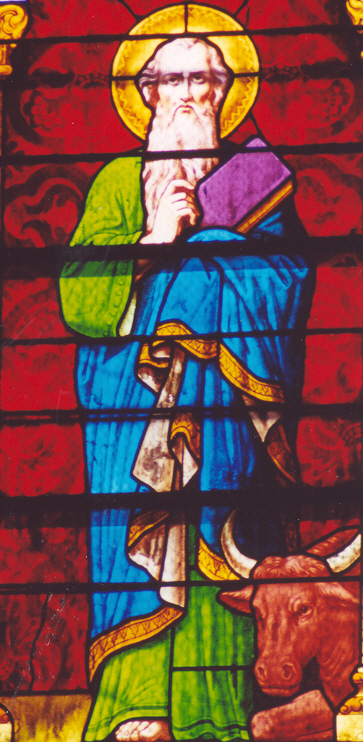 Jesus took Peter, John, and James and went up the mountain to pray. While he was praying his face changed in appearance and his clothing became dazzling white. And behold, two men were conversing with him, Moses and Elijah, who appeared in glory and spoke of his exodus that he was going to accomplish in Jerusalem. Peter and his companions had been overcome by sleep, but becoming fully awake, they saw his glory and the two men standing with him. As they were about to part from him, Peter said to Jesus, "Master, it is good that we are here; let us make three tents, one for you, one for Moses, and one for Elijah." But he did not know what he was saying. While he was still speaking, a cloud came and cast a shadow over them, and they became frightened when they entered the cloud. Then from the cloud came a voice that said, "This is my chosen Son; listen to him," After the voice had spoken, Jesus was found alone. They fell silent and did not at that time tell anyone what they had seen.
Sacred Scripture begins with God giving man a dwelling place in paradise (cf. Gen 2:8). It ends with God making His dwelling place among men (cf. Rev 21:3). And at every point in between we find expressions of both God's desire and man's to dwell with one another. We can see salvation history as the story of God fashioning a dwelling place for Himself with us, and for us with Him. Ultimately, He accomplishes this in a manner beyond our expectations: By grace He dwells in us and we in Him.
This helps shed light on St. Peter's reaction to Our Lord's transfiguration: "Master, it is good that we are here; let us make three tents, one for you, one for Moses and one for Elijah" (Lk 9:33). Although we can quibble with his timing, we cannot find fault with Peter's desire. It is simply that of the human heart – and of God's: to dwell with one another. Peter wants the moment of glory to last; he wants dwellings built.
What Peter desired inordinately at the Transfiguration we have received abundantly by grace. Almighty God has made us more than mere tents. At baptism He made us His dwelling place and caused us to dwell within Him. The entire Christian life is a growth in appreciation of this. Thinking again of Peter's reaction, therefore, let us learn from the events on Mount Tabor how to deepen this dwelling one with the other.
First, Our Lord takes Peter, John and James "up the mountain" (Lk 9:28) – "apart by themselves," St. Mark adds (Mk 9:2). To dwell with God we must first leave the false dwellings of the fallen world. The prince of this world is always enticing us to set down roots. And sin is when we settle for a lesser dwelling than God intends for us. But "here we have no lasting city" (Heb 13:14). So the psalmist exclaims, "Better the threshold of the house of my God than a home in the tents of the wicked" (Ps 84:10). To find eternal dwellings we must ascend with Christ, apart by ourselves, away from the allure of the world. This is one of the purposes of Lent: to detach ourselves from the things of this world – from false dwellings – so that we can better dwell with and within God.
Second, they ascended Mount Tabor "to pray" (cf. Lk 9:28). So also the mutual indwelling between God and us is deepened by interior prayer. Not mere recitation of prayers but intimate conversation with the One who is within. The intimacy of this prayer is indicated by the entrance of the apostles into the cloud: they were consumed by the presence of God (cf. Lk 9:34). It we do not give time to interior prayer, then we do not really abide in Him and He will not long abide in us (cf. Jn 15:4). The life of grace within us will atrophy and die.
Third, this dwelling with God comes from an appreciation of His word. "listen to Him," the Father's voice sounds from the cloud (Lk 9:35). He desires to dwell with us by way of His word – both in the sense of Scripture and in the broader sense of His teachings. St. Paul exhorts the Colossians not merely to know the word of Christ but to let it "dwell in you richly" (Col 3:16). As always, Mary serves as the greatest example. Just as she first listened and received the word of the Archangel Gabriel, and then conceived the Word within her – so also by receiving the word of God in faith we too become a dwelling place for Him.
St. Peter thought it a wonderful idea to have three tents built. Our Lord has seen fit to do something greater: to fashion each of us into His dwelling place and bring us to dwell with Him. May we, who enjoy the grace that Peter lacked at the Transfiguration, learn from his faith to treasure our dwelling with God.