Luke 10:1-12, 17-20
Am I Making Spiritual Progress? by Rev. Jack Peterson
Reprinted with permission of "The Arlington Catholic Herald"
Home Page
To Sunday Gospel Reflections Index
Written to explain that
Christ came to save everyone.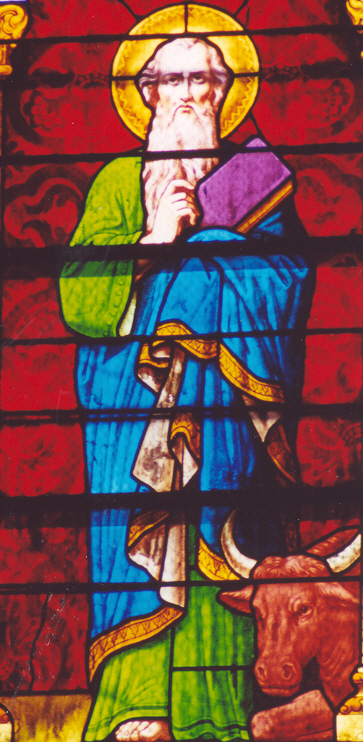 At that time the Lord appointed seventy-two others whom he sent ahead of him in pairs to every town and place he intended to visit. He said to them, "The harvest is abundant but the laborers are few; so ask the master of the harvest to send out laborers for his harvest. Go on your way; behold, I am sending you like lambs among wolves. Carry no money bag, no sack, no sandals; and greet no one along the way. Into whatever house you enter, first say, 'Peace to this household.' If a peaceful person lives there, your peace will rest on him; but if not, it will return to you. Stay in the same house and eat and drink what is offered to you, for the laborer deserves his payment. Do not move about from one house to another. Whatever town you enter and they welcome you, eat what is set before you, cure the sick in it and say to them, 'The kingdom of God is at hand for you.' Whatever town you enter and they do not receive you, go out into the streets and say, 'The dust of your town that clings to our feet, even that we shake off against you,' Yet know this; the kingdom of God is at hand. I tell you, it will be more tolerable for Sodom on that day than for that town."
The seventy-two returned rejoining, and said, "Lord, even the demons are subject to us because of your name." Jesus said, "I have observed Satan fall like lightning from the sky. Behold, I have given you the power to 'tread upon serpents' and scorpions and upon the full force of the enemy and nothing will harm you. Nevertheless, do not rejoice because the spirits are subject to you, but rejoice because your names are written in heaven."
The Christian life is a journey, one marked by continual conversion. I suggest that there are three main stages to the journey: discovering God's love, allowing God to change our life, and committing to bring Christ and His light into the world. We see these stages addressed in our readings for this week, the 14th Sunday in Ordinary Time.
People encounter God in a wide variety of ways, such as in the good example of a believer, the longing for something greater than what this world typically offers, serious suffering, the magnetic power of the truth or even a direct inspiration of the Holy Spirit. One reality that is common to all people of deep faith is that at some point they experience God's personal love for them. They encounter the living God and become convinced by the grace of faith that He loves them personally and desires to draw them up into a real union with Him. The prophet Isaiah uses the image of a mother and child to describe this intimacy. "As nurslings, you shall be carried in her arms, and fondled in her lap; as a mother comforts her child, so will I comfort you." God's care for His children is personal, tender, deep, merciful and everlasting.
Once we encounter the living God and come to know His love, we are motivated to change our lives. It is His extraordinary love that beckons us to turn from our sinful ways and discover the fullness of life. His love casts out fear from our lives and invites us to come face to face with the truth of our human condition. We are quick to see our sins, admit them honestly, confess them regularly and walk humbly on the journey. We are also profoundly motivated to do good and to develop virtues that help us to live the truth in the face of life's many challenges. Gradually, we stop living for ourselves and start living for the Lord. St. Paul reminds us that faith changes our whole perspective on the world: "I never boast except in the cross of our Lord Jesus Christ, through which the world has been crucified to me and I to the world." God's love is the greatest motivator for lasting change in our lives.
Finally, authentic faith, the fruit of the Holy Spirit dwelling in us, sets our hearts on fire with a desire to invite others to join us on the journey with Christ to the Father. Our faith becomes a treasure that we can't imagine not sharing with others. We want, like a little kid who just received an awesome birthday present, to show it to everyone. The inner drive to invite others into this awesome way of life flows naturally from our faith in Christ. It is also something that He calls us to do. God uses the many gifts that He has given to us to enable us to do this work, but the most important way we respond is by the example of our lives.
We see how important the witnessing of our faith is to Jesus in the Gospel this week. He sends out a group of 72 disciples ahead of Him, in pairs, to every place He intended to visit. They were to prepare the hearts and minds of the people to receive Jesus when He came to visit their villages. We get a sense of Jesus' sorrow that more people are not willing to do this work when He says: "The harvest is abundant but the laborers are few; so ask the master of the harvest to send out laborers for the harvest. Go on your way."
The Christian life is a journey marked by three stages: discovery of the love of God, allowing God to radically change our lives and being sent to let the light of Christ shine through us in the world. Am I making progress on the journey? Am I giving Christ the chance to transform my life by spending enough time with Him in prayer, sacraments, Christian fellowship and humble service of my neighbor?
Please consider a tax deductible gift to support this web site.