Luke 12:32-48
Wait. Just Wait.
by Rev. Paul Scalia
Reprinted with permission of "The Arlington Catholic Herald"
Home Page
To Sunday Gospel Reflections Index
Written to explain that
Christ came to save everyone.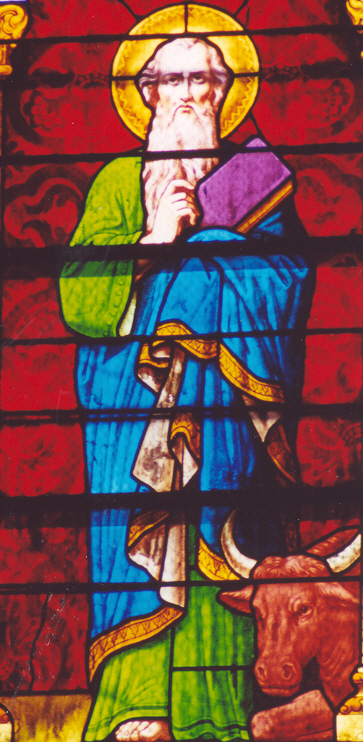 Jesus said to his disciples: "Do not be afraid any longer, little flock, for your Father is pleased to give you the kingdom. Sell your belongings and give alms. Provide money bags for yourselves that do not wear out, an inexhaustible treasure in heaven that no thief can reach nor moth destroy. For where your treasure is, there also will your heart be.
"Gird your loins and light your lamps and be like servants who await their master's return from a wedding, ready to open immediately when he comes and knocks. Blessed are those servants whom the master finds vigilant on his arrival. Amen, I say to you, he will gird himself, have them recline at table, and proceed to wait on them. And should he come in the second or third watch and find them prepared in this way, blessed are those servants. Be sure of this: if the master of the house had known the hour when the thief was coming, he would not have let his house be broken into. You also must be prepared, for at an hour you do not expect, the Son of Man will come."
Then Peter said, "Lord, is this parable meant for us or for everyone?" And the Lord replied, "Who, then, is the faithful and prudent steward whom the master will put in charge of his servants to distribute the food allowance at the proper time? Blessed is that servant whom his master on arrival finds doing so. Truly, I say to you, the master will put the servant in charge of all his property. But if that servant says to himself, 'My master is delayed in coming,' and begins to beat the menservants and the maidservants, to eat and drink and get drunk, then that servant's master will come on an unexpected day and at an unknown hour and will punish the servant severely and assign him a place with the unfaithful. That servant who knew his master's will but did not make preparations nor act in accord with his will shall be beaten severely; and the servant who was ignorant of his master's will but acted in a way deserving of a severe beating shall be beaten only lightly. Much will be required of the person entrusted with much, and still more will be demanded of the person entrusted with more."
The Israelites could not wait any longer. Moses showed no sign of returning from the mountaintop any time soon. So they took things into their own hands. Aaron fashioned a golden calf for them to worship. They swiftly left the way of the Lord and fell into idolatry (cf. Ex 32:1-6). Fast-forward some years. Saul showed a similar impatience with Samuel, the Lord's prophet. Not knowing the time of Samuel's return, he decided to do things on his own. And that was the beginning of the end for him (cf. 1 Sam 13:2-14).
Perhaps Our Lord has these examples in mind when he describes the unfaithful steward's thoughts: "My master is delayed in coming" (Lk 12:45). That steward falls into the same error as the Israelites, as does Saul and countless others. He grows impatient with the master's seeming delay. At the heart of infidelity is this impatience – an unwillingness to wait for the Lord.
Some of us are more impatient that others. But impatience is deep within us all. Indeed, we can interpret original sin in this light. It can be seen as the desire to possess immediately – to grasp for – what God intended to give. Ever since, our fallen human nature has this tragic inclination to seek the immediate possession of things. Our technologically advanced society only exacerbates this wound. We grow accustomed to instantaneous responses and results. Every business and company caters to this, promising us prompt service, immediate results, etc. No waiting.
How different is the life of faith. It requires patience and waiting. As Pope Francis says in "Lumen Fidei": "Faith by its very nature demands renouncing the immediate possession which sight would appear to offer." Scripture often gives voice to this truth with the plaintive yet faithful plea, "How long, O Lord?" (cf. Ps 6:3, 13:1, 35:17; Hb 1:2). The initiative always belongs to God. Faith requires us to wait on Him, to allow Him to make Himself known. We operate according to His schedule, not our own. And if He seems to delay, we do not take things into our own hands.
The refusal to wait - that impatient grasping for control - leads us into sin. With the Israelites it took the form of idolatry. Not willing to wait for the Lord, they fashioned a god for themselves. At the heart of idolatry lurks impatience with God. When we grow tired of waiting for Him, we begin to create our own gods – perhaps not graven images, but certainly our own little interests, ideologies and activities that eclipse Him in our hearts.
And such impatience leads swiftly to other sins – because morality requires patience. So, after worshipping the golden calf, the Israelites "sat down to eat and drink, and rose up to revel" (a euphemism, to be sure) (Ex 32:6). And the unfaithful steward begins "to beat the menservants and the maidservants, to eat and drink and get drunk" (Lk 12:45).
Each of us has experienced this impatience. When will God answer my prayers? How much longer must I keep going? Where is He? And yet, as dangerous as that impatience may be, it can become an occasion to increase in our desire to see Him and to experience His power. In this regard we have the example of Our Lord Himself longing for the fulfillment of His mission: "I have come to set the earth on fire, and how I wish it were already blazing! There is a baptism with which I must be baptized, and how great is my anguish until it is accomplished!" (Lk 12:49-50). We also have the example of Our Lady, waiting patiently on Holy Saturday for God's power, so hidden from the world, to be revealed. May we show our faith similarly, submitting our impatience to His grace, that it may become a holy longing.