Luke 13:22-30
The Narrow Gate by Rev. Jerome A. Magat
Reprinted with permission of "The Arlington Catholic Herald"
Home Page
To Sunday Gospel Reflections Index
Written to explain that
Christ came to save everyone.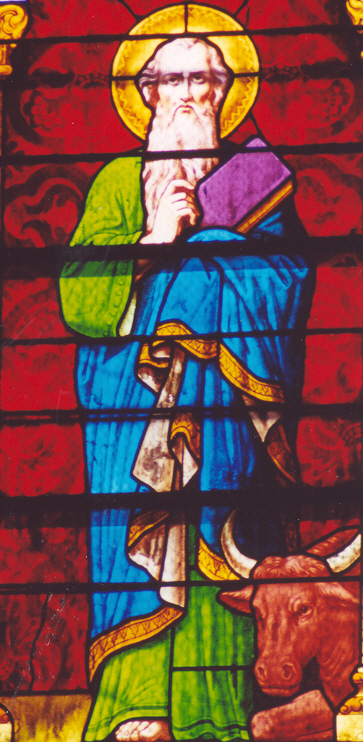 Jesus passed through towns and villages, teaching as he went and making his way to Jerusalem. Someone asked him, "Lord, will only a few people be saved?" He answered them, "Strive to enter through the narrow gate, for many, I tell you, will attempt to enter but will not be strong enough. After the master of the house has arisen and locked the door, then will you stand outside knocking and saying, 'Lord, open the door for us.' He will say to you in reply, 'I do not know where you are from.' And you will say, 'We ate and drank in your company and you taught in our streets.' Then he will say to you, 'I do not know where you are from. Depart from me, all you evildoers!' And there will be wailing and grinding of teeth when you see Abraham, Isaac, and Jacob and all the prophets in the kingdom of God and you yourselves cast out. And people will come from the east and west and from the north and the south and will recline at table in the kingdom of God. For behold, some are last who will be first, and some are first who will be last."
In an age of inclusivity, our Lord's stern words must come as a shock to those who would presume their salvation. In no uncertain terms, Jesus makes it alarming clear that the road to heaven is arduous and the gate of heaven is narrow. His words would have come as a surprise to his own audience, as well. Presumably, Jesus was speaking to a Jewish audience, and the Jews assumed that salvation was only for them and that the gentiles would be shut out. In this passage, our Lord reveals to us three facts about entrance into the kingdom of heaven.
First, Jesus tells us that in order to enter through the narrow gate, we must continually strive to do so. In other words, we must be prepared to work diligently in order to prepare ourselves for heaven. Interestingly, the Greek word for "striving" is base of the word we use in English which means "agony." The translation suggests that any person who wishes to get to heaven must be prepared to suffer for it. In effect, the believer must either advance in the spiritual life or risk falling behind and being lost.
Second, it is not simply enough to claim a certain "friendship" with Christ as those in the Gospel who exclaim, "We ate and drank in your presence and you taught in our streets." There are those who claim that merely being Catholic is a free pass to heaven. Nothing could be farther from the truth. Nominal Catholicism does not pass muster in the kingdom of heaven. One's Catholicism must be active, vibrant, orthodox and sanctifying. Neither a Catholic education nor a Catholic upbringing per se guarantee automatic entrance into heaven. With the gift of a Catholic education and upbringing comes tremendous responsibility. We are reminded in Scripture that to whom much is given, much is expected and to whom much more is given, much more is expected. (Luke 12-48) Therefore, more is expected from Catholics since they have been given the benefit of the fullness of the Faith and thus are expected to produce more fruit.
Finally, we learn that we should expect some surprises in the kingdom of heaven. There are those who might pass through the narrow gate who were "nobodies" in this life. Earthly glory, wealth, and prestige are no assurance of future glory in heaven. We delude ourselves greatly if we think that God will judge us by worldly standards. God will judge us by the standards of the kingdom of heaven and those standards are not easy to meet. In many cases, they are at complete variance with worldly values. Attempting to project worldly standards on an otherworldly kingdom is futile. Hence, our Lord warns us that the door to heavenly glory is in fact quite narrow.
In humility, we do well to ask the Lord how we can pass through the narrow gate. May we never presume our salvation or wrongly evaluate our spiritual progress by earthly standards. Instead, may we learn to follow Jesus on his terms and not merely our own.
Please consider a tax deductible gift to support this web site.