Luke 15:1-3, 11-32
What a Father! by Rev. Jack Peterson
Reprinted with permission of "The Arlington Catholic Herald"
Home Page
To Sunday Gospel Reflections Index
Written to explain that
Christ came to save everyone.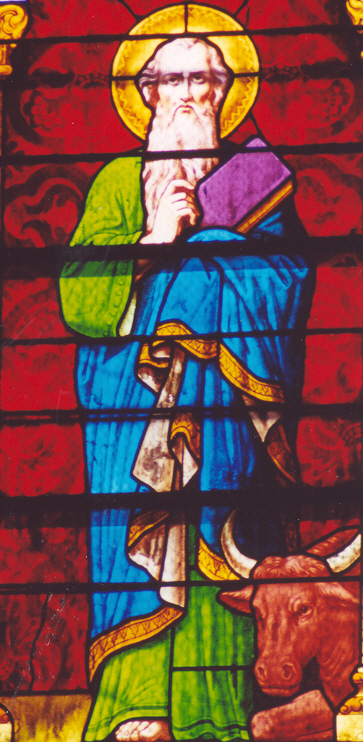 Tax collectors and sinners were all drawing near to listen to Jesus, but the Pharisees and scribes began to complain, saying, "This man welcomes sinners and eats with them." So to them Jesus addressed this parable: "A man had two sons, and the younger son said to his father, 'Father give me the share of your estate that should come to me.' So the father divided the property between them. After a few days, the younger son collected all his belongings and set off to a distant country where he squandered his inheritance on a life of dissipation. When he had freely spent everything, a severe famine struck that country, and he found himself in dire need. So he hired himself out to one of the local citizens who sent him to his farm to tend the swine. And he longed to eat his fill of the pods on which the swine fed, but nobody gave him any. Coming to his senses he thought, 'How many of my father's hired workers have more than enough food to eat, but here am I, dying from hunger. I shall get up and go to my father and I shall say to him, "Father, I have sinned against heaven and against you. I no longer deserve to be called your son; treat me as you would treat one of your hired workers."'
So he got up and went back to his father. While he was still a long way off, his father caught sight of him, and was filled with compassion. He ran to his son, embraced him and kissed him. His son said to him, 'Father, I have sinned against heaven and against you; I no longer deserve to be called your son. But his father ordered his servants, 'Quickly bring the finest robe and put it on him; put a ring on his finger and sandals on his feet. Take the fattened calf and slaughter it. Then let us celebrate with a feast, because this son of mine was dead, and has come to life again; he was lost, and has been found.' Then the celebration began.
Now the older son had been out in the field and on his way back, as he neared the house, he heard the sound of music and dancing. He called one of the servants and asked what this might mean. The servant said to him, 'Your brother has returned and your father has slaughtered the fattened calf because he has him back safe and sound.' He became angry, and when he refused to enter the house, his father came out and pleaded with him. He said to his father in reply, 'Look, all these years I served you and not once did I disobey your orders; yet you never gave me even a young goat to feast on with my friends. But when your son returns who swallowed up your property with prostitutes, for him you slaughter the fattened calf.' He said to him, 'My son, you are here with me always; everything I have is yours. But now we must celebrate and rejoice, because your brother was dead and has come to life again; he was lost and has been found.'"
Stories depicting real events in the Gospels have a particular power and appeal. It is a real grace to ponder what Jesus said and did and how others responded, even if the events come to us through the perspective of a particular Gospel writer. In addition, the parables of Jesus have a special power and appeal of their own. In the parables, Jesus is able to hand craft a story to perfection. We have one of the most famous and influential parables in all of the Gospels today, the parable of the prodigal son.
While the most remarkable element of this parable is Jesusí depiction of the Father, I want to start with the two sons. They have a way of representing us all. Most of us find ourselves like one or the other at different points in our lives. The younger son struggles with being immature on several levels who wants to find meaning in the pleasures of life. The second struggles with pride, thinking that he is better than the younger son and that he has it harder than the younger.
The younger son is quite brash. He basically slaps his father in the face. He asks for half of the fatherís inheritance before the father has passed away. Then, he squanders that inheritance on a life of dissipation, foolishly pursuing pleasure without concern for others. He ends up broke and tending the pigs on a farm which, for Jews, symbolized that he had reached the depths of despair and humiliation. When he has literally nowhere to turn, he decides to go home to his father and ask for a place among the hired hands.
The older son, on the other hand, has a hardened heart. He seems jealous of his fatherís affection for the younger son. He canít understand why the return of the prodigal is so important to the father when he himself has been so responsible over the years. He canít bring himself to celebrate his brotherís return. He even gets angry with the father for being so quick to take the profligate son back into his home.
The power and the beauty of the parable lies in Jesusí depiction of the father. The father starts by giving half of his inheritance to the young son long before his death, and unheard of act of generosity. While the son was still a long way off, the father catches sight of him, giving us the sense that the father was constantly looking down the road, anxiously waiting to glimpse his son in the distance. This father would not rest until he has his son back by his side. Furthermore, the father is ďfiled with compassionĒ upon his arrival, not anger or contempt. Then, the father runs to his son, embraces him and kisses him. The robe, ring and sandals were clear symbols for the Jews that the young man was being reinstated as a son in the family, because what he had done earned the punishment of being cast out of the family and permanently banned.
What do you think was dearest to the fatherís heart, his estate or his son, his reputation or his son, his frustration or his son?
This is certainly the family of which I want to be a member. This is the father I want to call my own. This is the house where I want to spend eternity.
We are invited by this great parable to ask ourselves some questions this Lent. Which brother do I resemble these days? Am I being young and immature with my use of the Fatherís gifts? Am I in pleasure-seeking mode? Am I thinking that the world revolves around me? Am I convinced that life is all about good times? Am I aware of the needs of those around me? Am I forgetful of where my gifts come from and that I have been given them to use in the service of others?
Am I like the older, hardened son? Do I regularly look down on others with disdain? Am I frustrated because I try so hard and others do not? Am I proud of my progress on the journey of life? Do I constantly compare myself with others? Do I have a difficult time when others receive the attention of friends, family members or colleagues at work?
Jesus uses this parable to paint a picture of our heavenly Father whose mercy is deeper than the oceans and endures forever. With a Father like that, how can we ever be afraid to come home? How can we not be moved to look over our lives, see where we have gone astray, and come back to Him with humble and contrite hearts?
Please consider a tax deductible gift to support this web site.
Top
Home Page
To Sunday Gospel Reflections Index