Luke 15:1-32
Following Our Dreams
by Fr. Jerry J. Pokorsky
Reprinted with permission of "The Arlington Catholic Herald"
Home Page
To Sunday Gospel Reflections Index
Written to explain that
Christ came to save everyone.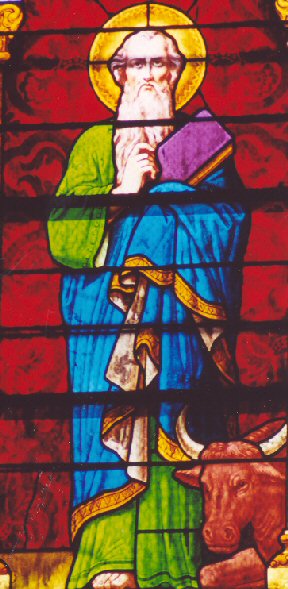 Tax collectors and sinners were all drawing near to listen to Jesus, but the Pharisees and scribes began to complain, saying, "This man welcomes sinners and eats with them: So to them he addressed this parable. "What man among you have a hundred sheep and losing one of them would not leave the ninety-nine in the desert and go after the lost one until he finds it? And when he does find it, he sets it on his shoulders with great joy and upon his arrival home, he calls together his friends and neighbors and says to them, 'Rejoice with me because I have found my lost sheep.' I tell you, in just the same way there will be more joy in heaven over one sinner who repents than over ninety-nine righteous people who have no need of repentance.
"Or what woman having ten coins and losing one would not light a lamp and sweep the house, searching carefully until she finds it? And when she does find it, she calls together her friends and neighbors and says to them, 'Rejoice with me because I have found the coin that I lost.' In just the same way, I tell you, there will be rejoicing among the angels of God over one sinner who repents."
Then he said, " A man had two sons, and the younger son said to his father, 'Father give me the share of your estate that should come to me.' So the father divided the property between them. After a few days, the younger son collected all his belongings and set off to a distant country where he squandered his inheritance on a life of dissipation. When he had freely spent everything, a severe famine struck that country, and he found himself in dire need. So he hired himself out to one of the local citizens who sent him to his farm to tend the swine. And he longed to eat his fill of the pods on which the swine fed, but nobody gave him any. Coming to his senses he thought, 'How many of my father's hired workers have more than enough food to eat, but here am I, dying from hunger. I shall get up and go to my father and I shall say to him, "Father, I have sinned against heaven and against you. I no longer deserve to be called your son, treat me as you would treat one of your hired workers."' So he got up and went back to his father. While he was still a long way off, his father caught sight of him, and was filled with compassion. He ran to his son, embraced him and kissed him. His son said to him, 'Father, I have sinned against heaven and against you; I no longer deserve to be called your son.' But his father ordered his servants, 'Quickly bring the finest robe and put it on him; put a ring on his finger and sandals on his feet. Take the fattened calf and slaughter it. Then let us celebrate with a feast, because this son of mine was dead, and has come to life again; he was lost, and has been found.' Then the celebration began. Now the older son had been out in the field and, on his way back, as he neared the house, he heard the sound of music and dancing. He called one of the servants and asked what this might mean. The servant said to him, 'Your brother has returned and your father has slaughtered the fattened calf because he has him back safe and sound.' He became angry, and when he refused to enter the house, his father came out and pleaded with him. He said to his father in reply, 'Look all these years I served you and not once did I disobey your orders; yet you never gave me even a young goat to feast on with my friends. But when your son returns, who swallowed up your property with prostitutes, for him you slaughter the fattened calf.' He said to him, 'My son, you are here with me always; everything I have is yours. But not we must celebrate and rejoice, because your brother was dead and has come to life again; he was lost and has been found.'"
We all will find ourselves somewhere in the parable of the prodigal son: loving father, faithful but embittered brother, or prodigal son himself. The parable is so powerful and touching as it stands that homilies risk damaging the poignant message. Still, we soldier on and ask if it is possible to apply it as a metaphor to an entire culture.
The parable, of course, is a story of distinct individuals. The son prevails upon his father for his portion of the inheritance (the father isn't dead yet so calculating the inheritance likely rattles the entitlement sensibilities of the remaining faithful son). The prodigal son follows his dreams and ruins his life. (Ruined lives happen, especially when our dreams have to do with greed, lust and the five other capital sins.) Reality – poverty, exhaustion, loneliness – eventually slaps the son in the face and he comes to his senses.
Remembering his father's goodness he recalibrates his dreams and returns to dad, repentant. As the father greets him with open arms in ready forgiveness, the faithful brother resents the father's mercy as too indulgent. He even dares to deny his relationship with his brother by referring to him as "this son of yours." The parable ends with the father patiently explaining his joy at his son's return.
Our "post-Christian" or "post-modern" world has gone the way of the prodigal son. Arguably, there is no longer a strong Christian influence on society. A large number of Catholics – along with the culture in the main – have too often followed the greedy and obscene dreams of the prodigal son: a hostile cultural view of fathers and fatherhood; the denial of femininity and the hatred and despair associated with radical feminism; a completely unrestrained pornographic entertainment industry; etc. Oppose any of these "dreams" and you will almost certainly be accused of being "intolerant" or "judgmental."
There is no need to expound upon the result of our cultural profligacy with statistics. This lamentable – now self-evident – litany will suffice: broken families, dire poverty, crime and violence, the exploitation of women and children, epidemic levels of sexually transmitted disease – all of which calls for a return to God. But our cultural prodigal son, mired in sin, would rather dream of greater government funding further enabling the sins. As a result it is far safer for a politician to favor and fund the institutionalization of most forms of sexual promiscuity (and irresponsibility in general) than dare to oppose any manifestation of the sexual and cultural revolution.
But if we as a culture have, in the main, followed the dreams of the prodigal son, is there reasonable hope of a return to a loving father? Can we expect the culture to sober up, realize the errors of its ways and be reconciled with the Father? The cultural prodigal son unfortunately does not have the memory of a loving father to dream about. And very few Catholics – not to mention the population at large – spend time reading papal encyclicals and Gospel commentaries.
The ministry of Christ might similarly be considered "wasted time." His proclamation of the kingdom of God began in the synagogues (with the institutional memory of God's love) but didn't end well. The horror of a crucifixion can have a chilling effect on a political movement. The Gospel, however, with the "civilization of love" it brings was never – and can never be – a political movement. "My kingdom is not of this world."
After the Ascension, it didn't take long for the early Christians to turn to the proclamation of the Gospel to the Gentiles. Hints of the inevitable expansion of His sacred ministry can be found in the parable of the good Samaritan, the woman at the well and His specific instruction to His disciples. These early Christian communities reaching across the Roman Empire at once attracted converts and the ire of the Roman authorities. Despite immense obstacles, the Christian "civilization of love" became embedded within an exhausted pagan culture, a culture like ours today awash in greed and debauchery with lives devoid of meaning.
When today's cultural prodigal son meets with the same spiritual exhaustion, will it return to the Father's love? Here is where the parable as a cultural metaphor needs another direction. With no memory of the Father's love among countless troubled souls, the path to God can only be made through living witnesses of Christ. Elsewhere in the Gospel, Christ provides the remedy: "You are the light of the world. A city set on a hill cannot be hidden; nor does anyone light a lamp and put it under a basket, but on the lampstand, and it gives light to all who are in the house. Let your light shine before men in such a way that they may see your good works, and glorify your Father who is in heaven" (Mt 5:14-16).
With the grace of Christ, we must make visible the love of the Father in our families and, please God, in our communities and nation. This is our hope, our dream and our grave responsibility before the Lord. Our salvation – and the salvation of our cultural prodigal son – depends upon it.