Luke 15:1-32
Cause a party
by Rev. Matthew Zuberbueler
Reprinted with permission of "The Arlington Catholic Herald"
Home Page
To Sunday Gospel Reflections Index
Written to explain that
Christ came to save everyone.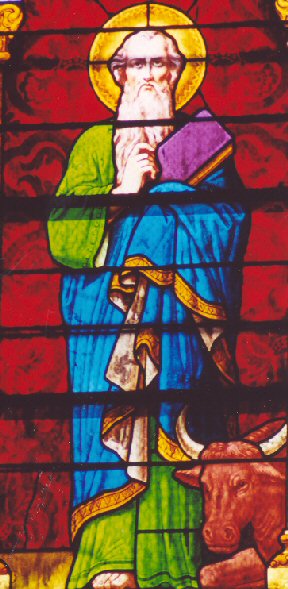 Tax collectors and sinners were all drawing near to listen to Jesus, but the Pharisees and scribes began to complain, saying, "This man welcomes sinners and eats with them: So to them he addressed this parable. "What man among you have a hundred sheep and losing one of them would not leave the ninety-nine in the desert and go after the lost one until he finds it? And when he does find it, he sets it on his shoulders with great joy and upon his arrival home, he calls together his friends and neighbors and says to them, 'Rejoice with me because I have found my lost sheep.' I tell you, in just the same way there will be more joy in heaven over one sinner who repents than over ninety-nine righteous people who have no need of repentance.
"Or what woman having ten coins and losing one would not light a lamp and sweep the house, searching carefully until she finds it? And when she does find it, she calls together her friends and neighbors and says to them, 'Rejoice with me because I have found the coin that I lost.' In just the same way, I tell you, there will be rejoicing among the angels of God over one sinner who repents."
Then he said, " A man had two sons, and the younger son said to his father, 'Father give me the share of your estate that should come to me.' So the father divided the property between them. After a few days, the younger son collected all his belongings and set off to a distant country where he squandered his inheritance on a life of dissipation. When he had freely spent everything, a severe famine struck that country, and he found himself in dire need. So he hired himself out to one of the local citizens who sent him to his farm to tend the swine. And he longed to eat his fill of the pods on which the swine fed, but nobody gave him any. Coming to his senses he thought, 'How many of my father's hired workers have more than enough food to eat, but here am I, dying from hunger. I shall get up and go to my father and I shall say to him, "Father, I have sinned against heaven and against you. I no longer deserve to be called your son, treat me as you would treat one of your hired workers."'
So he got up and went back to his father. While he was still a long way off, his father caught sight of him, and was filled with compassion. He ran to his son, embraced him and kissed him. His son said to him, 'Father, I have sinned against heaven and against you; I no longer deserve to be called your son.' But his father ordered his servants, 'Quickly bring the finest robe and put it on him; put a ring on his finger and sandals on his feet. Take the fattened calf and slaughter it. Then let us celebrate with a feast, because this son of mine was dead, and has come to life again; he was lost, and has been found.'
Then the celebration began. Now the older son had been out in the field and, on his way back, as he neared the house, he heard the sound of music and dancing. He called one of the servants and asked what this might mean. The servant said to him, 'Your brother has returned and your father has slaughtered the fattened calf because he has him back safe and sound.' He became angry, and when he refused to enter the house, his father came out and pleaded with him. He said to his father in reply, 'Look all these years I served you and not once did I disobey your orders; yet you never gave me even a young goat to feast on with my friends. But when your son returns, who swallowed up your property with prostitutes, for him you slaughter the fattened calf.' He said to him, 'My son, you are here with me always; everything I have is yours. But not we must celebrate and rejoice, because your brother was dead and has come to life again; he was lost and has been found.'"
The mercy parables of St. Luke invite us to a party. Better said, the mercy parables of St. Luke invite us to celebrate. The first two celebrations might seem unusual. Most of us have never been to a Found My Lost Sheep Celebration. Fewer still have been invited next door to the neighbor ladyís Found My Lost Coin Party. When we read and pray these parables we focus on the recovery of something valuable that had been lost. The shepherd wants to have all of his sheep with him and makes great efforts to recover the missing one. The woman clearly values and needs her lost coin so she lights a lamp and sweeps the house until she finds it. The shepherd and the woman make a point to tell their friends and neighbors that the pain and difficulty of loss has passed, and each of them invites their friends and neighbors to share in their joy. In both cases Jesus points out that the joy they share is like the joy the angels share in Heaven when a sinner repents. In Heaven, of course, the joy is even greater. (Angels know how to celebrate and they know what to celebrate.)
Jesus told these two short parables when He was under scrutiny by the scribes and Pharisees for associating, even eating, with sinners. He came, after all, to reach and save sinners. His presence among us makes our sinfulness stand out more clearly. His mission is to save sinners. Part of that mission includes convincing us that we are all sinners in need of salvation. These two parables depict the shepherd and the woman searching, each one alone, for the lost sheep and missing coin. Why werenít the neighbors part of the coin search? Would the shepherd welcome help? In fact, the approach Jesus takes in establishing the church shows that all of His disciples can be part of the search and rescue efforts He constantly undertakes. If we think about it, though, it seems clear that we value his mission most when we recognize our own need for it. When we know that He goes (and has gone) to great lengths for us we begin to understand something of our value to Him. In short, as recovering sinners we bring joy to the angels in heaven when we repent because it is then that they witness the love of Godís Heart being poured out upon us. When we learn to be at home with Him we begin to help Him bring others to the awareness that theyíre lost too.
In the third of the three mercy parables, the long and famous Prodigal Son parable, we find important insights into the way things are in the Fatherís house. The departure of the younger son breaks the fatherís heart. We are familiar with the way he watches and waits, scanning the horizon with hope. We like to think of it and to pray about it. The parable doesnít indicate the degree to which the other members of the household hoped for the younger sonís return. Only the older sonís perspective is given, and he resents his younger brother. The saddest thing is that he remains resentful even when his brother repents and returns. The rest of the household prepares the great celebration, in accord with the orders and the happiness of their master. The older son wants no part of the Lost Brother Returns Home Party. Instead he complains that he never got to party with his friends. He has a pity party because all along he has been unable to recognize his own sinfulness as an ungrateful, unloving, selfish son in his fatherís house. In a way he has squandered his inheritance right under his fatherís roof. Both brothers receive the benefit of the fatherís constant love and attention. God the Father treats us the same way. The celebration begins when we recognize our need for Him and turn back to Him. It turns out that the reason Jesusí enemies complained is, in fact, the reason for the party: ďThis man welcomes sinners and eats with them.Ē Cause a party: repent today.