Luke 23:35-43
Kingdom of Interior Freedom by Rev. Jerome A. Magat
Reprinted with permission of "The Arlington Catholic Herald"
Home Page
To Sunday Gospel Reflections Index
Written to explain that
Christ came to save everyone.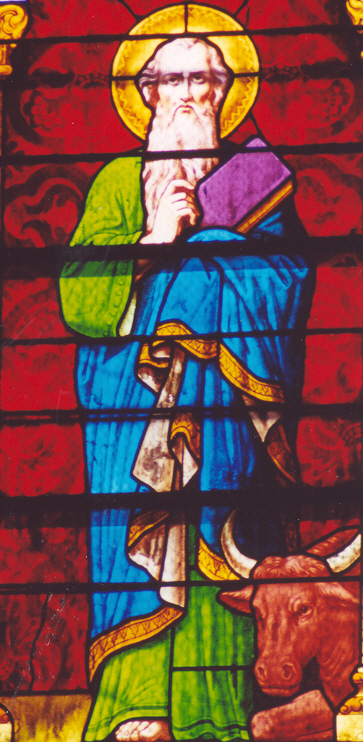 The rulers sneered at Jesus and said, "He saved others, let him save himself if he is the chosen one, the Christ of God." Even the soldiers jeered at him. As they approached to offer him wine they called out, "If you are King of the Jews, save yourself." Above him there was an inscription that read, "This is the King of the Jews."
Now one of the criminals hanging there reviled Jesus, saying, "Are you not the Christ? Save yourself and us." The other, however rebuking him, said in reply, "Have you no fear of God, for you are subject to the same condemnation? And indeed, we have been condemned justly, for the sentence we received corresponds to our crimes, but this man has done nothing criminal." Then he said, "Jesus, remember me when you come into your kingdom." He replied to him, "Amen, I say to you, today you will be with me in Paradise."
One of the most intriguing characters of the Scriptures is the good thief, traditionally called St. Dismas. His encounter with Jesus Christ here on earth, albeit brief, was the most important meeting he ever had. In his most desperate hour, Dismas calls out to Christ in faith, asking to be saved. He states, "Jesus, remember me when you come into your kingdom." Given the context in which he pleads with Christ, it is a remarkable act of faith that Dismas recognizes that Jesus has a kingdom and that He is King of that kingdom. There is nothing regal about Jesus' predicament or appearance at Calvary. Jesus hardly seems like what most persons would consider a king, pinned to the ignominious cross. And yet, Dismas, who is himself pinned to his own cross, recognizes that in Jesus, he is truly free. Perhaps Dismas has discovered that Jesus offers an inter freedom – a moral freedom. Even though his life here on earth is about to end, Dismas realizes in these waning moments, that Christ's kingdom is not best understood by earthly standards. Rather, it is a kingdom that begins within – with a complete surrender in faith to the one who truly saves: Jesus Christ Himself.
We ought not to forget that one of the criminals who could have accompanied Dismas to Calvary was Barabbas, the prisoner released in exchange for Jesus. Paradoxically, Barabbas is a free man – in the earthly sense of freedom – but it is Dismas who experiences freedom in its greatest form. Barabbas is free from arrest and the weight of Roman law. Yet, his freedom is somewhat limited. Paradoxically, it is Dismas who is truly free because he is free, not from legal constraint, but free for love. He discovers the greatest incarnation of that love in Jesus Christ.
Jesus knows Dismas' heart and promises him nothing short of eternal glory. Jesus says, "Amen, I say to you , today you will be with me in paradise." The word "paradise" is derived from Persian and means "a walled garden." Whenever a Persian king wanted to honor a particular guest, he would invite that guest to be his walking companion within the garden. This was considered a very special honor. In the case of Dismas, Jesus promises the repentant thief that they will enjoy each other's fellowship in the courts of heaven. What joy Dismas must have known in that moment.
As the Church celebrates the solemnity of Christ the King, we are presented with a glimpse into the mystery of Our Lord's kingdom – the kingdom of interior freedom that Dismas discovers at Calvary. It means that no earthly power can separate us from the love of Christ and the freedom He offers to those who are willing to joyfully surrender themselves to Him in love. We do well to pray that this kingdom reigns in our hearts now and for eternity.
Please consider a tax deductible gift to support this web site.