Luke 23:35-43
King of the Universe
by Rev. Jack Peterson, YA
Reprinted with permission of "The Arlington Catholic Herald"
Home Page
To Sunday Gospel Reflections Index
Luke wrote to explain that
Christ came to save everyone.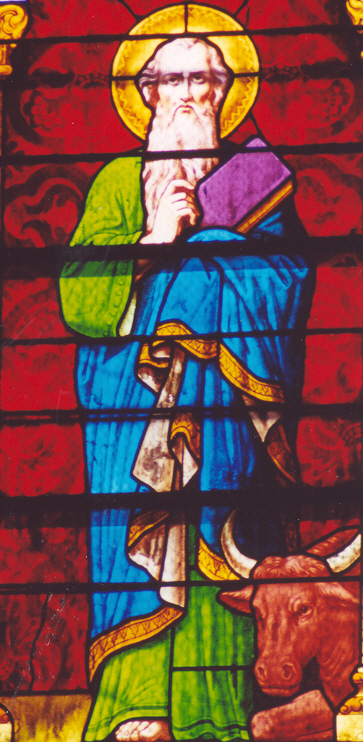 The rulers sneered at Jesus and said, "He saved others, let him save himself if he is the chosen one, the Christ of God." Even the soldiers jeered at him. As they approached to offer him wine they called out, "If you are King of the Jews, save yourself." Above him there was an inscription that read, "This is the King of the Jews."
Now one of the criminals hanging there reviled Jesus, saying, "Are you not the Christ? Save yourself and us." The other, however rebuking him, said in reply, "Have you no fear of God, for you are subject to the same condemnation? And indeed, we have been condemned justly, for the sentence we received corresponds to our crimes, but this man has done nothing criminal." Then he said, "Jesus, remember me when you come into your kingdom." He replied to him, "Amen, I say to you, today you will be with me in Paradise."
When I was a younger man, I loved to play baseball. One reason I loved the game so much was that our high school varsity coach, Marshal Jacobs (aka Jake the Snake) was an outstanding coach who knew the game inside and out. He dedicated his life, outside of family and God, to the great game of baseball. He personally cared for our field, spending countless hours fertilizing, raking, watering and lining it before games. He drilled the fundamentals into us at practice and taught us to be disciplined and smart on the field. Jake believed in his players and drew out the best in us. He motivated us to be the best athletes we could be. He also loved God and took his faith seriously. I loved playing baseball for Jake the Snake. It was a ton of fun and it did not hurt that our team was quite successful on the diamond with him at the helm.
I am a little older now and I have a passion for another game, the game of life. It is a tad more serious than baseball, and our success has longer-lasting ramifications. My passion for this game is deeply inspired by the Coach, who also happens to be the King.
The King knows the game of life inside and out. In fact, He invented it. He created us because He wanted to share the very gift of His love and life with us. He created each of us as a unique person in His image and likeness so that He could engage us in a most personal relationship, sharing with us His truth, beauty, goodness and love.
One thing that inspires me deeply about this King is His humility. When we had wandered off the path that leads to life and were headed for destruction and death, He took great pity upon us. He humbled Himself and took the form of a slave. He became one of us. Yes, God took on our human flesh to convince us of His love, to repair the irreparable damage we had done in ignorance and sin and to show us the path that leads to life again.
His tactics are surprising and that is part of His success as King. Instead of a throne, He reigns from a cross. ("Amen, I say to you, today you will be with me in paradise.") Instead of a crown of gold, He wears a crown of thorns. Instead of impressing with money and political power, He chose the way of poverty and servant love.
Another truth about this King that inspires me is that He does not use force to get us to play the game of life properly. He said that if we pull up the weeds now, we inevitably will pull up the wheat along with it. So instead of reigning by force, He reigns by invitation. He knocks on the door of our hearts and waits for us to invite Him into its depths. He respects our freedom and longs for our response in love.
Some who study the game of life question the King's managerial style because He does not exercise all of His power and strength in clear, dramatic ways that they think will make the game of life simpler. To them, I encourage trust and patience in the King's game plan.
One more characteristic of the King that inspires me is His patience with His subjects. He understands that we are weak, stubborn, and slow to grasp the truth. The King's coaching of the Twelve Apostles demonstrated this gift over and over. He exercises a remarkable patience, a patience that is directed at our salvation.
After the last inning is played, when the players step off the field, and the lights are turned off, the King will demonstrate that He is all-powerful, eternal and wise beyond comprehension. He will gather all the nations before Him, complete His victory over sin, Satan and death, make the final judgment upon every person who ever has been conceived on this earth, and hand over all of creation to His Father in heaven. There will be no question on that day that He is King of kings and Lord of lords.
This Sunday, the church celebrates the Kingship of Jesus Christ. St. Paul's words to the Colossians are most fitting: "Let us give thanks to the Father, who has made you fit to share in the inheritance of the holy ones in light. He delivered us from the power of darkness and transferred us into the kingdom of his beloved son, in whom we have redemption, the forgiveness of sins."
Top
Home Page
To Sunday Gospel Reflections Index