Luke 3:1-6
A Wildly Successful Ministry
by Rev. Jack Peterson
Reprinted with permission of "The Arlington Catholic Herald"
Home Page
To Sunday Gospel Reflections Index
Luke wrote to explain that
Christ came to save everyone.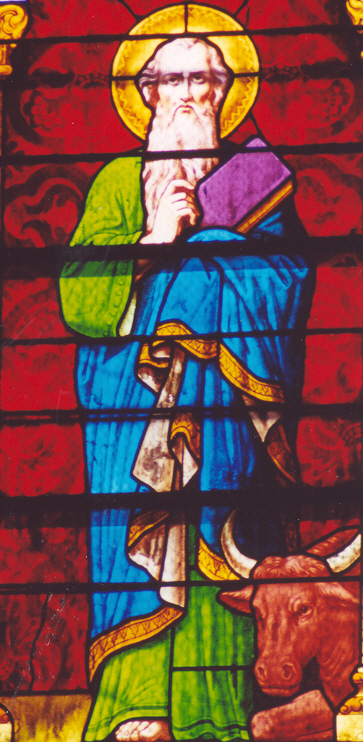 Brothers and sisters: I pray always with joy in my every prayer for all of you, because of your partnership for the gospel from the first day until now. I am confident of this, that the one who began a good work in you will continue to complete it until the day of Christ Jesus. God is my witness, how I long for all of you with the affection of Christ Jesus. And this is my prayer: that your love may increase ever more and more in knowledge and every kind of perception, to discern what is of value, so that you may be pure and blameless for the day of Christ, filled with the fruit of righteousness that comes through Jesus Christ for the glory and praise of God.
In the fifteenth year of the reign of Tiberius Caesar, when Pontius Pilate was governor of Judea, and Herod was tetrarch of Galilee, and his brother Philip tetrarch of the region of Ituraea and Trachonitis, and Lysanias was tetrarch of Abilene, during the high priesthood of Annas and Caiaphas, the word of God came to John the son of Zechariah in the desert. John went throughout the whole region of the Jordan proclaiming a baptism of repentance for the forgiveness of sins, as it is written in the book of the words of the prophet Isaiah: A voice of one crying out in the desert: "Prepare the way of the Lord, make straight his paths. Every valley shall be filled and every mountain and hill shall be made low. The winding roads shall be made straight, and the rough way made smooth, and all flesh shall see the salvation of God."
Advent is a wonderful time of joyful expectation and faith-filled preparation for our celebration of the birth of our infant Savior. Three great figures are given to us each year by the church to assist us in this preparation: Isaiah the prophet, John the Baptist, and Mary, the Mother of God. The readings this Sunday turn our attention to John the Baptist.
John is a fascinating figure in the life of Jesus. John marched to the beat of a different drum. He wore a camel-hair outfit and maintained a diet of honey and locusts. He kept life very simple in order to give time and attention to what God wanted from him. He also prepared himself for his ministry by spending time in the desert. The harsh climate and stark living conditions of the desert have a way of stripping life of nonessentials and encouraging us to focus on what really matters. So, John had time to pray, be united with God and ponder Godís marvelous plan for him in service to Godís people. When John finally appears to announce the coming of Jesus, he is humble, focused, courageous and fully prepared to be a ďheraldís voice in the desert, crying, Ďmake ready the way of the Lord, clear him a straight path.íĒ
We all know Johnís simple message: ďJohn went throughout the whole region of the Jordan, proclaiming a baptism of repentance for the forgiveness of sins.Ē In spite of having the daunting task of prophetically calling Godís chosen people to repent of their sins and to change their lives, John was wildly successful. People came in large numbers to listen to him and to be bathed in the Jordan. Even Herod was intrigued by Johnís person and message.
People paid close attention to John for a variety of reasons. First, he was hand-picked by God and called forth to preach this message. This was the work of God. Second, his mind and heart were prepared by God in the family with Elizabeth and Zechariah, and in the desert with the Lord Himself. So, the example of his life and the authority of his words, flowing from a heart given completely over to God and attuned to the signs of the times, gave an authority and a power to his message.
Additionally, people listened to John because we all have a fundamental need to repent. The truth is that we are all sinners. ďAll have inherited from our first parents a broken human nature. We have lost the original grace in which God first created us. Our nature is dented. We are not so inclined to follow the good and shun evil as before that first sin. In fact, we are quite easily drawn away from the Lord, from the path of truth and love, and from a life lived in union with God that leads to the generous gift of self to family and neighbor for which we were created.
If we do not accept this reality of our human condition, we are not true to ourselves, and we are not true to God. Then, we never grasp our profound need for God. The good news is that God loves us so much that He is patient with our stubbornness and sin; He calls us back to Himself through the most amazing gift of His only begotten Son who surrendered His life to reconcile us with our heavenly Father and pay the price for our sins. John was able to tap into this profound reality of our human condition and called people to prepare for Jesusí humble yet powerful public ministry that transformed the world for all eternity.
Another reason that Johnís ministry flourished is beautifully hinted at in the prophetic reference made of him in the words of Baruch: ďFor God has commanded that every lofty mountain be made low, and that the age-old depths and gorges be filled to level ground, that Israel may advance in the glory of God.Ē The work of God addressing our sinfulness not only shaves off and removes the mountains of our sin, but it also fills in the depths and gorges of our lives as well. Godís love poured over us becomes mercy and removes sin, but it also becomes healing. Godís love heals our brokenness and fills in the holes and hurts in our lives caused by wounds from others and compounded by our personal sins. Godís love repairs, strengthens and lifts us up.
For all of these reasons (and many more that lie within the wisdom of God), Johns prophetic ministry was wildly successful. Will you listen to John this Advent and go to confessions?