Mark 1:1-8
Make Ready the Way
by Rev. Jack Peterson
Reprinted with permission of "The Arlington Catholic Herald"
Home Page
To Sunday Gospel Reflections Index
Mark wrote to explain Christ
to the new Gentile converts.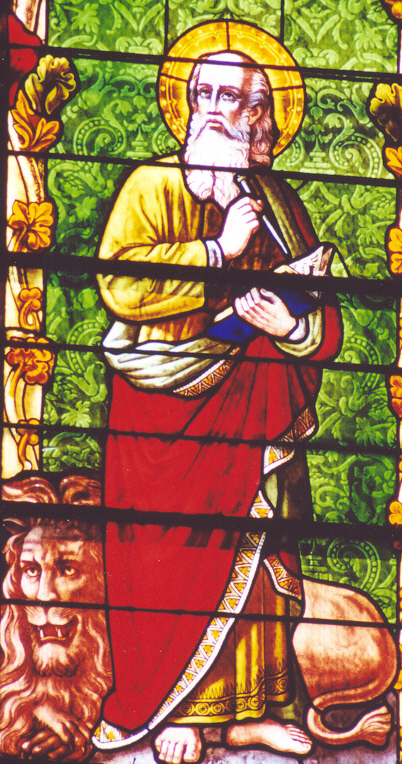 The beginning of the gospel of Jesus Christ the Son of God. As it is written in Isaiah the prophet:

Behold, I am sending my messenger ahead of you;
he will prepare your way.
A voice of one crying out in the desert:
"Prepare the way of the Lord,
make straight his paths."

John the Baptist appeared in the desert proclaiming a baptism of repentance for the forgiveness of sins. People of the whole Judean countryside and all the inhabitants of Jerusalem were going out to him and were being baptized by him in the Jordan River as they acknowledged their sins. John was clothed in camel's hair, with a leather belt around his waist. He fed on locusts and wild honey. And this is what he proclaimed: "One mightier than I is coming after me. I am not worthy to stoop and loosen the thongs of his sandals. I have baptized you with water; he will baptize you with the Holy Spirit."
Churches make changes in their sanctuaries and liturgical services during Advent. Purple vestments are used, Advent wreaths are lit, the Gloria is dropped and homilies become outstanding. (Well, maybe not all churches make these changes.) We break from our regular routine to prepare the sanctuaries of our hearts for the arrival of a special guest.
Jesus' coming among us 2,000 years ago is no surprise to most of us. At the same time, a true coming of Jesus into our hearts in December 2014 can be earth-shattering, life-changing, and life-giving. Jesus is the greatest gift the world has ever known. God the Father gave His Son to resolve the greatest challenges that human beings face. How open am I to welcome Jesus into the depths of my heart this Advent?
The church looks to John the Baptist during Advent to help us prepare. Since he prepared the world for Jesus' initial coming among men, it makes sense to turn to him when we try to invite Our Lord into our hearts today.
John the Baptist was enormously successful at capturing the attention of the people and speaking to their hearts because he was authentic and down-to-earth. He was clearly not serving in this role for personal gain. He was not getting rich, moving in trendy circles or seeking any form of political power. His coarse outfit, home in the desert, simple diet and challenging message made it easier to give him consideration.
Also, John was refreshingly humble. It would have been easy for him to build an ego with the success of his ministry at the Jordan River. He could have been tempted to make compromises with his preaching as the crowds mounted around him. Rather, he confronted Herod for his abuse of the marriage covenant and asked people to prepare for the coming of the Lord by repenting of their sins. John also was quick as lightning to bow out of the public scene as soon as the "one greater than I" came for all to see. He understood his role well and was insistent that he was not the one for whom everyone was waiting.
John also was effective because he was a cause for hope. The Jews had been without a prophet for 400 years. Most of the chosen people were struggling to keep their faith alive. Many had grown slack in their efforts to follow the covenant and pray to God with fervor. Too many religious leaders were caught up in a myriad of rules and regulations and were failing to bring God to the people. So, the average Jew was really wondering: "Where is God?" and "Does He really care about us, about me?"
John stirred up hope because he demanded a change. He confronted the Jews with the truth about their lives: You have wandered from the path. You have become selfish. Your hearts and lives are filled with junk that keeps you from being able to make room for God. You need Him more than you can possibly imagine, and you have excluded Him from your life. Repent and prepare for a gift that will be greater than you could possibly imagine.
Here is a favorite story that might serve in the manner of John the Baptist this Advent. There was a man who lived in the Pyrenees Mountains in France and had lost his faith in Christ. One Christmas Eve, he had settled into his favorite chair before a roaring fire. The bells were ringing in town inviting all to Christmas Eve Mass, but he was quite resolute to remain at home. Suddenly, he heard a loud thump at his front window. Unable to see because of the snow, he stepped out front only to find a goose that was stunned and wounded, flopping around in the yard. He tried to coax the goose into his barn for shelter and warmth, all to no avail. After a period of effort and frustration, the thought came to him, "If only I could become a goose for a moment, I could lead the poor thing into my barn." This was the epiphany he needed. He went inside, threw on his suit and made his way to Mass for the first time in many years.
This Advent, make changes in your life that will create room in your heart for the great guest who fulfills our deepest longings. Repent.