Mark 1:40-45
A Place in the Country
by Rev. Paul Scalia
Reprinted by permission of "The Arlington Catholic Herald"
Home Page
To Sunday Gospel Reflections Index
Mark wrote to explain Christ
to the new Gentile converts.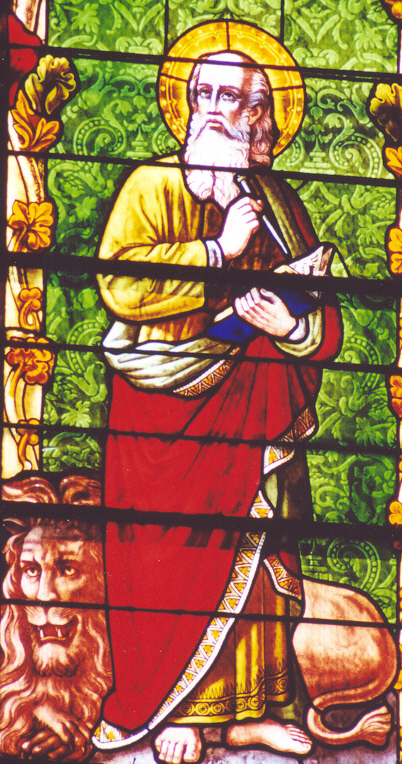 A leper came to Jesus and kneeling down begged him and said, "If you wish, you can make me clean." Moved with pity, he stretched out his hand, touched him, and said to him, "I do will it. Be made clean." The leprosy left him immediately, and he was made clean. Then, warning him sternly, he dismissed him at once.
He said to him, "See that you tell no one anything, but go, show yourself to the priest and offer for your cleansing what Moses prescribed; that will be proof for them."
The man went away and began to publicize the whole matter. He spread the report abroad so that it was impossible for Jesus to enter a town openly. He remained out-side in deserted places, and people kept coming to him from everywhere.
We hear several times in the Gospels that Our Lord removes Himself from the crowds and goes off by Himself. As Mark explains, this was due partly to His miracles: His fame had made it "impossible for Jesus to enter a town openly. He remained outside in deserted places, and people kept coming to him from everywhere." (Mk 1:45) But fame and first-century paparazzi were not the only reasons for such seclusion. It was a common practice for Him. He would rise "very early before dawn" and go to a deserted place and pray. (Mk 1:35; cf. Mt 13:1; Lk 4:42; 5:16)
Further, He taught His Apostles to do the same: "Come away by yourselves to a deserted place and rest a while." (Mk 6:31) Hermits, monks and nuns have imitated this removal from society throughout the Church's history. And yet it seems a strange thing: The crowds come to Jesus for healing … and He goes off on His own? And as for us, there is a lot of work to be done. Can we really afford the luxury of getting away from it all and finding a little place in the country?
In fact, we cannot afford not take such time as Our Lord did. He was not, of course, just "getting away from it all," as we might fashion such retreats to the country. Rather, He was going to the One Who is All – to His Father. He removed Himself from the crowds not because He had enough of them (He is not like us in that regard) but to give Himself in prayer to God. (Lk 6:12) He retreated so that He could enter into uninterrupted conversation with His Father.
Yet the crowds would follow Him. (cf. Mk 6:33-34) Perhaps they sensed (without realizing) that it was precisely Our Lord's union with His Father – so dominant during His retreats – that drew them to Him. He brought them not just a message of salvation nor even only miracles. He brought them His own personal knowledge of the Father. He brought them the very intimacy of that union.
Hermits and monks of the Church have experienced this same phenomenon. When they remove themselves from society to give themselves more completely to God, crowds follow. When St. Anthony of Egypt went into the desert to seek holiness … he soon had people seeking him out. When St. Benedict turned aside from Rome to seek conversion of life … he soon had a monastery. In both instances (and in hundreds like them in the Church's history), one man's desire for union with God led to great works for the Gospel.
The world views such seclusion as a waste of time and even selfish. Of course, unless a thing can be measured (preferably counted and deposited), the world has no use for it. No matter: The Gospel works by different standards. The first step in the work of the Gospel is union with God. Evangelization begins by first going to God and deepening our union with Him. Without that, desire not just a message nor even miracles. They desire – indeed, need – persons who know God. They need saints.
Not many of us have a place in the country to go and spend time in prayer. But we are all called to imitate Our Lord by seeking first that intimacy with the Father. So we should carve out time and a suitable place to remove ourselves from the crowds and pray to our Father in secret, (cf. Mt. 5:6) It is that conversation, that nourishment of our union with Him that enables us to bear witness more effectively. Yes, we should study our faith and do good works. But by placing prayer first we guarantee that when we return to the crowds they will encounter in each of us not just someone who knows the truth and does good, but – of greatest importance – someone who is in union with God.